Clothing Optional California Beach
Nude Beach San Diego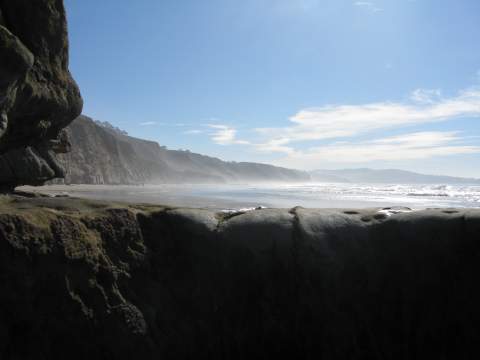 Black's Beach San Diego Photo from Flatrock
North of Black's Beach at foot of Torrey Pines Beach Trail
Bare it all at Blacks Beach San Diego, a hidden treasure below the cliffs of Torrey Pines State Reserve. This secluded one-mile long stretch of beach is part of the 4 1/2 mile long Torrey Pines State Beach, and is close to the University of California San Diego (UCSD) in Southern California.
Last updated November 9 2013 Black's Beach San Diego.
---
Torrey Pines Beach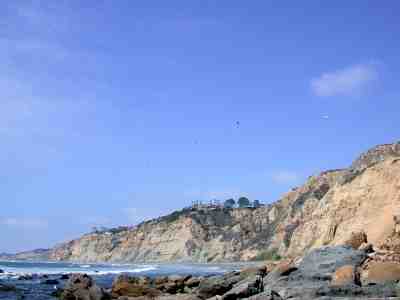 Torrey Pines State Beach is really three different beaches with three different personalities:
Torrey Pines Beach - an easily accessible family beach at the northern end, visible from historic 101 highway.
Blacks Beach State Beach - a secluded and "unofficial" clothing optional or nude beach hidden beneath the Torrey Pines cliffs.
Blacks Beach City Beach - a popular surfing spot owned by the city of San Diego just south of Black's Beach State Beach, north of Scripps Pier and popular La Jolla Shores. This beach is officially called Torrey Pines City Beach.
This page will talk about Blacks Beach State Beach.
---
Map of Torrey Pines and
Black's Beach San Diego

View aBeach4U Torrey Pines and Blacks Beach San Diego CA Map in a larger map
Click on the link above to see the map legend.
---
Blacks Beach State Beach
General Information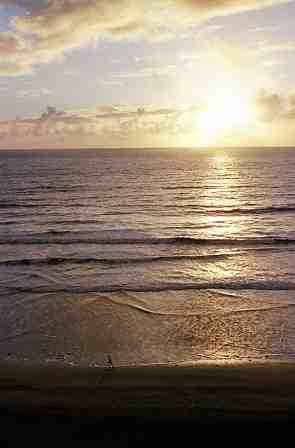 Location: Pacific Ocean just below Torrey Pines State Reserve and Torrey Pines Gliderport, San Diego, California
Directions to Blacks Beach San Diego: see below | Google Map
Parking: If you are taking The Long Way from the north, there is limited free parking along the west side of North Torrey Pines Road as you head south from Carmel Valley Road, or $10 paid parking in lots on either North Torrey Pines Road or Carmel Valley Road. Or if you are taking The Steep Way, free parking at Torrey Pines Glider Port (2800 Torrey Pines Scenic Dr.,La Jolla, CA 92037). You can also access it from the south from Blacks Beach City Beach.
Getting There: Long walk or steep trail. Carry everything in and out.
Things to Do: Walking, jogging, sunbathing, surfing, beach volleyball, frisbee - all clothing optional.
Things to See: View of La Jolla coastline, dolphins, whales, watch the hangliders and paragliders soaring along the cliff, sunset over the Pacific Ocean, amazing cliff rescues of people who don't stay on the official trail.
Facilities: None. No restrooms, no showers, no changing rooms, no trash cans.
Services: None. Bring your own food, sunscreen, beach equipment and surfboard. Just remember you get to carry it all back!
High Tide Access: Beach access from the south or north may be limited at high tides. (We couldn't go all the way from north end to Blacks Beach at 3 foot MLLW).
Lifeguard: Lifeguards sporadically patrol the beach but consider it swim-at-own-risk
Dogs: Dogs are prohibited anywhere in this state portion of Blacks Beach San Diego. (They are allowed in the city owned portion of Black's Beach at the south end, but no nudity is permitted there).
Things NOT to Do: No alcohol, no glass containers, no smoking, no littering, no disturbing noise, no beach fires, no overnight sleeping, camping or parking; no gawking, no sexual activity, no photography without permission, and please don't get sunburned in the wrong places
Disability Access: None
Hazards: Strong surf, strong currents, rip currents, steep unstable cliffs - stay back from cliffs as they can slide or large boulders can drop, and sometimes there are gawkers and exhibitionists
---
Blacks Beach Photos and Pictures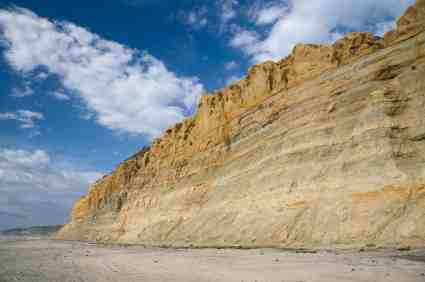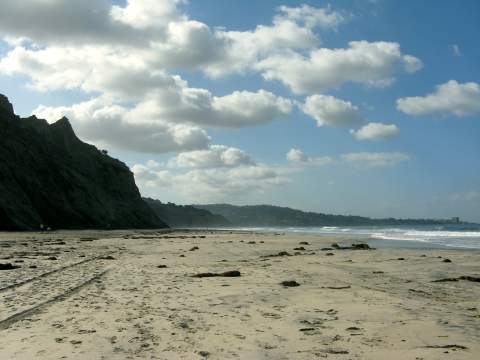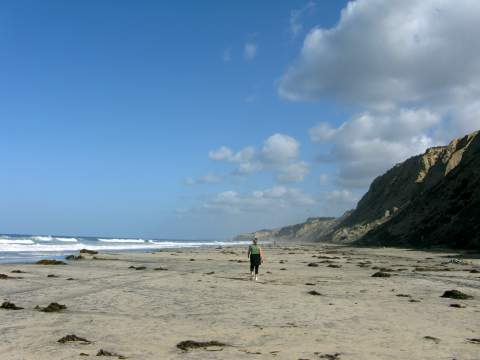 ---
Nude Beach Tips and Etiquette
Here are some tips to help you enjoy your visit.
1. Where to sit - single women and couples should sit fairly close to some established groups north of the Gliderport trail. Families should sit near other families so their children can play together. Single men should sit by themselves, not near single women or couples.
2. Boundaries - respect the boundaries and wear clothing outside the boundaries.
3. Respect the privacy of others - at Black's Beach, photos of others without their permission is not appropriate. No sitting too close to others. No gawking.
4. No lewd or sexual activity.
5. Pack out what you pack in.
Additional tips can be found on the Black's Beach Bares website.
---
Blacks Beach California
Nude Beach - Is it Legal?
Is nudity legal in a California State Park like Black's Beach San Diego? - I've seen a lot of misinformation on this on the web. Black's Beach Bares, a group of naturists who are advocates for keeping Blacks Beach and San Onofre Trail 6 as clothing optional (nude) beaches, have some great information on their website about this question. This is my understanding:
Public nudity is illegal in most areas of California State Parks.
There are recognized locations within the state parks where clothing-optional activities like "skinny dipping" are permitted, unless there is a public complaint, in which case the activity must cease for that day. This makes it unlikely that the complaining party will encounter the "skinny dipper" that day. Clothing-optional activities can resume the next day.
"So long as the activity takes place in a traditionally recognized area it is legal unless and until a complaint from a member of the public is received. Upon such complaint a warning is to be issued, and if not heeded, a violation has occurred". - "Harrison" Memo from CA Department of Parks and Recreation, Jun 14, 1988
Will Blacks Beach remain a clothing optional beach? This secluded one mile section of beach has a long history of clothing-optional or nude beach activity. But if you are like most people and prefer to be dressed in public, then explore the other beaches of San Diego and North County. There are 69 other miles of beaches for everyone else!
---
Hotels Blacks Beach
Hotels Near Blacks Beach San Diego CA
My favorite Blacks Beach hotel is the Hilton Hotel in La Jolla, California, on the bluffs overlooking the Pacific Ocean, Torrey Pines and Blacks Beach. This beautiful 4 star hotel sits on the bluffs of La Jolla in Torrey Pines, and has spectacular views of the Pacific Ocean. The Hilton Torrey Pines is located next to the Torrey Pines golf course and Torrey Pines State Reserve. Nearby attractions include Birch Aquarium, Del Mar Racetrack, Torrey Pines Glider Port, and Blacks Beach San Diego. They serve excellent buffet breakfasts in the Torreyanna Grill dining area. Sunday brunch is my favorite. This San Diego hotel is popular for weddings because of the fantastic views. From $159 per night.
---
The northern end of Blacks Beach San Diego is owned by the California State Park system. This is unofficially the clothing optional or nude beach. It can be accessed from the north by walking south from Torrey Pines State Beach at low tide, from the trail down from the Torrey Pines Glider Port, or the Beach Trail from the Torrey Pines State Reserve. It can also be accessed from the south from Blacks Beach City Beach. See some Blacks Beach pics below for how to get to the beach.
Directions to Blacks Beach San Diego from Torrey Pines State Beach: (The Long Way)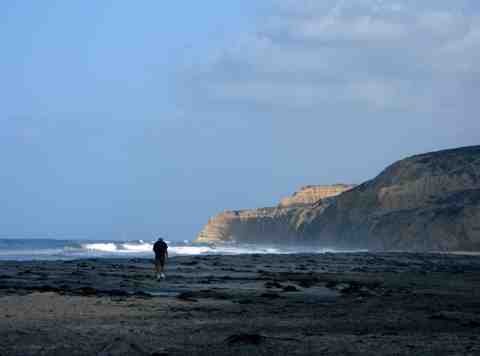 Make sure the tide is not too high before you opt this route. In the photo above, this route is blocked. Take Interstate 5 to Carmel Valley Road, then south on North Torrey Pines Road. Look for free parking on the west side. If the parking is full, you will need to pay $10 to park. Try the lot on the right before climbing the steep grade. If that is full, you will need to go back to Carmel Valley Road, and part in the parking lot ($10 fee) and walk through the access to cross the Penasquitos lagoon, and an extra 1/2 mile along the beach. Continue south on the beach for another 2 miles as you see the Torrey Pines cliffs rise on your left. After you pass through a gap called Flatrock (at the point in the photo above, also shown from the other side in the top photo on this page), proceed beyond the steel buoy.
Caution - the cliffs can be unstable and the tide high. You do not want to walk too close to the cliffs, or be caught at high tide. The clothing optional beach runs for a mile between the steep buoy past Flat Rock and ends just south of the trail to the Torrey Pines Gliderport.
Directions to Blacks Beach San Diego from the Torrey Pines Glider Port Trail (The Steep Way)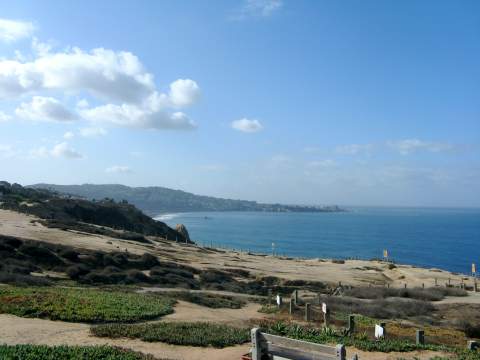 This is my favorite route but the stairs are steep.
Driving Directions: From Interstate 5 take Genesee west. Turn left on Torrey Pines Rd. then right on Torrey Pines Scenic Drive, just before the Salk Institute. Park in the unimproved parking at the end of the street at the Torrey Pines Gliderport above Black's Beach. Watch out for the big pot holes!
On the left side of the Torrey Pines Gliderport are the public portable restrooms (the last ones you'll see). The trail begins at the end of the parking area to the left of where all of the "unstable cliff" signs are located (far left in this photo above).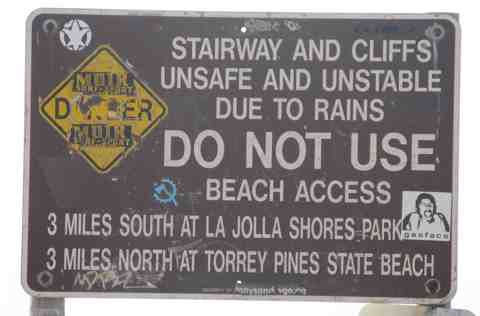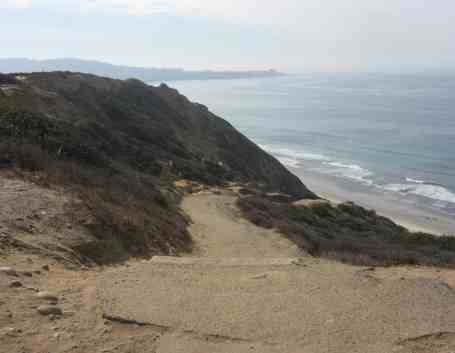 It does not have a friendly trail sign, but a big warning sign from the City of San Diego to discourage you, but the trail is maintained in good condition by some advocates of the beach. It is rugged and steep but has stairs and rails. Wear sturdy shoes, and if you plan to stay after sunset, bring a good flashlight for the hike back up.
Warning: do not take any trails down the steep cliffs to Blacks Beach San Diego except this one or you may get stuck on side of the cliff and suffer an expensive and embarrassing rescue, become seriously injured, or even die.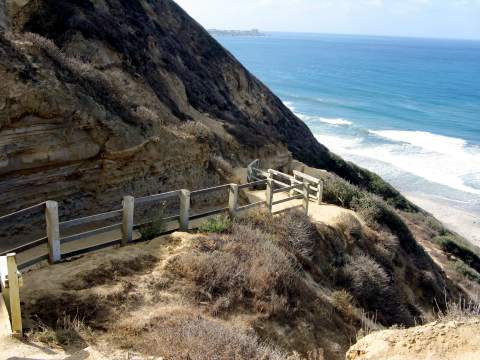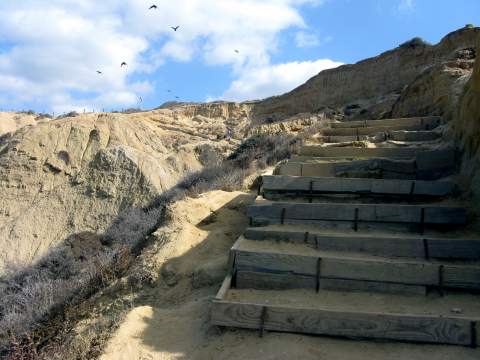 Trail to Black's Beach San Diego Cal.: The trail is steep but when I was last there, the Blacks Beach trail was in great condition and well maintained. (Some websites report that this is an unimproved trail, but I disagree. This is an improved dirt trail with wooden supports and handrails, as you can see in these Blacks Beach pics).
After the 300 foot descent to the beach, go right. Most of the unofficial clothing optional portion of the beach is to the right. If you go left, the city owned portion of Black Beach San Diego starts about 200 feet to the left by the large square rock. It may be marked with red cones. You will be fined if you are caught nude in the city owned section.
Directions to Blacks Beach San Diego from the south (Blacks Beach City Beach)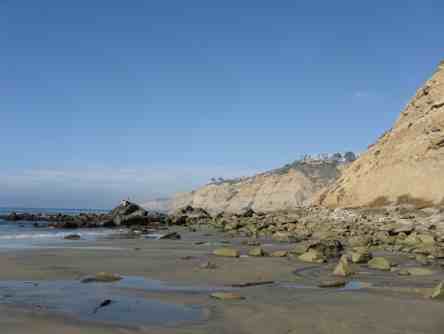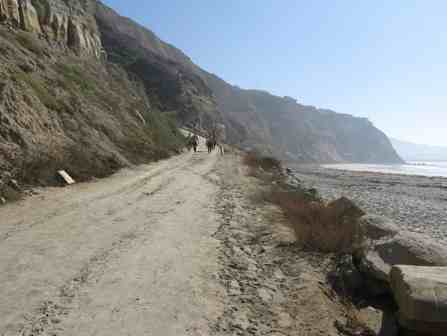 You can also walk up to Black Beach from the south. Black's Beach City Beach is just south of the clothing optional Black's Beach in La Jolla. Of course you have to get to Blacks Beach City Beach first, either via a long walk up from La Jolla Shores across the rocks at low tide, or hiking down a paved road from UCSD. (See Blacks Beach pictures above for these access points).
---
Oceanside Beach | Carlsbad State Beach | Moonlight Beach Encinitas | Fletcher Cove Solana Beach | Del Mar City Beach
Torrey Pines State Beach | Black's Beach | La Jolla Shores | Pacific Beach | Mission Beach | Ocean Beach | Coronado Beach | Imperial Beach
---
Return to Top | San Diego Events | Things to do in San Diego | 101 Things to do at the Beach | San Diego Coupons | Beaches in San Diego | North County Beaches | San Diego Beach Hotels | Discount Disneyland Tickets
Return from Blacks Beach San Diego to San Diego Beaches and Adventures Home Page