Disneyland Halloween 2017
Don't miss the fun at Disneyland Halloween 2017. Celebrate Halloween Disney style from early September through October 31 2017. Wear your Disney Halloween costume and celebrate Halloween at Mickey's Halloween party.
Note - Buy your tickets early to Mickey's Halloween party, as they sell out early!
arestravel.com - Save up to $15 per ticket or 29% on Disneyland discount tickets and vacation packages.
Updated September 19 2017 by San Diego Beaches and Adventures

For other Halloween events, see
San Diego Halloween
Halloween Disneyland California 2017
Halloween time at Disneyland from Sep TBD through Oct 31 2017. The fantastic costumes and decorations make this one the best times to visit Disneyland park. See the Pumpkin Festival on Main Street, the Haunted Mansion decorated for the holidays, Space Mountain Ghost galaxy and more. There is a traditional skeleton display in Frontierland to observe Dia de los Muertos. All included for free with regular admission to Disneyland. See
Cheap Disneyland Tickets
for ways to save money.
For an extra fee and extra evening of fun, you can also attend Mickey's Halloween Party on select nights.
Halloween Disneyland California
Mickey's Halloween Party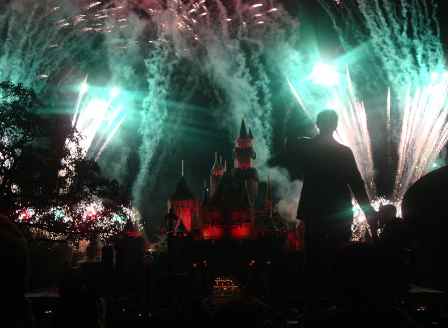 Halloween Screams Fireworks

See the best Halloween costumes, spooky attractions and treats galore at the best Disneyland Halloween party. Enjoy the Halloween Screams fireworks show, admission to Disneyland park up to three hours before this Halloween event, trick or treat, and lots of spooky fun.
Buy your tickets early online as this popular events sells out early. Admission to Mickey's Halloween party includes 3 hours admission before the event to Disneyland theme park, and free parking for regular size auto. Annual passport holders can also save more if they buy in advance.
Costumes are permitted for both kids and adults at Mickeys Halloween Party, but be sure they are kid friendly and meet the Disneyland costume requirements.
Note: These are for 2016. This will be updated for 2017 when the dates are available
Disneyland Halloween 2016 Mickey's Party
| 2016 Dates and Times | Advanced Price | Regular Price |
| --- | --- | --- |
| Friday September 23 7 PM - midnight | $89 | $89 |
| Monday September 26 6-11 PM | $72-79 | $89 |
| Wednesday September 28 6-11 PM | $72-79 | $89 |
| Friday September 30 7 PM - midnight | $89 | $89 |
| Monday October 3 6-11 PM | $72-79 | $89 |
| Wednesday October 5 6-11 PM | $72-79 | $89 |
| Friday October 7 7 PM - midnight | $89 | $89 |
| Monday October 10 6-11 PM | $72-79 | $89 |
| Wednesday October 12 6-11 PM | $72-79 | $89 |
| Friday October 14 7 PM - midnight | $89 | $89 |
| Monday October 17 6-11 PM | $72-79 | $89 |
| Wednesday October 19 6-11 PM | $89 | $89 |
| Friday October 21 7 PM - midnight | $89 | $89 |
| Monday October 24 6-11 PM | $89 | $89 |
| Wednesday October 26 6-11 PM | $89 | $89 |
| Saturday October 29 7 PM - midnight | $99 | $99 |
| Monday October 31 6-11 PM | $99 | $99 |
For more information, see the official Disneyland website
---
Note: These are for 2016. This will be updated for 2017 when the dates are available
Disneyland Halloween 2016 Mickey's Party
| 2016 Dates and Times | Advanced Price | Regular Price |
| --- | --- | --- |
| Friday September 23 7 PM - midnight | $89 | $89 |
| Monday September 26 6-11 PM | $72-79 | $89 |
| Wednesday September 28 6-11 PM | $72-79 | $89 |
| Friday September 30 7 PM - midnight | $89 | $89 |
| Monday October 3 6-11 PM | $72-79 | $89 |
| Wednesday October 5 6-11 PM | $72-79 | $89 |
| Friday October 7 7 PM - midnight | $89 | $89 |
| Monday October 10 6-11 PM | $72-79 | $89 |
| Wednesday October 12 6-11 PM | $72-79 | $89 |
| Friday October 14 7 PM - midnight | $89 | $89 |
| Monday October 17 6-11 PM | $72-79 | $89 |
| Wednesday October 19 6-11 PM | $89 | $89 |
| Friday October 21 7 PM - midnight | $89 | $89 |
| Monday October 24 6-11 PM | $89 | $89 |
| Wednesday October 26 6-11 PM | $89 | $89 |
| Saturday October 29 7 PM - midnight | $99 | $99 |
| Monday October 31 6-11 PM | $99 | $99 |
For more information, see the official Disneyland website
---
Disney Halloween Costumes
Disney Halloween Costumes
- If you want to go to Disneyland for Halloween, why not wear a Disney Halloween costume? Disney costumes are available at Disney stores, or you can buy online. Buy early and take advantage of some online discounts and save 25% - 40%. Order your Disney Halloween Costumes online at
http://www.disneystore.com
More Halloween Costume Ideas
Weird and Unusual Halloween Costumes
Online Family and Halloween Costumes
---
Disneyland California Tickets, Hours and More Information
Disneyland California Halloween Haunted Mansion

Disneyland Discount Tickets
Home › Things to Do › Disneyland Halloween