San Diego Events August

San Diego events in August, a popular San Diego tourism month. San Diego is opening up but there are still restrictions with the COVID-19 pandemic. Be smart and safe, and don't forget to wear your face mask and bring your hand sanitizer. Check out these fun things to do, but confirm that they are open and check out any restrictions before you go.
Come join in these fun summer activities in San Diego, Oceanside, Carlsbad, Encinitas, Solana Beach, Del Mar, La Jolla, and Coronado CA. It's hard to beat summer in San Diego for the best weather and fun outdoor activities.
Updated April 12, 2021 by San Diego Beaches and Adventures
San Diego Events August 2020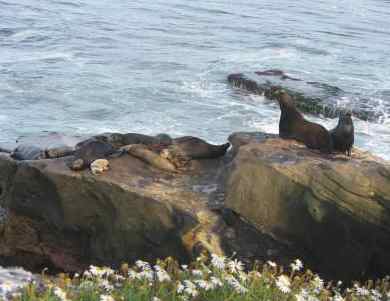 La Jolla Beaches
- Enjoy the lovely beaches in La Jolla, San Diego. See Children's Pool (shown above), La Jolla Cove, La Jolla Shores and more along the
La Jolla Coast Walk
.
Bike The Bay - Modified for 2020 to Bike your Neighborhood - Sunday August 23 2020 is your chance to join in the fun and bike your neighborhood (most years you would get to ride across the San Diego Coronado Bay Bridge and it all starts with a cruise around the San Diego Bay). This is a non-competitive community bike ride and is appropriate for all abilities. It is a mostly flat ride around San Diego Bay via the Bayshore Bikeway. You will get a chance to travel though Coronado, Imperial Beach, Chula Vista and National City before returning to the start/finish line. This is a 25-mile bike ride with a one-time chance to ride their bike over the Coronado Bay Bridge! There will be a post-ride festival following the ride with food, beverage, a beer garden and entertainment! Where? Embarcadero Marina Park South. Price? $55 - $60 Check it out at www.bikethebay.net.
Film in the Garden - Call to confirm - The SDMA is opening on July 9, which is exciting. This event may be cancelled Thursday evenings August date TBD 2020. Grab your spot as early as 5 PM and movies start at 8:00 PM. Enjoy an outdoor film in these series from the SDMA exhibit, now shown on the Botanical lawn in Balboa Park. Bring a blanket, picnic dinner and dogs allowed too. Free San Diego events in August. www.sdmart.org
Art Walk San Diego - Call to Confirm - Saturday and Sunday August date 8 and 9 2020 from 10 AM to 6 PM (5 PM Sunday) at Liberty Station (at Ingram Plaza). Fine artists show their original artwork in an outdoor San Diego setting. This replaces the former Art Walk on the Bay event in San Diego. For details about Art Walk San Diego see artwalksandiego.org.
Del Mar Horse Races - July 10 to Labor Day weekend (September 7 2020) at the Del Mar Racetrack, Del Mar Fairgrounds. Where the turf meets the surf, exciting horse racing at Del Mar race track. See the special events on Saturdays. Free summer concert series for fans attending the races on Friday evenings. For more information about the Del Mar Horse Races see Del Mar Horse Races
Dog Days Of Summer Cancelled for 2020 - Sunday, from 11 AM to 6 PM at the Encinitas Community Park, 425 Santa Fe Dr. Talk about those Dog Days Of Summer! We have no room to complain whether we live or are visiting awesome Southern California!!! But you will be complaining if you miss out on this awesome canine festival. Dog Days of Summer is San Diego County's largest dog-centered events and is located in Cardiff, California. It is an all day even and will bring in over 10,000 attendees from all over San Diego. There will be vendors, pet adoptions from local shelters and rescue organizations, dog and kid zones. There will even be a doggie photo booth. So dress up your best friend (yes, I mean your dog) and come on out and enjoy a fabulously, fun day with the critters. You may even want to get your furry friend entered into some of the contests. For more information about one of the best San Diego events in August for dogs see www.cardiff101.com
San Diego Dog Beach - Show your dog that you love him, by taking him to the beach! Try the original California dog beach - Ocean Beach. Ocean Beach Dog Beach San Diego.
Encinitas Sunday Concerts by the Sea - Sunday August 2 and 16 2020 from 3 – 5 PM at Moonlight State Beach in Encinitas. Bring your beach blankets.
San Diego Water Park Currently Closed - Summer is a great time to visit a San Diego water park. Try the Sea World Aquatica Water Park, the Legoland California Water Park in Carlsbad, or The Wave Waterpark in north county (Vista).
San Diego Harbor Cruise – For a fun day in San Diego activity, enjoy a San Diego Harbor Cruise. You can also see the USS Midway museum, SD Maritime museum, Seaport Village and much more.
Point Loma Summer Concerts Cancelled for 2020 - Friday evening from 5:30 – 8:45 pm Point Loma Park, 1049 Catalina Blvd. Free summer concert series. For details about the Point Loma San Diego Summer Concerts see www.plconcerts.org
Carlsbad TGIF Jazz in the Parks Cancelled for 2020 - Friday evenings in summer from 6 – 8 PM. Free outdoor summer concerts at various locations in Carlsbad, CA. www.carlsbadca.gov
Green Flash Concert Series Call to confirm - Wednesday August date TBD 2020. Monthly 21+ summer concert series on the Tide Pool Plaza at Birch Aquarium at Scripps. Buy a season pass for the most savings, or single show ticket in advance. Tickets also sold at the door. One of our favorite San Diego events in summer! See the Green Flash Concert Series at Birch Aquarium information at aquarium.ucsd.edu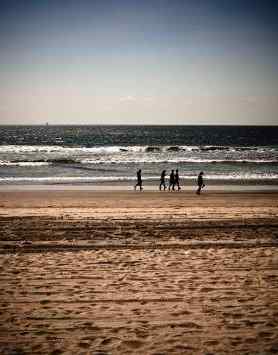 Sunday Brunch at the Del Currently Closed
- 9:30 AM – 1:00 PM Continuously voted San Diego's best brunch by San Diego Magazine and The San Diego Union-Tribune readers, The Del's brunch has long been a local favorite. Hotel del Coronado, on Coronado in San Diego. For a treat afterwards, take the walking tour (see below). Please call 619.522.8490 for reservations.
World Bodysurfing Championships - August 8 to 9 2020 start time 6 AM near Oceanside pier. It's the annual World Bodysurfing Championships. Located adjacent to the Oceanside Pier where you can see between 350-400 bodysurfers from around the world completing for trophies and prizes. There will be both Men and Women's Grand Champions crowned on Sunday afternoon at the completion of all scheduled heats. If you are interested in learning more and possibly signing up to compete in the World Bodysurfing Championships see worldbodysurfing.org
Kayak at La Jolla Shores - This summer is a great time to kayak at La Jolla Shores to see the Sea Caves, marine life, and leopard sharks. Several different companies offer kayaking tours, or you can launch your own kayak at the free boat ramp. One of our favorite San Diego events. August is a great time, but make your reservations early, especially for weekends. For more information see La Jolla Kayaking
San Diego Wine Tasting Tours Call to Confirm - Enjoy a 3 hour walking tour with local resident guide and enjoy fine wine and gourmet food in the lovely town of La Jolla by the sea. Private tastings and 4-5 tour stops. Prices vary. Call for reservations (858) 551-5115
Things to do at Home - Sometimes you just need to stay at home. Enjoy a backyard BBQ or try one of our ideas for Fun things to do at home.
San Diego Zoo and Safari Park - Our favorite local zoo and safari park are open with half capacity on a first-come, first served basis. Visit the San Diego Zoo and San Diego Safari Wildlife Park.
Sea World San Diego - Enjoy an animal exhibit at Sea World San Diego
Hotel del Coronado Historic Walking Tour Call to Confirm - Tuesdays and Friday at 10:30 AM, Saturdays and Sundays at 2 PM. 75 minute walking tour of the famous historic Hotel del Coronado, let by docents from the Coronado Historical Association. $20 for adults, children 12 and under free. Reservations recommended. 619.437.8788
Old Town San Diego Partially Open - explore the historic Old Town district in San Diego. You can take the trolley there and on Saturdays from 9 AM - 3 PM see the artisan market featuring handmade works from local artists, including jewelry, photography, pottery, clothing, paintings, hand painted glass, glass blowing, woodworking's and more. There is a lot to do in Old Town so make a day of it. Old Town San Diego CA
Aquarium Sea Days Family Day Call to Confirm - August 15 2020 from 11 - 3 at Birch Aquarium. Monthly topic varies each month at this hands-on exhibit for young adventures.
Snorkeling with Sharks Call to Confirm - Weekends August dates TBD 2020 from 8 - 10 AM at La Jolla Shores. $30 per person. Birch Aquarium at Scripps naturalists host snorkeling adventures to see the Leopard Sharks rays and more. Birch Aquarium Adventures
Farmers Markets - most weekends and weekdays throughout San Diego county. Enjoy fresh local produce, flowers and yummy food at one of the San Diego farmers markets. There are many to choose from throughout San Diego county. San Diego Farmers Markets
Back to School Treats for Mom and Kids - Go ahead and indulge your family. Your kids will love you for it! As I took my dogs for a walk yesterday I saw a few moms and dads outside side walk chalking special notes to their little back-to-schoolers. I know those kids are happy to get those pics but don't you think some fabulous treats will help may their day? Make some healthy snacks if you want, or head down to VG Donut & Bakery at 106 Aberdeen Drive in Cardiff the surprise everyone with those Southern California treats! Everyone loves VG's!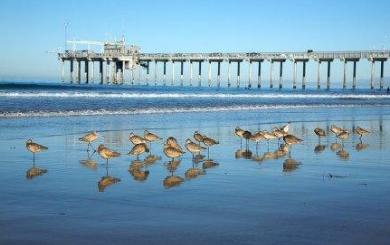 Pier Moon Walks Call to Confirm
- August dates TBD 2020 from 7 – 8:30 PM. Cost is $35 per person. A warm night lit by a full moon is the perfect time to explore the Ellen Browning Scripps Memorial Pier, usually closed to the public. Also includes a tour of the Scripps Oceanography campus.
Birch Aquarium Adventures
Carlsbad Art in the Village - Sunday August 23 2020 from 9 AM to 5 PM on Grand Avenue in Carlsbad, California. Over 125 local and regional fine artist are featured in the Village of Carlsbad, just 2 blocks from the beach.
Legoland California Now Open - Spend a day at Legoland California this summer and enjoy the Legoland water park, open daily through Labor Day weekend and weekends in September and October. Legoland California
Things to Do in San Diego - For more San Diego events August for locals or San Diego tourism activities, check out these Things to do in San Diego and 101 Things to do at the Beach.
Check out the September San Diego event calendar at San Diego Events September
Home › San Diego Events › San Diego Events August