Catalina Island

Catalina Island vacation offers fishing and relaxation for a fun California weekend getaway. Catalina is located 22 miles from Los Angeles, making it a perfect day trip or weekend adventure.
Updated September 21, 2023 by San Diego Beaches and Adventures
Catalina Island Vacation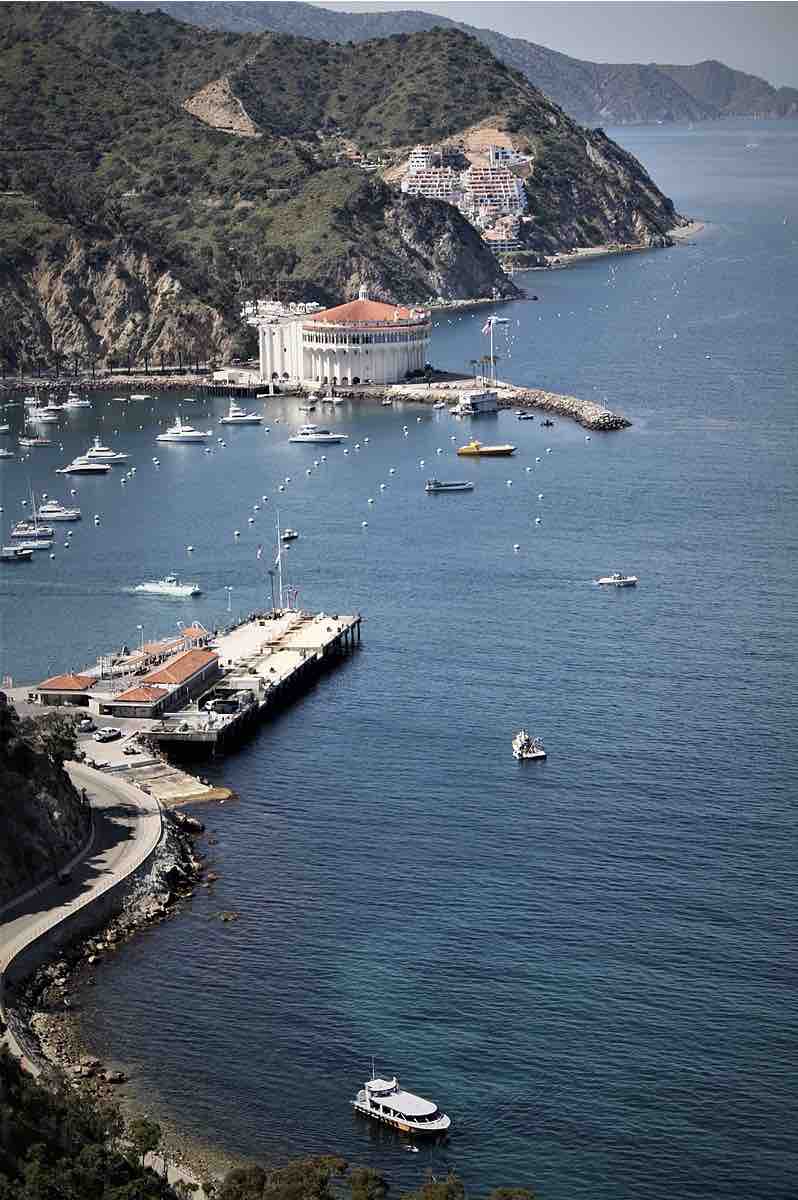 Catalina Island, also called Santa Catalina Island, is located in the Pacific Ocean about 22 miles west / southwest of Los Angeles, California as shown on this
Google Map
.
There are many fun things to do in the city Avalon, or in the smaller community of Two Harbors. Fishing, visit the aquarium, explore the marina, scuba diving, tour the island, and shopping are a few things to do. You can rent bicycles or golf carts to get around on the island.
Let's explore what we think are the best 10 things to do on Catalina Island.
---
Best Things to do in Catalina
Catalina Island Conservancy Eco Tour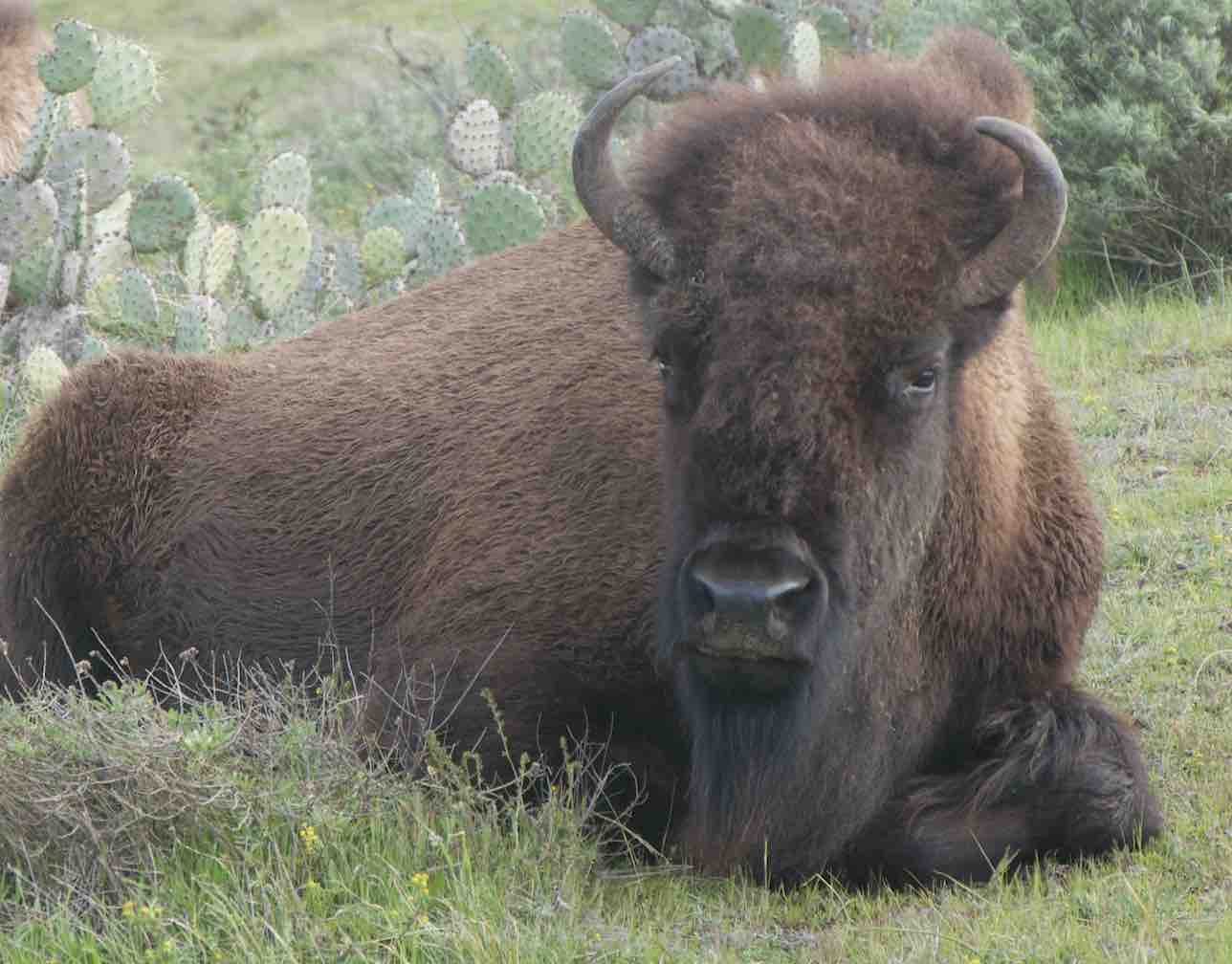 Bison on Catalina Island
One of the best attractions on Catalina Island is the Eco Tour by the Catalina Conservancy. Choose from 2-hour, 3-hour or 4-hour tours on the island, depending ton the time of year. Reservations are required and the tours sell out in advance.
During the tour, you will have the chance to learn about the island's history, conservation efforts, and wildlife. You may see bison and foxes that roam the island.
---
Catalina Casino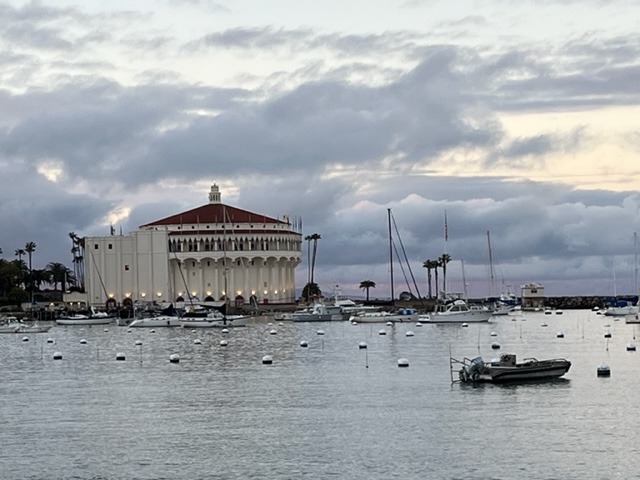 Catalina Casino
A trip to Catalina Island on vacation should include a back stage tour of the Catalina Casino. The building was built in 1929 and has a fascinating history and a interesting Art Deco design elements. The top floor is the world's largest circular ballroom dance floor, and below that is a large theatre, the first movie theatre to show "talkies", which replaced the silent movie era. The theatre still shows movies on Friday and Saturday evenings.
The casino is a gathering place, and was never a gambling hall, as you might think. A must see when you visit Catalina Island.
---
Underwater Exploration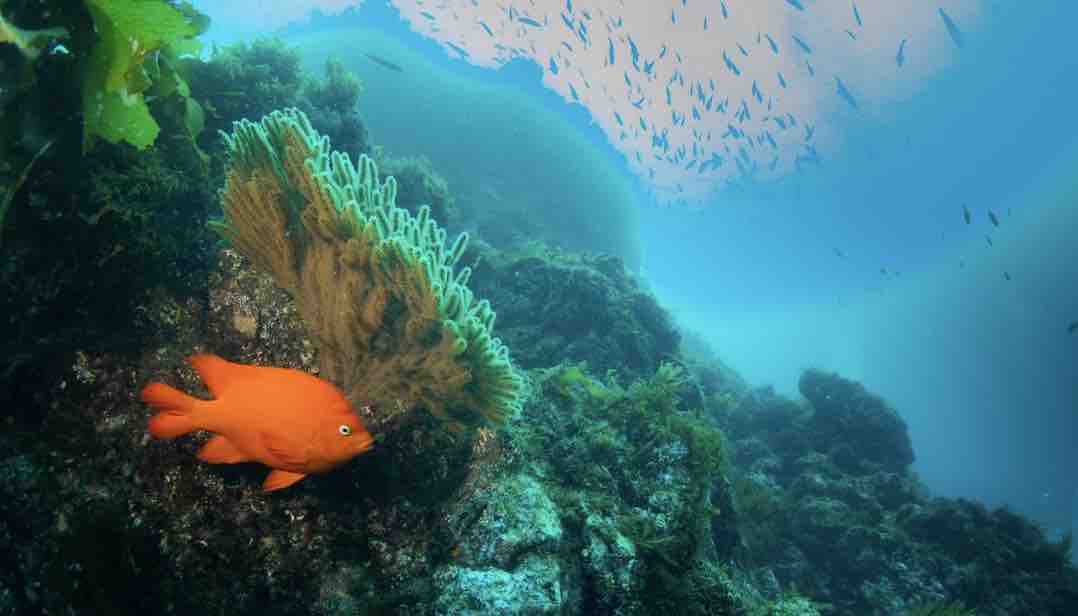 Scuba diving near Catalina by San Clemente Island
If you like to scuba dive or snorkel, Catalina has some lovely dive spots and snorkeling in the Avalon Underwater Dive Park. You may book an excursion on a glass bottom boat or take a dive boat tour from the nearby Catalina Pier.
The Avalon Underwater Dive Park is located in Avalon, near the Catalina Casino.
Camp Cherry Valley and Camp Emerald Bay offer summer camps for children and scout troops.
---
Downtown Avalon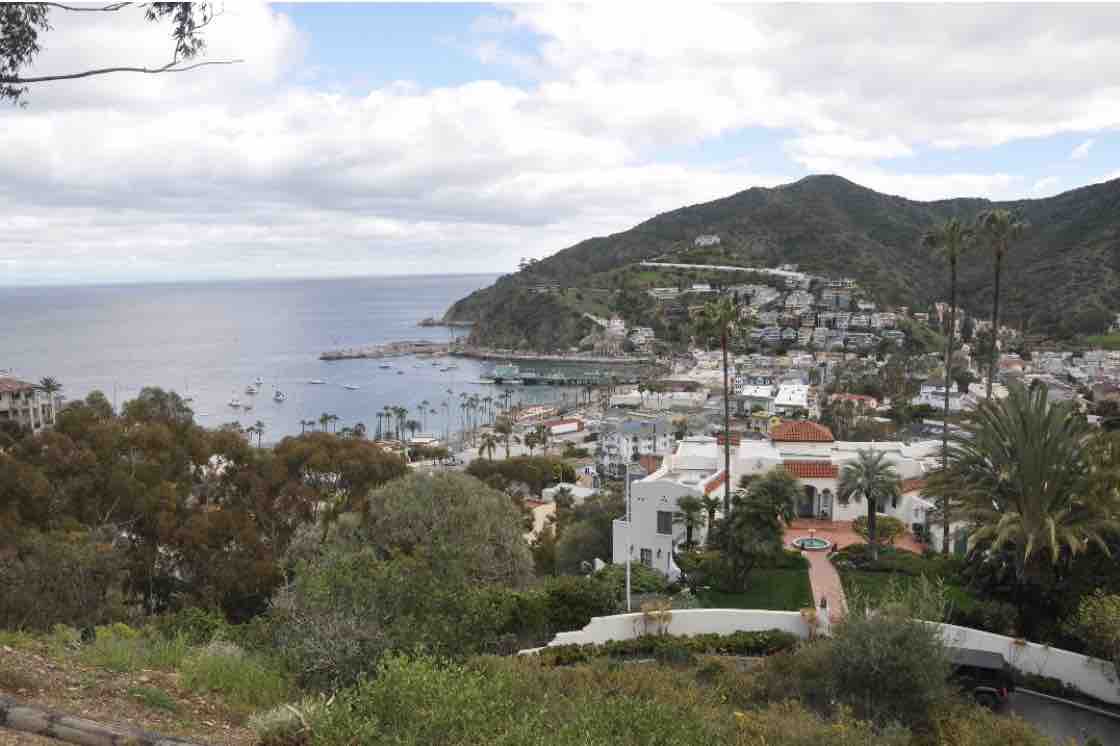 Stroll around and explore the charming streets of downtown Avalon. There are many shops and restaurants near Avalon Harbor, and the Avalon Pier. Get your wiki whacked at Luau Larry's. Need groceries? Shop at the new Vons in Avalon Catalina. Explore the pier.
---
Two Harbors
Known as the hidden gem of Catalina, Two Harbors is located on thee other side of the island from Avalon. Here you can explore the great outdoors from land or sea, and eat at the Harbor Reef Restaurant. Those with boats will moor in the harbor, or you can stay in a campground or at the Banning House Lodge (advance reservations required). 
During summer and early fall you can take a Cyclone boat tour from Avalon to Two Harbors.
---
Wrigley Memorial and Botanic Garden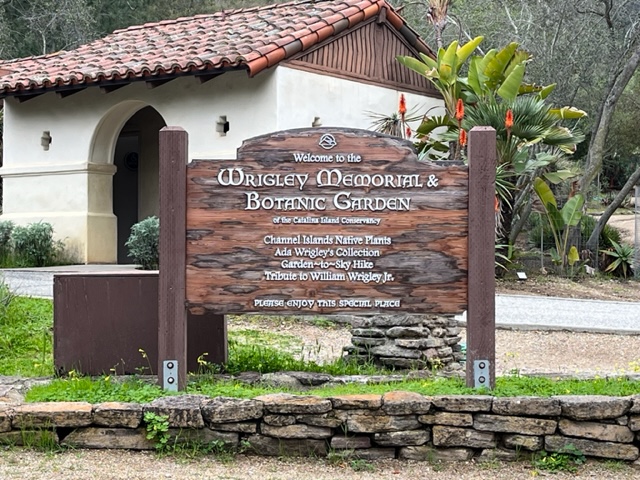 About a mile from Avalon, you can visit the Wrigley Memorial and Botanic Garden. The garden has a collection of endemic plants from the California islands, and numerous plants from around the world. A short walk to the Wrigley Memorial offers the rewarding views of the mountains and Avalon Bay. The memorial is. dedicated to William Wrigley Jr, who was a key figure in the development of Catalina Island.
---
Catalina Island Hotels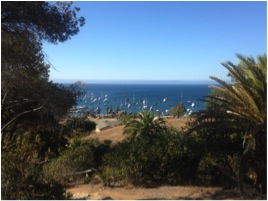 Places to stay in Two Harbors
The Banning House - Check out the view from The Banning House at Two Harbors, Catalina. This cozy, Craftsman-style bed and breakfast was built in 1910 as a summer home for the pioneering Banning brothers. It offers amazing views of the Isthmus of Catalina and Catalina Harbor above Two Harbors. Two Harbors is truly island life without the hustle and bustle of shopping and retail. Be ready to enjoy a relaxing and somewhat more quiet version of Catalina.
Keep in mind there are only twelve rooms when planning for your group. Each room is individually decorated and have a private bath. Some rooms accommodate up to four people. The entire facility can be reserved for special occasions.
Places to stay in Avalon
There are many choice of hotels in Avalon. Here are our recommendations.
La Paloma Las Flores - $ We enjoyed staying at La Paloma Las Flores, a quaint hotel with cottages in downtown Avalon, not far from the new Vons store. Our cottage had a kitchenette and outdoor grill. A great choice for those on a budget, and those looking for some charm of yesteryear. LaPolamaLosFlores.com
Hotel Atwater $$$ Newly updated traditional hotel in the heart of Avalon. VisitCatalinaIsland.com
Hotel Metropole - $$$ Luxurious guest rooms and suites close to shopping and the waterfront. Hotel.Metropole.com
Seaport Village Inn - $$ Moderate price inn with large rooms and full kitchens. This is a good choice for scuba divers as they offer dive packages and gear transportation to the dive dock. SeaportVillageInn.com
---
Catalina Island Ferry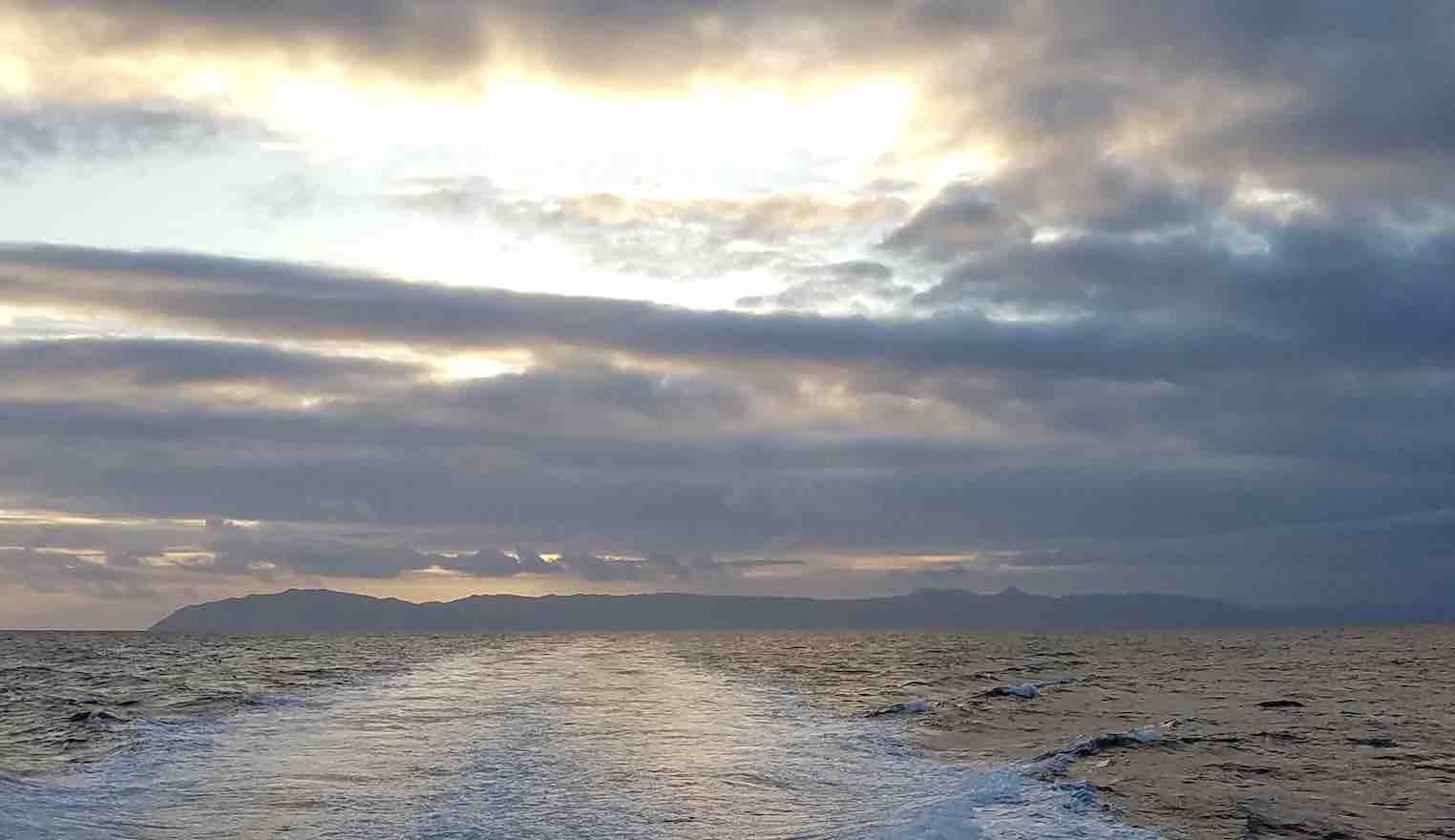 View of Catalina Island at sunset from Catalina Express ferry.
Most people arrive at Catalina Island by ferry boat. The
Catalina Express
ferry offers ferry rides from Long Beach, San Pedro and Dana Point to the cities of Avalon and Two Harbors on the island. Dana Point is the closest terminal from San Diego for the Catalina Express
Save up to $8.50 on discount tickets for the Catalina Express through aRes Travel. arestravel Catalina Express.
Directions to Data Point Harbor from San Diego - From Interstate 5 north, exit at Beach Cities, Highway 1 off-ramps. Turn left at the second signal, Dana Point Harbor Drive, then left at Golden Lantern. The Dana Point Harbor parking lot is ahead. Park briefly in the short-term parking area to purchase tickets for the Catalina Express ferry and a parking pass for the long-term parking lot. Allow 15 minutes extra to move your car to the long-term parking area, and walk back to the dock.
---
Home › Weekend Getaways › Catalina Island.