Universal Studios CA

Visit Universal Studios CA, the popular theme Park in Hollywood California. Located in world-famous Hollywood, this park offers tours, rides and fun Hollywood style. The Wizarding World of Harry Potter is now part of Universal Studios Hollywood.
Universal Studios is both a theme park and a Hollywood movie studio. It is located about 45 minutes from Disneyland California, and 2 hours from San Diego. 
Updated September 21, 2023 by San Diego Beaches and Adventures
Universal Studios California Theme Park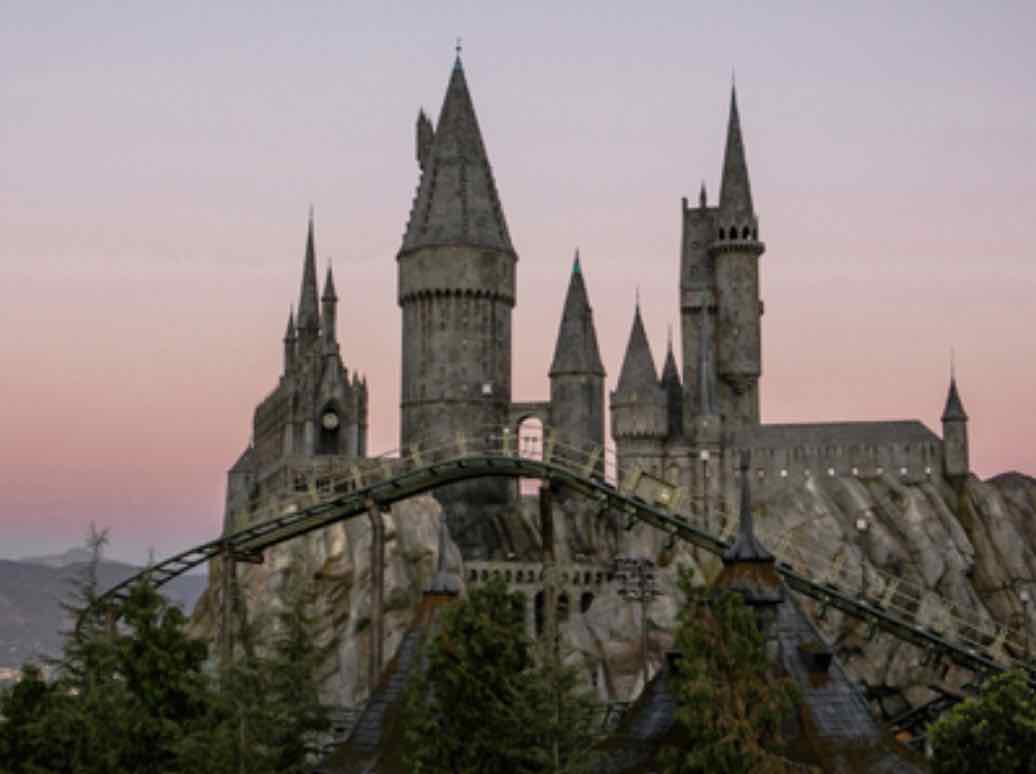 Harry Potter Flight of the Hippogriff Rollercoaster - photo courtesy of Universal Studios
If you love theme parks, a visit to Southern California should include a day at Universal Studios Theme Park. Don't miss the shows and rides - the new LA Wizarding World of Harry Potter World, and WaterWorld - A Live Sea War Spectacular, and of course, the King Kong 360 3D exhibit.
Universal Studios Discount Tickets
The park includes lots of fun for the whole family. In addition to the must see behind-the-scenes Hollywood tour, there are many rides and attractions including these popular rides:
The Wizarding World of Harry Potter including Harry Potter and the Forbidden Journey, and Flight of the Hippogriff rollercoaster.
Revenge of the Mummy ride (must be 48" tall)
Jurassic World - The Ride (must be 42" tall)
King Kong 360 3D
WaterWorld - A Live Sea War Spectacular show (you may get soaked!)
The Simpsons Ride (must be 40" tall)
Special Effects Show
and more.
You can also meet your favorite characters like The Simpsons, Scooby Doo and Shrek.
The LA Wizarding World of Harry Potter opened in 2016 at Universal Studios CA. The Los Angeles Harry Potter theme park is modeled after the famous Harry Potter series, and the successful Wizarding World of Harry Potter at Universal Studios in Orlando, FL.
---
Universal Studios Tour
Fast and Furious Supercharged Tour - photo courtesy of Universal Studios
Of course you won't want to miss the Behind-the-Scenes Hollywood Studio Tour and and go behind the scenes of a working movie studio. After all, this is Universal Studios LA! The current tour is Fast & Furious Supercharged Tour, a bit rougher than some of these images from earlier tours: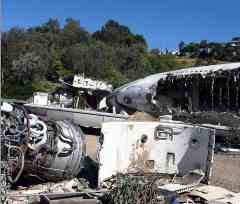 War of the Worlds plane crash
Psycho Norman Bates at the Bates Motel
The Universal Studios tour is free with your admission to Universal Studios LA. Also don't miss the Universal Studio Special Effects Stage to give you insights into those Hollywood special effects, sure to dazzle you.
The VIP Experience tour costs extra, but gives you plenty to see back stage. You have a personal studio guide, get to walk around in the backlot, and see sets from your favorite shows. Reservations are strongly recommended as space is limited.
---
Universal Studios CA Theme Park Information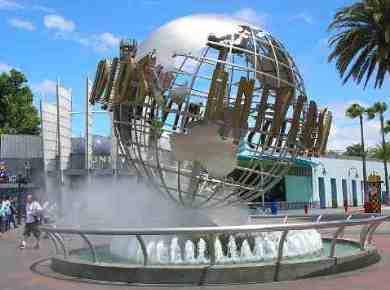 This Hollywood style theme park in Southern California has studio tours, rides, shows and food.
Universal Studios CA Address: 100 Universal City Plaza, Universal City, CA 91608
Phone Number: 1-800-UNIVERSAL
Universal Studios Hours: Vary from 10 - 5 off-season weekdays to 8 AM - 10 PM summer weekends. Hours vary each day.
Early Admission - If you purchase a preferred hotel package from Universal Studios online, you can get 1 hour early admission to The Wizarding World of Harry Potter.
Directions to Universal Studios CA: See below | google Map
Parking: $30 is typical, RVs pay extra. After 6 PM, parking is only $10.
Ticket Prices: Regular price is $109 to $139 per person, ages 2 and under are free. Front of the line pass is expensive and the price varies depending on the season, which includes priority access to all rides and attractions and reserved seating. VIP tickets are available for additional cost. But don't pay full price - see our page on Universal Studios Discount Tickets
Food: One of the nice things about this SoCal theme park is CityWalk, a collection of fun restaurants in a Hollywood California setting open during the day and for several hours after the park closes. Stay for a late dinner after your day at Universal Studios LA!
Official website: www.universalstudioshollywood.com
---
Special Events at Universal Studios California
Universal Studios Halloween Horror Nights
offer the scariest Halloween event in Southern California. Open late September - October on select nights only. No costumes allowed as you wouldn't want to upset any monsters with chainsaws.
Grinchmas happens every winter at Universal Studios, where the Grinch himself can be seen at Whoville.
---
Universal Studios CityWalk
Universal Studios CityWalk is located just outside Universal Studios, as you walk from the parking lots to the theme park. Citywalk has restaurants, clubs, IMAX theater, shops, live music and lots of fun to get you into the Hollywood spirit.
You can exit the park for a nice meal, or stay later in the evening after the park closes and enjoy an evening of food and entertainment.
Admission to the theme park is not required to visit CityWalk.
---
Don't worry, you don't have to drive across this bridge to get there! It's just part of the studio tour.
Universal Studios California is located in Southern California about one hour from Disneyland and about two hours north of San Diego Cal. For map and driving directions, see Map of Hollywood
---