Sea World San Diego

Visit
Sea World San Diego
, a delightful marine theme park in the heart of Mission Bay, San Diego, California. Here you can see dolphin shows, learn about Orca whales, enjoy a summer fireworks show, enjoy some
Sea World Rides
, and even swim with the dolphins!
Updated December 5, 2023 by San Diego Beaches and Adventures
Seaworld Theme Park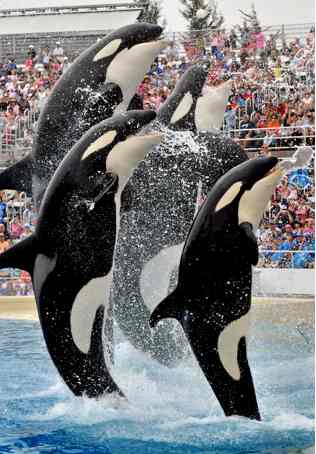 Four of SeaWorld' San Diego's killer whales leap out of the water during "Believe," in a SeaWorld San Diego's killer whale show. Photo courtesy of SeaWorld.
This is one of our favorite Southern California theme parks. It offers a variety of marine life, shows, roller coaster and kids rides, fireworks and loads of fun. SeaWorld has also opened Sesame Place San Diego, a theme park which features Sesame Street activities and themed water rides.
Sea World San Diego Attractions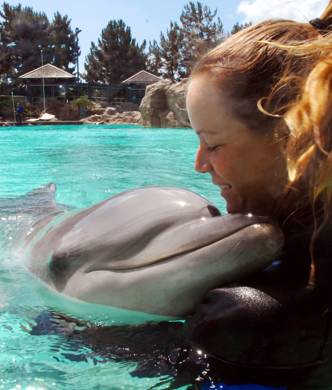 Orca Encounter
See the orca whales and learn about their communication, play and behaviors in the nightly sea animals.
Sea Lion and Otter Spotlight - Learn about California sea lions and Asian small-clawed otters in an entertaining and educational journey.
Dolphin Adventures - See the amazing high-flying Bottlenose Dolphins display their athletic skills.
Roller Coaster and Other Rides Ride some of the thrilling roller coaster rides like Manta, Emperor or Electric Eel ride, or additional more Sea World Rides, shows and things to do at Sea World San Diego theme park.
Animal Exhibits - Learn about marine life including Beluga Whales, Walruses, Penguins, Sharks, Flamingos, Harbor Seals, Orcas, Dolphins, Bat Rays, Curl-Crested Aracaris birds, Macaws, Moray Eels, Pilot Whales, Sea Turtles, Penguins, Sea Lions, Sloths and Sea Otters.
Interactive Animal Exhibits - Explore the interactive animal exhibits including Sea Lion Point, Aquariums, Ocean Exporer Animals, Tidepools, Explorer's Reef Touchpools, Bat Ray Shallows and Orca Encounter.
Dolphin Interaction - During SeaWorld San Diego's Dolphin In-Water Interaction program), participants get an amazing in-water experience with bottlenose dolphins in the a pool. An awesome experience that requires and extra fee. Reservations recommended.
Dolphin Encounter - At the Dolphin Encounter, guests can get close to bottlenose dolphins without getting in the water.
Up-Close Encounters - In additional to the dolphin encoounter, there are multiple up-close encounters to choose from including Pilot Whale, Sea Lion, Penguins, Beluga, Flamingo, Walrus, Sloth and Orca. Reservations recommended and extra fee applies.
Sesame Street Kids Play Area - Sesame Street Bay of Play at SeaWorld is a two-acre, whimsical play area that features family-friendly rides, character performances and interactive play elements. Events - During the year, SeaWorld holds multiple events including summer concerts, fireworks, light shows, concerts, Halloween and Christmas holiday events.
---
Seaworld San Diego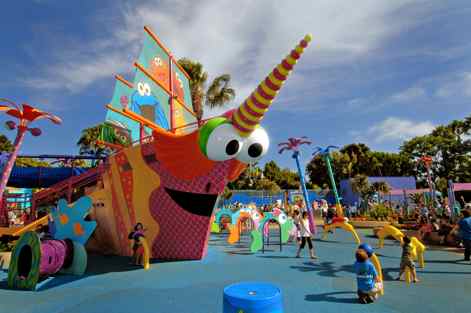 Sea World San Diego
is a premier aquatic theme park in San Diego CA, in
Mission Bay Park
.
SeaWorld Address: 500 Sea World Dr., San Diego, CA 92109
Phone Number: (800) 25-SHAMU (1-800-257-4268)
SeaWorld Hours: Daily. Hours vary, but typically open at 10 AM during the off season and weekdays, and 9 AM summer and weekends. Closing time varies, but open later summer and weekends.
Sesame Place: In 2022 SeaWorld opened Sesame Place San Diego, af the location of their former Aquatica waterpark. The park is open daily during the summer and on weekends/holidays during the year. For more information see Sesame Place San Diego.
Directions to Sea World San Diego: See below | Google Map
Parking: $25 for cars
Ticket Prices: $109.99 adults and youth ages 10 and up, children ages 3-10 $109.99. There are many special discounts and combination passes with other Southern California attractions. See our Sea World Discounts page for more information.
Food: Eat at the park, or you can picnic at nearby Mission Bay Park.
Dog Kennel Service: If you have your dog with you, bring him to the pet facility. For a $25 fee you can keep him in a 4 ft x 8 ft kennel. Bring your own food and bowls, water is available. First come basis so arrive early.
Official website: www.seaworld.com
---
Directions to San Diego SeaWorld from I5: From Interstate 5 take the SeaWorld Dr. exit and head West one mile.
Directions from I8: From Interstate 8 go north on Interstate 5 to SeaWorld Dr. and turn West towards the park entrance.
View San Diego Attractions Map in a larger map
Click on the link above to open the Google Map for SeaWorld and other attractions in San Diego and southern California.
---
Home › San Diego › Sea World San Diego