Disneyland California Address

Directions and Parking Information

Disneyland California Address, Google Map and Directions, Parking and more to make your visit to Disneyland a happy stay. Disneyland is pretty easy to find, with easy freeway access from Interstate 5. There are several different parking areas depending on your vacation plans. You may then ride the tram or monorail to Disneyland or California Adventure theme parks.
arestravel.com - Save up to $15 per ticket or 29% on Disneyland discount tickets and vacation packages.
Updated March 26, 2023 by San Diego Beaches and Adventures
If you are visiting
Disneyland in Anaheim, California
, you'll want to know the address. We hope you find this information useful for your stay in Southern California.
Disneyland California Address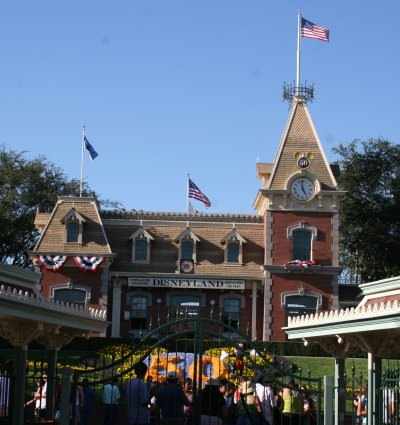 Please note the entrance to
Disneyland
and
Disney California Adventure
are off the same plaza, so these driving and parking directions apply to both Disney theme parks.
When planning your day at the Disneyland Resort parks, if you are driving, we suggest you arrive 60 minutes early if you are buying your ticket at the gate (when available), or 30 minutes early if you already have your tickets. This will allow you plenty of time to park, ride the tram and purchase tickets if needed at the main gate. You may also save money by purchasing Disneyland tickets in advance, and that may be required depending on current rules. See Cheap Disneyland Tickets.
Disneyland Anaheim Address
The Disneyland, California address is:
1313 S Harbor Blvd
Anaheim, CA 92802
Disneyland Anaheim Parking Address
But what you probably really want to know is the address for Disneyland parking.
The main parking garage is located at:
1301 Disneyland Drive
Anaheim, CA 92802
There are many other parking lots with free tram or shuttle services. See our Google Map below.
Disneyland Address for Disney Hotels:
Disneyland Hotel Address
1150 Magic Way, Anaheim, CA 92802
Disney Grand Californian Hotel & Spa Address
1600 South Disneyland Drive, Anaheim, CA 92802
Disney Paradise Pier Hotel
1717 South Disneyland Drive, Anaheim, CA 92802
Disneyland Guest Drop-Off Areas
You'll find a "Guest Drop-Off Only" area on the west side of Harbor Boulevard, located south of Manchester Avenue and north of Disney Way, for picking up or dropping off Guests at the theme parks or those who wish to purchase tickets for a future visit. 15 minute parking time limit, so use your cell phone to coordinate pickups.
Disneyland California Mailing Address
The Disneyland, California mailing address is:
P.O.Box 3232
1313 S. Harbor Blvd.
Anaheim, CA 92803
Disneyland California Telephone Number
The Disneyland, California main information phone number is:
(714) 781-4565
Disneyland Airport Information
There are many Southern California airports near Disneyland, and the best one depends of what else you plan to do when staying in Southern California. Here is a list of the airports closest to Disneyland Anaheim, listed in order of proximity:
John Wayne Airport (SNA)
Long Beach Airport (LGB)
Los Angeles International Airport (LAX)
Ontario International Airport (ONT)
Bob Hope Airport (BUR)
San Diego International Airport (SAN)
View San Diego Attractions Map in a larger map
Google map to Disneyland and other San Diego Attractions - Just click on the link to our map above
Map of Disneyland park - For other maps of Disneyland park, see Map of Disneyland Park
Driving Directions to Disneyland California and Disney California Adventure in Anaheim, CA
You can use Google Maps or Mapquest to find the location using the parking garage address of
1301 Disneyland Drive
Anaheim, CA 92802
or
W Ball Rd & S Disneyland Dr.
Anaheim, CA 92802
Disneyland Directions
Disneyland Resort is located in the Southern California town of Anaheim, in Orange County, south of Los Angeles. Exit Interstate 5 Southbound using the Disneyland Drive exit and Northbound using the Katella Avenue exit. The street signs will direct you where to go. The best parking garage is the Mickey and Friends Parking Structure. If you are routed to one of the other parking lots, you may get rerouted to this main parking garage.
Disneyland Parking Cost
Disneyland Parking fees are $30.00 for cars and motorcycles, and slightly more for oversized vehicles, motor homes, buses and tractors with extended trailers. Daily preferred parking rates are available for $45.
Oversized Vehicles Parking Lot
When visiting the theme parks, over sized vehicles should use the main entrance to the Mickey & Friends Parking Structure, located south of the Disneyland Drive and Ball Road intersection. The height limit of the Mickey & Friends Parking Structure is 13'10".
---
Disneyland Anaheim Parking and Tram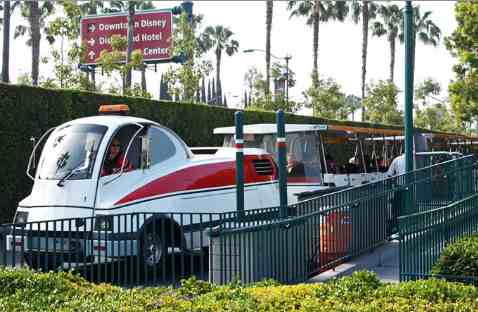 Once you've parked in one of the Disneyland parking lots, a free Disneyland tram will take you to the main entrance of Disneyland and Disney California Adventure. There you may purchase tickets if needed, and enter either Disneyland California or Disney California Adventure theme park. Some tickets are "park hopper passes" which allow you to visit both Disney parks on the same day.
---
Disneyland Hotel Address and Directions
If you are staying at one of the
Disneyland hotels
, you can ride the monorail to Disneyland park.
Disneyland Resort Address
1313 South Harbor Boulevard, Anaheim, CA 92802
Downtown Disney District Address
1580 South Disneyland Drive, Anaheim, CA 92802
Disneyland Hotel Address
1150 Magic Way, Anaheim, CA 92802
Disneyland Hotel Phone Number: Operator (714) 778-6600 Reservations (714) 956-6425
Disney's Grand Californian Hotel & Spa Address
1600 South Disneyland Drive, Anaheim, CA 92802
Grand Californian Hotel Phone Number: Operator (714) 635-2300 Reservations (714) 956-6425
Disney's Paradise Pier Hotel
1717 South Disneyland Drive, Anaheim, CA 92802
Paradise Pier Hotel Phone Number: Reservations (714) 956-6425
---
Disneyland Anaheim, CA Information