Sesame Place San Diego
Check out Sesame Street San Diego, a new family friendly theme park and water parl that opened in 2022. The park is owned by Sea World, and opened at the site of the former Aquatica Water Park.
Updated September 21, 2023 by San Diego Beaches and Adventures
Sesame Street Theme Park
If you are a fan of Sesame Street, you will love this theme park based upon the characters and sites from Sesame Street. Known as Sesame Place San Diego, this theme park has many kid friendly rides and fun water rides, slides, and attractions for those hot summer days.The park is open daily during the summer, and on weekends/holidays during the rest of the year.
The best time to visit is early morning, where you can grab a lounge chair and don't have to wait in long lines for the rides.
If you are looking for a San Diego water park in north county, try The Wave Water park, or if visiting Legoland, the Legoland water park. If you are in northern LA area, try the Knotts Soak City WaterPark Buena Vista or  Six Flags Hurricane Harbor water park. 
The park offers some seasonal events such as Halloween Spooktacular and A Very Furry Christmas.
---
Sesame Place Rides and Attractions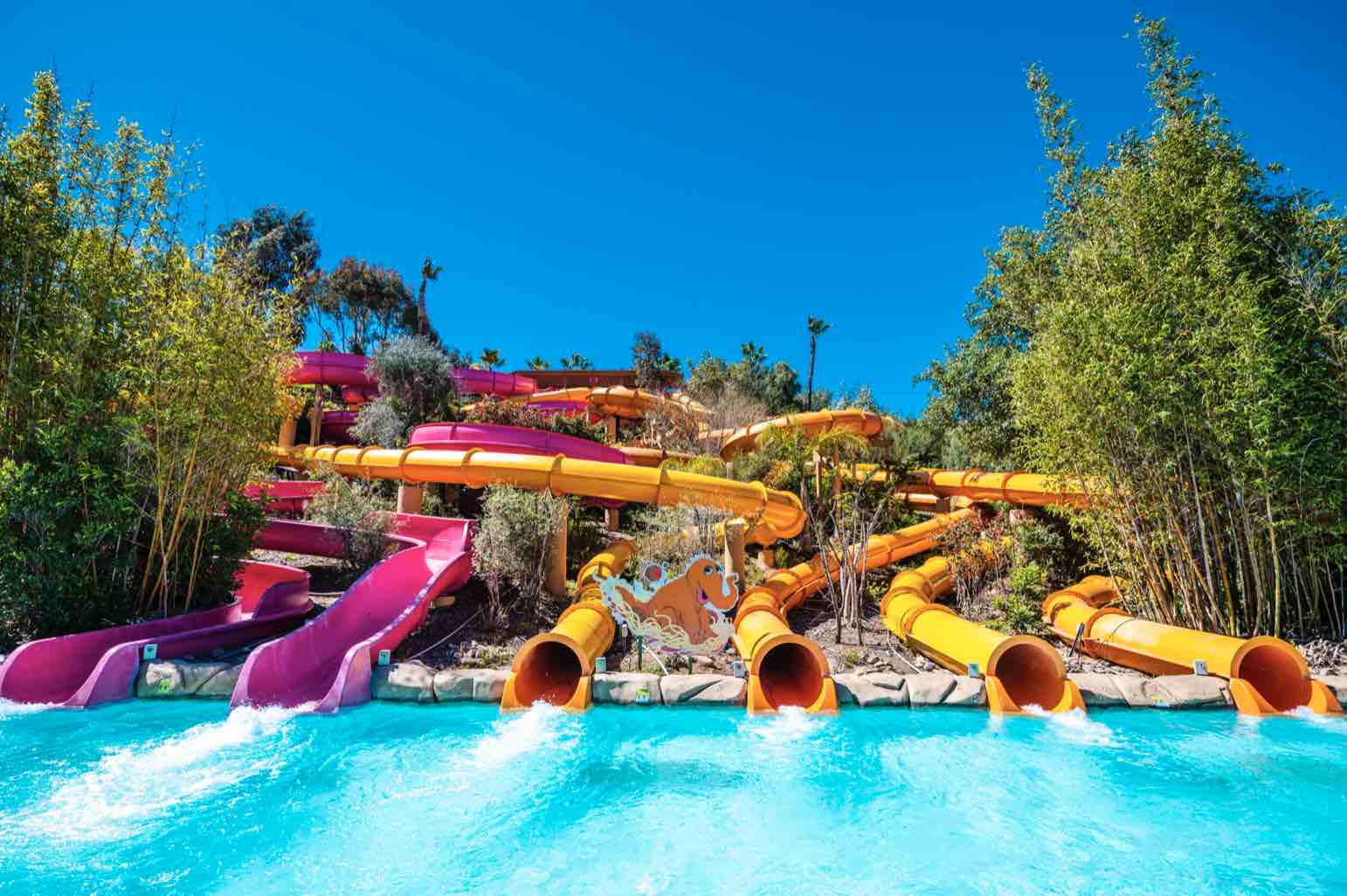 Sesame Place offers a variety of wet rides, dry rides and other attractions for kids of all ages. Some water rides are for those 48" or taller, some 42" or taller, and some reserved for those under 48" tall.
Here are a few of the fun attractions:
Sesame Street Neighborhood - Meet your favorite Sesame Street characters: Big Bird, Bert & Ernie and more. Enjoy story time with Big Bird, or explore Sesame Street.
Sesame Street Party Parade - Watch the parade down Sesame Street.
Welcome to Our Street - Watch the theater show with Elmo, Cookie Monster and more of your favorite characters.
Family Friendly Dry Rides - Enjoy some family friendly rides like Abby's Fairy Flight, Cookie Climb, Elmo's Rockin' Rockets, Rosita's Harmony Hills, and Rub-a-Dub Sub.
Water Rides Enjoy Bert's Topsy Turvy Tunnels, Big Bird's Beach, Big Bird's Rambling River, Cookie Monster's Mixer, Elmo's Silly Sand Slides, Ernie's Twisty Turvy Tunnels, Honker Dinger Dash, Oscar's Rotten Rafts, Snuffy's Spaghetti Slides and The Count's Splash Castle.
---
Sesame Place San Diego Information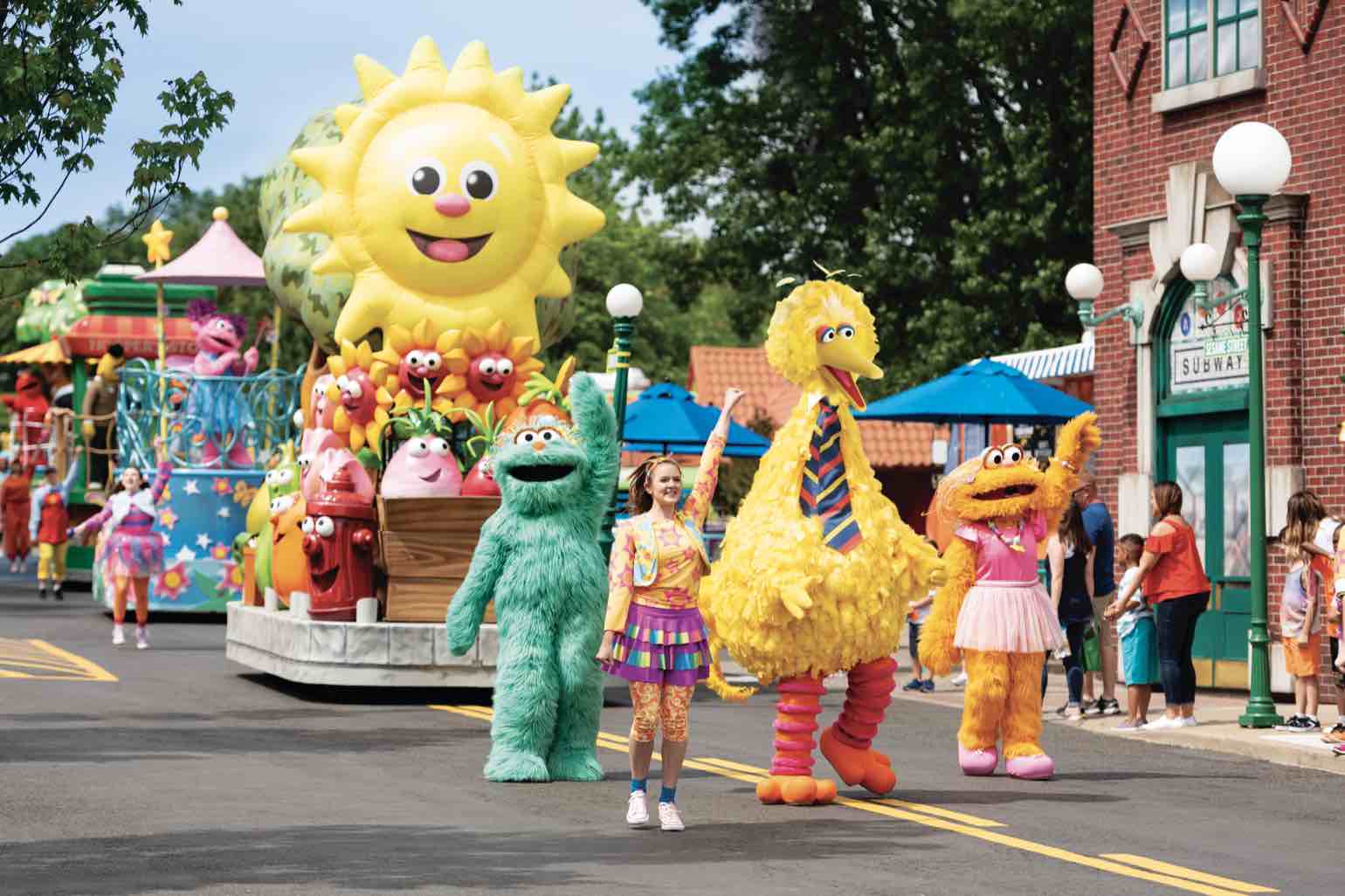 Sesame Place San Diego
is a children's theme park and mid-size San Diego water park in southern California, open daily during the summer and weekends &n holidays throughout the year. Arrive early as if attendance is high (especially on a hot weekend summer day), they may not allow additional guests into the park.
Sesame Place Hours - The park typically opens at 10 AM and closes between 5 PM and 7 PM.
Sesame Place Tickets - Tickets cost approximately $69.99 for kids adults and kids age 2 and older, under 2 are free. Their website may have special off-season deals such as $49.99 per ticket. For discount tickets, see Sesame Place Discount Tickets.
Upgrades - For additional fees, you can update your experience. This should be done online as space is limited. Upgrades include cabana and day bed rentals at various water attractions; Magic Queue priority boarding for dry rides, water rides or unlimited rides; up-close and VIP parking; reserved seating for Sesame Street parade, and reserved seating to Welcome to Our Street at Sesame Street live theatre.
Directions to Sesame Place San Diego Theme Park - See below
Sesame Place San DiegoSan Diego Address - 2052 Entertainment Circle, Chula Vista, CA 91911 | Google Map
Phone Number 619-943-ELMO
Parking - $30 parking fee for cars, $30 for motorcycles and $30 for RVs
Food - You may bring water bottles but you may not bring your own food into the park. Tip: Freeze a large water bottle for each person at home before you leave, and you can have ice-cold refreshing water to drink. If you keep an ice chest in your car, you can exit for a picnic lunch if you prefer to not eat the theme park food. If you have special dietary needs and want to bring in food, you must request permission 3 days in advance.
What to Bring - Bring your swim suit (no thong type suits) of course, towel, plenty of sun screen and a credit or debit card to purchase a cashless wrist bad.. This allows you to set up a spending account for food purchases, without having to carry cash. Everyone in your family will receive waterproof wristbands for purchases, so there is more time to enjoy the rides! Life vests are provided. You may bring swim masks and goggles, Waterproof protectors required for kids in diapers.
What not to bring - No flotation devices, noodles, floats or boogie boards. No ice chests or coolers. No outside food or drinks inside the park (except water bottles and special dietary items).
Official website - For more information see the official website for sesameplace.com/san-diego/
---
Sesame Place Discount Tickets
Sesame Place Discount Tickets may be obtained from different sources.
aRes Travel offers discount tickets to Sesame Place San Diego. Recently they were offering $12 off each tickets. For current offerings see arestravel.com
Military Discounts - Discounted Sesame Place tickets for military and their families are. available at base ITT offices.
Sea World and Sesame Street Combo Tickets - If you also want to visit SeaWorld, consider a 2 park ticket and save 30%.
Season Pass - Sesame Place offers season passes to Sesame Street, a great deal if you live nearby and would like to attend multiple times
Group Discounts - Group discounts are available for groups of 15 or more.
---
Directions to Sesame Place San Diego
Directions to Sesame Place San Diego from Interstate 5
- From San Diego, go south on Interstate 5 past the 54 Freeway. Turn left (East) on Main Street and continue straight onto Heritage Rd. After approximately 5 miles, turn right on Entertainment Circle to the end of the street.
Directions to Sesame Place San Diego from Interstate 805 - From San Diego, go south on Interstate 805. Exit Main Street/Auto Park Drive. Turn left (East) on Main Street and continue straight onto Heritage Rd. After approximately 2 miles, turn right on Entertainment Circle to the end of the street.
Directions to Sesame Place San Diego from SeaWorld California - From Sea World San Diego, take Interstate 8 east for 5 miles, then head south on interstate 805 for 14 miles. Exit Main Street and turn left. Continue on Main St. for 1.8 miles, then continue straight onto Heritage Road for 0.5 miles. Turn right on Entertainment Circle.
Click on the link below to open the Google Map for Sesame Place San Diego and other attractions in San Diego and southern California.
View San Diego Attractions Map in a larger map
Home › San Diego Things to Do › Sesame Place San Diego