Disneyland California
Disneyland in Anaheim, CA

Visit magical
Disneyland California
, the happiest place on earth. Located in the city of Anaheim, Orange County in Southern California, the world famous Disney parks - Disneyland and
Disney California Adventure
, attract millions of tourists each year.
Disneyland California is open! Reservations are required.
arestravel.com - Save up to $15 per ticket or 29% on Disneyland discount tickets and vacation packages.
Updated September 21, 2023 by San Diego Beaches and Adventures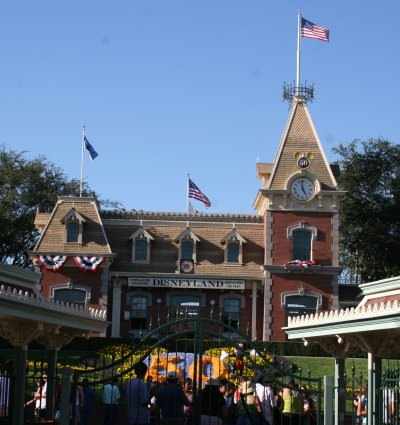 Disneyland California Address:
for address to Disneyland Resort, Disneyland parking garage, and Disneyland hotels, see
Disneyland Address
Phone Number: (714) 781-4565
Disneyland California Ticket Prices: The most expensive tickets are one-day park hopper passes purchased online (or at the gate if they ever go back to reservations not required). You can get many discounted Disneyland California tickets if you plan ahead. Disney currently requires reservations and has ticket pricing that varies by the day, so you want to check out information on current ticket prices and discounts at Disneyland Anaheim Tickets.
Disneyland Annual Passports - If you are a frequent visitor to Disneyland, an annual passport in now called a Magic Key pass. Check out the options for Magic Key passes at Disneyland Annual Passes.
Disneyland California Hours: Disneyland is open daily, including all major holidays, when it is very popular. Park hours vary by day and season, so check for the current Disneyland Anaheim hours at Disneyland Hours.
Best Disneyland Tips: We have many best Disneyland tips for a great vacation at Disneyland or nearby Disney California Adventure theme parks, including tips for toddlers and tips for visiting Disneyland on a rainy day. See Disneyland Tips and Tricks and Disneyland in the Rain Tips.
Disneyland Hotels: Disney has 3 Disneyland Hotels that are connected to the park via the monorail. These 3 Disney hotels are fairly expensive but convenient. There are also many moderate priced hotels near Disneyland, within easy walking distance to Disneyland California.
Disneyland Package Deals - Save money for your Disneyland California vacation by getting a package deal, which may include discounted tickets, hotel and even airfare. For details see Disneyland Package Deals.
Parking: Current Parking fees are ` $30.00 for cars and motorcycles, and is more expensive for oversized vehicles.
Disneyland California Directions: Exit Interstate 5 in Anaheim California. For additional directions to the parking structure, see see Disneyland Anaheim Directions
Pet Accommodations: Dogs and Cats may stay for $20 a day at the Disneyland Kennel Club, which is open 30 minutes before and after the park operating hours. Pets must have vaccination certificates for rabies and other short. Call 714) 781-7290. No overnight stay.
Food: When you're hungry -- and you're bound to be hungry sometime during your trip to Disneyland CA -- you can find food almost anywhere. My favorite is Docking Bay 7 in Star Wars: Galaxy's Edge. A great place to look for food though is Main Street or New Orleans Square. You can get a delicious gumbo or clam chowder in a bread bowl at the Royal Street Veranda in the New Orleans Square. There are also several cheap restaurants outside Disneyland park across from the main entrance. These include McDonald's restaurant, Tony Roma's ribs, Denny's, Cold Stone ice cream parlor, and IHOP. Also two blocks outside Disneyland park is the Anaheim Gardenwalk, with many nice restaurants such as Bubba Gump, Cheesecake Factory and many more.
---
Disney opened Star Wars: Galaxy's Edge, aka "Star Wars Land" in Disneyland California, which includes some of the favorite Star Wars themes. You can enjoy new experiences on the Star Tours ride, and explore behind-the-scenes of Star Wars: The Last Jedi at the Star Wars Launch Bay. You can catch a glimpse of Batuu and meet some characters, but for the full experience come back when the expansion is complete,
Star Wars: Galaxy's Edge. Pilot the Millennium Falcon for a smugglers run through hyperspace. This ride is also eligible for Lightning Lane reservation with the Disney Genie+ option.
Star Wars: Rise of the Resistance. Join the Resistance and fight the First Order. For an extra fee of about $20, you can buy an a la carte Lightning Lane pass and get a reserved ticket to avoid the long line. You won't want to miss it!
---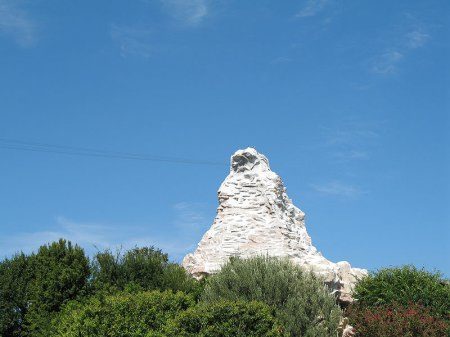 Disneyland California, the original Disneyland theme park, will keep you coming back with its classic rides. The best rides used to be called the E ticket rides, back in the days when Disneyland issued ticket books instead of their daily pass for all you can ride.
Crowded lines attest to the greatness of the most popular roller coasters in the park, the Matterhorn Bobsleds, Thunder Mountain and Space Mountain. The Matterhorn spirals through the easy to spot snow-covered mountain formation in the middle of the park, with abominable snowmen appearing throughout.
Thunder Mountain
railroad weaves through the canyons and mine shafts of an abandoned mine at Disneyland Anaheim.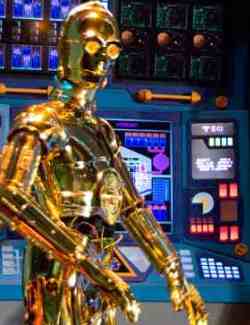 Explore the expanded Star tours ride, with over 30 different adventures in space with your favorite Star Wars characters.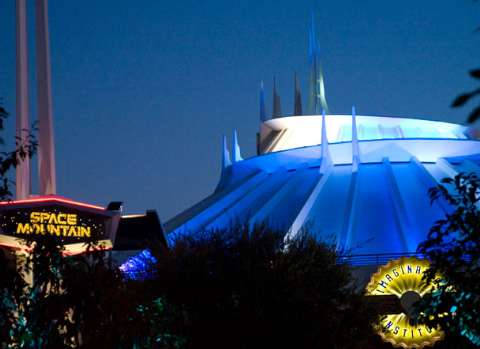 Space Mountain
has a more unique scenery, where it shoots the rider into hyperspace Star Wars style, through a pitch black room sparkled with spectacular stars that make the ride a thrilling experience at Disneyland Anaheim.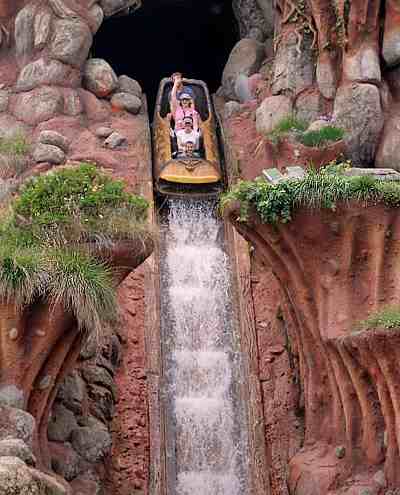 Splash Mountain
, with its daunting 50 foot drop, challenges riders to face their fear of heights. With its crazy and almost nonsensical calm story telling beginning, Splash Mountain almost induces an amnesia of the great drop at the end, until, at least, you finally get to the end. But beware -- you may get wet.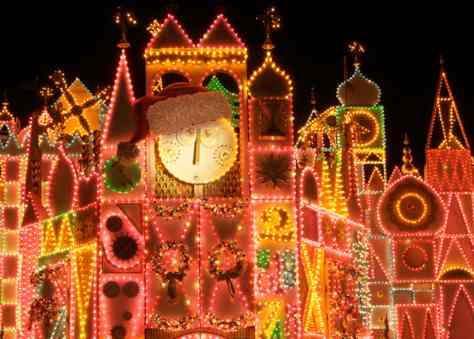 For when things calm down and you get tired, you can enjoy some of the more relaxing Disneyland rides. One of the most famous is
It's a Small World
, a boat ride that combines the merriment of many ethnic groups all singing the uniting song "It's a Small World."
Pirates of the Caribbean
is another one that shows that plot of the adventures of Jack Sparrow as he drunkenly dodges his pursuers. You may also enjoy the
Jungle Cruise
, an exploration of the jungle often accompanied by a humorous twist by your guide.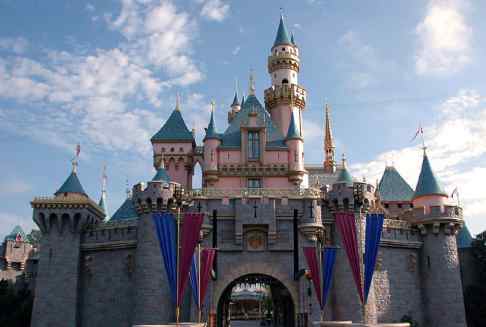 Many of the Disneyland CA rides follow the plots of famous Disney movies. Some you get to ride through the adventure, including
Snow White's Scary Adventures
and
Peter Pan's Flight
. Others you can walk through such as
Sleeping Beauty's Castle
and
Tarzan's Treehouse
.
Other Disneyland California Attractions
Outside the many rides at Disneyland CA, you can find many other things to do. Check out
Tom Sawyer Island
, which is a child's dreamland filled with secret tunnels, tree houses and rope bridges. The island recalls the adventures of Tom Sawyer and Huckleberry Finn when they ran away to a remote island to like the carefree like of a pirate. Circling the island is the
Mark Twain Riverboat
, named after the Author of Tom Sawyer and Huckleberry Finn. You can also take the same route around the island riding the ship Columbia or rowing the Explorer Canoes.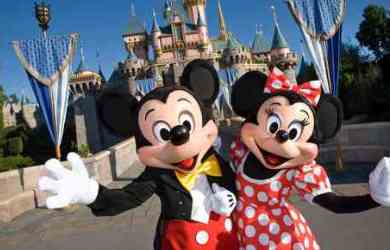 At Disneyland California you can also meet some of your favorite
Disney characters
, who will be wandering the park during the day. Get an autograph, give them a hug or pose for a picture with these friendly characters.
---
Disneyland Anaheim Information