San Diego Things to Do

Looking for things to do in San Diego in 2023? Things to do that are fun? Romantic? Free? Outdoors? Kids activities? We have lots of ideas for you. Check out these best activities and adventures in beautiful San Diego.
Updated June 6, 2023 by San Diego Beaches and Adventures
Fun Activities in San Diego

At home
- Are you suffering from the stay-at-home blues, but can't go out for these fun activities? Check out our list of
Things to do at Home
Aquarium - Visit Birch Aquarium at Scripps for a nice aquarium in San Diego CA, or try Sea Life Aquarium at Legoland in Carlsbad.
Anza Borrego - If you love the beauty of the desert, visit Anza Borrego in the spring and see the wildflower bloom, or enjoy a relaxing spa in the winter. Don't forget to hike the Palm Canyon Trail to the oasis. Anza Borrego State Park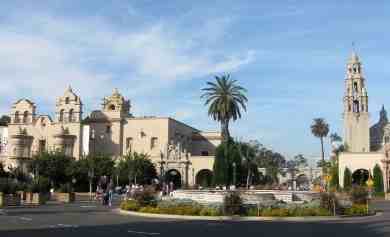 Balboa Park
- Visit lovely
San Diego Balboa Park
, with its beautiful landscaping and architecture, and home to the San Diego Zoo and many interesting museums. This is one of the most popular San Diego things to do as rated by the locals. Any vacation to San Diego should include a trip to Balboa Park. It's free to walk around and enjoy this treasure, or you can visit one of the
San Diego Museums in Balboa Park
, such as the Reuben H. Fleet Science Center. On Tuesdays several San Diego museums are free on a rotating schedule to San Diego city and county residents, and active military and their families. If you are looking for free activities in San Diego, spend a day in Balboa Park.
Beaches Visit the San Diego beaches. Explore some of the pages about San Diego Beaches, and North County San Diego Beaches. For some free things to do in San Diego, check out some of the 101 things to do at the beach.
Belly Up Tavern - Visit the Belly Up in Solana Beach for live music and fun. Must be 21 or older. Buy your tickets in advance. Next door is the Wild Note Cafe, a bistro-style restaurant.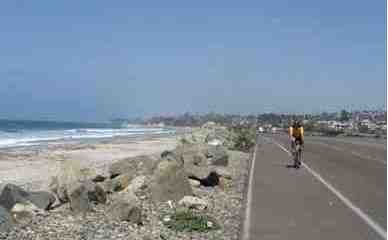 Bike riding
-
San Diego Pacific Coast Highway biking
is fun along the historic 101 through Del Mar and Torrey Pines. For family biking, try the trails at
Mission Bay Park
, or the cement boardwalk at
Mission Beach CA
. If you our visiting North San Diego County Beaches, bring your bicycle to
Tamarack Carlsbad State beach
to ride on their boardwalk.
Biplane ride - Enjoy the view of San Diego and the Pacific Coast from a biplane, warbird, or other barnstorming airplane.
Birthday Parties There are so many fun things to do in San Diego for kids birthday parties. Many of the activities on this website like a day at the beach make a great birthday celebration. Also check out some of these Birthday Party Ideas for Kids.
Botanic gardens - Visit the San Diego Botanic Garden in Encinitas (formerly called Quail botanical Gardens) for a delightful stroll through varied beautiful gardens, including waterfalls and a rain forest in San Diego! My favorite is the bamboo gardens. A new Hamilton Children's garden is fun for the kids. This is another of the best San Diego things to do.
Camping - Go camping at one of the many California State Park campgrounds in San Diego area. Reserve early for the summer season, as the campgrounds fill up within the first 30 minutes. Beach camping is another one of the best San Diego things to do. San Diego Beach Camping
Chocolate Factory Tour - Take a tour of a chocolate factory and make your own gourmet chocolate bars! Chuao Choclatier in Carlsbad offers factory tours by reservation only.
Christmas Activities - Join in the fun festivities during the holiday season with some fun holiday and Christmas activities in San Diego. Ice skating on the beach in Coronado, Grinchmas and holiday fun at your favorite Southern California theme park such as Christmas at Disneyland, holiday parades and more.
Coronado Island - Ride the Coronado ferry and explore beautiful Coronado on bicycle. Or visit the famous hotel del Coronado for a historic tour, followed by an afternoon at Coronado Beach, one of the top 10 beaches in the world.
Cruise - Enjoy a San Diego cruise or a dinner cruises in San Diego harbor. A San Diego harbor cruise takes 1-2 hours and gives you a delightful tour and view of San Diego Calif. San Diego Harbor Cruise
Del Mar Racetrack and Fairgrounds - Visit an exciting horse race at the Del Mar Racetrack from mid summer - Labor Day weekend, or the summer San Diego County Fair (early June - July 4th). Many other Del Mar fairgrounds events are held here throughout the year.
Desert - Visit the deserts east of San Diego, such as Palm Springs CA, Anza Borrego Desert State Park or further north the Joshua Tree National Park. Anza Borrego offers spring wildflowers and hiking trails, while Joshua Tree offers great rock climbing, boulder scrambling, and interesting "Dr. Seuss" type trees. Good camping at both in spring and fall. Another awesome San Diego things to do.
Disneyland - A list of southern California activities wouldn't be complete without Disneyland, and its sister park, Disney California Adventure, just 90 or so miles north of San Diego CA. Disneyland is fun for all ages, and the World of Color show is a must see. We have tips on how you can get cheap Disneyland tickets.
Dog walking - Is Fido Unhappy? Want to cheer him up? Here's an Idea…Maybe it's time to get out and get moving. Walk your dog! Need some ideas where? Fido would love a walk at the Batiquitos Lagoon. There is a 2 mile walking trail starting just east of Interstate 5 and goes most of the way to El Camino Real on the east end of the lagoon. Walk starts at the end of Gabbiano Lane. Or take him to a dog beach in San Diego.
Farmers Market - Shop at a local San Diego farmers market for fresh fruit and produce. Many offer organic choices, tasty freshly prepared food, plants, arts and crafts and a whole lot of fun.
Flower Fields - Each spring you can enjoy the spectacular 50 acres of Flower Fields overlooking the Carlsbad, California coastline. The fields are seasonal and open early March through Mother's Day. Carlsbad Flower Fields
Fishing - Fishing in San Diego CA is popular from many piers, such as Crystal Pier in Pacific Beach. This is great for some San Diego family fun, because a fishing license is not required to fish from a pier. San Diego sport fishing tours are common from Point Loma for an exciting deep sea fishing San Diego trip.
Gas Lamp District - Visit the historic Gas Lamp Quarter in San Diego, for a night out on the town. Great restaurants, events and age 21 and up parties. For a list of popular events and directions see San Diego Gas Lamp District.
Geocaching - What is geocaching? San Diego has meetups for geo caching, a modern-day treasure hunt using a GPS device. You can join a group hunting trip, or create your own private geocaching adventure.
GoCar GPS Guided Tour - Take a GPS guided tour in a fun story telling car, the GoCar. Tour the sites of Old Town, Balboa Park and the historic San Diego Gaslamp Quarter at your own pace.
Golf - San Diego is famous for its Mediterranean climate, which makes it perfect all year around for golf. There are many San Diego golf courses, including the world-famous Torrey Pines golf course on the bluffs overlooking the Pacific Ocean.
San Diego Halloween Events - If you are looking for things to do in San Diego this Halloween, see San Diego Halloween activities. Also don't miss Halloween at Disneyland and Halloween Horror Nights at Universal Studios
Hang-glide - Hang-glide or paraglide above Black's Beach Torrey Pines cliffs at the Torrey Pines Gliderport. You can fly solo or tandem, or just watch and enjoy the awesome sport. Stop by on a weekend to just watch and enjoy the beautiful views. Even as a spectator sport, this is one of the best San Diego things to do.
Hiking - There are many great Hiking Trails in San Diego in the parks and beaches and along the lagoons. We like Torrey Pines Preserve and Elfin Forest for some nice elevation gain. This is one of the best free things to do in San Diego - outdoors and great exercise!
Hollywood - San Diego is just a short drive from the world famous Hollywood. Take a Hollywood movie studio tour, find your favorite stars on the Hollywood walk of fame, go shopping on Rodeo drive, hike to the Hollywood sign, and much more. Check out the best the Hollywood Attractions.
Horseback riding - Are you a horse lover looking for San Diego things to do? Try horseback riding at Imperial Beach or Fiesta Island, and enjoy riding a horse on the beach.
IMAX Film - For a movie treat, try a 360 degree IMAX movie at the Reuben H. Fleet Science Center in Balboa Park. See a list of IMAX theaters in SD at San Diego Movie Theaters
Julian - For a fun day trip or weekend getaway, visit the historic town of Julian, where you can sip apple cider, have a slice of the best pie ever, and visit a gold mine. Julian San Diego
K1 Speed Go Kart Racing - Test your driving skills at K1 Speed in Carlsbad, an indoor kart racing track. Great activity for when you are looking for San Diego things to do on a rainy day.
Kite Flying - On a windy day fly a kite at the one of the San Diego beaches or parks for some San Diego family fun. Choose a beach or park that is not too crowded but has good wind.
La Jolla Coast Walk - Walk the coastline of scenic La Jolla, and see the famous sites including the La Jolla Seals at Children's Pool, La Jolla Cove, the La Jolla Sea Caves, and views of La Jolla Bay, La Jolla Shores and the bluffs of Torrey Pines, all in San Diego, California.
Laser Tag - What a blast! Visit Ultrazone Laser Tag for a fog filled, dark, indoor laser tag adventure. Always fun, especially with a group of friends. One of the best San Diego family attractions.
Legoland - Legoland California is here in Carlsbad, in north San Diego county. Great San Diego kids activity for ages 3 - 10, and lego builders of all ages.
Maritime Museum - Explore the historic ships in the Maritime Museum of San Diego in the harbor. The Star of India and more.
Movies - Visit one of the San Diego Movie Theaters for a fun date night. Try a traditional theater, 3-D movie, IMAX, luxury theater, foreign or independent film - they are all here in SD.
Museums - Visit one of the San Diego Museums in Balboa Park, such as the Reuben H. Fleet Science Center. On Tuesdays several San Diego museums are free on a rotating schedule to San Diego city and county residents, and active military and their families. If you are looking for free activities in San Diego, this is a great way to spend a Tuesday.
Mystery Cafe Dinner Theatre - Enjoy a dinner theater and murder mystery at one of the San Diego Mystery Cafe Dinner Theatres. One of the exciting things to do in San Diego.
Nextdoor - Have you heard of Nextdoor? If not, you need to check it out! Nextdoor is a private social network for neighbors….not just one neighborhood, but ALL neighborhoods. It's the latest and greatest way of staying in the know about what's going on in your neighborhood. It is the perfect way to find out about anything from like a hovering helicopter to recent break-ins. If you are not a member you should check it out at nextdoor.com and get one started where you live today. Get to know your neighbors!
Old Town - Take the trolley to Old Town San Diego for a fun day in this historic district. Old Town San Diego
Paintball - Try your luck and skill on the battlefield, getting shot with colorful paint balls. Younger paint ball enthusiasts will prefer Mr. Paintball USA, but if you want to compete with the hard core marines, try Camp Pendleton Paintball Park.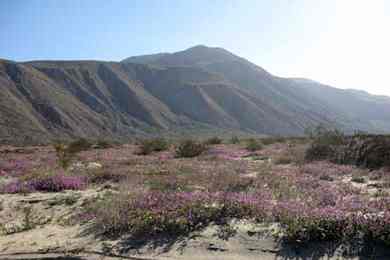 Photography
– Bring your camera and take advantage of the beautiful Pacific Ocean,
Anza Borrego desert
, Palomar Mountain, Point Loma,
San Diego Botanic Garden (Quail Botanic Gardens)
and other interesting places in San Diego. If you get some really good photos, maybe you can sell them on istockphoto.
Picnic – For an all time favorite San Diego things to do, bring a picnic lunch to one of the lovely parks.
Playgrounds – Small children love the playgrounds in the park, or better yet, a park near a beach. Most of the top beaches in San Diego have adjacent playgrounds.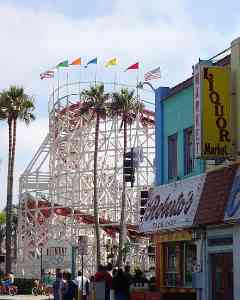 Rides
-
Belmont Park in Mission Beach
has a roller coaster and rides right next to the boardwalk and beach. This is great San Diego family fun, and is not too expensive. Nearby
SeaWorld
is an aquatic theme park. In north San Diego county,
Legoland California
is a popular theme park. For some thrilling roller coaster rides, try
Six Flags California
or
Knotts Berry Farm
Rocky Horror Picture Show - On Friday nights at midnight, see the actors and Rocky Horror Picture Show at La Paloma Theatre in Encinitas Cali. The second Friday of each month is lingerie night. San Diego Movie Theaters
Run - Run along the many miles of sandy beach, San Diego parks, or hiking trails. You won't be alone, as our fitness culture makes this one of the popular San Diego things to do. Check out the Best San Diego Walking and Running Beaches. San Diego is also home to many marathons and half marathons, such as the Rock and Roll Marathon.
Sail - San Diego sailing is fun in Mission Bay, where sail boats can be rented, or check out one of the San Diego sailing schools for lessons.
Scenic drive – For a romantic and fun San Diego scenic drive, take the 59-mile scenic drive that originates at Broadway and Harbor drive at the Embarcadero. Enjoy the rest of the day at the Embarcadero San Diego, full of more San Diego things to do.
Scuba dive – Scuba diving San Diego CA can be done in La Jolla inside the San Diego-La Jolla Underwater Park, at Point Loma, or in north San Diego county at the Encinitas Marine Life Refuge.
Seaworld – Visit SeaWorld San Diego and enjoy the dolphin and whale shows, rides and summer fireworks. Sea World is located in Mission Bay Park.
Shop
– Our lovely outdoor shopping malls make shopping in San Diego Cal a popular thing to do. San Diego offers shops along some of the beaches such as Mission Bay, and Seaport Village in San Diego Bay. In north San Diego county, I recommend Carlsbad Premium Outlets, also known as the Carlsbad Outlet Mall, just north of Palomar Airport road on Paseo del Norte.
Sightseeing Tour - Take a sightseeing tour to see the top attractions in the city of San Diego CA, or take the La Jolla Coast Walk. A fun San Diego tourism activity.
Skateboard – Skateboard along one of the cement San Diego beach boardwalks, such as Mission Beach or Carlsbad Tamarack Beach, or in one of the skateboard parks, such as the Encinitas YMCA. Maybe you'll see Olympic champion Shaun White practicing there.
Skydive - San Diego Skydiving is an extreme adventure thing to do in San Diego. See Wind Tunnel for an alternative.
Spa - Relax and enjoy a facial, massage, or other San Diego spa treatment a a day spa.
Sunset – Looking for some free things to do in San Diego? The California beach sunset is beautiful over the Pacific Ocean, and can be viewed from most beaches. It's fun to arrive at a beach front bar 30 minutes before sunset to watch the beautiful color changes, or on a San Diego family vacation have the kids guess how long it will take for the sun to set.
Sunset Cruise - Enjoy a sunset cruise in San Diego, a nice way to spend a romantic San Diego evening. San Diego Harbor Cruise
Swim - Swim in the Pacific Ocean, Mission Bay, or one of the nearby San Diego swimming pools, such as the Coronado pool. Or for an exciting adventure, join an open water swim race, popular in the clear water between La Jolla Cove and La Jolla Shores.
Tidepools - On your San Diego family vacation, explore the San Diego Tide Pools at Cabrillo National Monument, La Jolla, or North County. These are best explored during fall and winter on certain days with minus tide. This is a great San Diego things to do at the beaches during the winter.
Trivia Nights - Why not join in the fun at a trivia night at a local bar? Here are some trivia nights in San Diego. San Diego Trivia Nights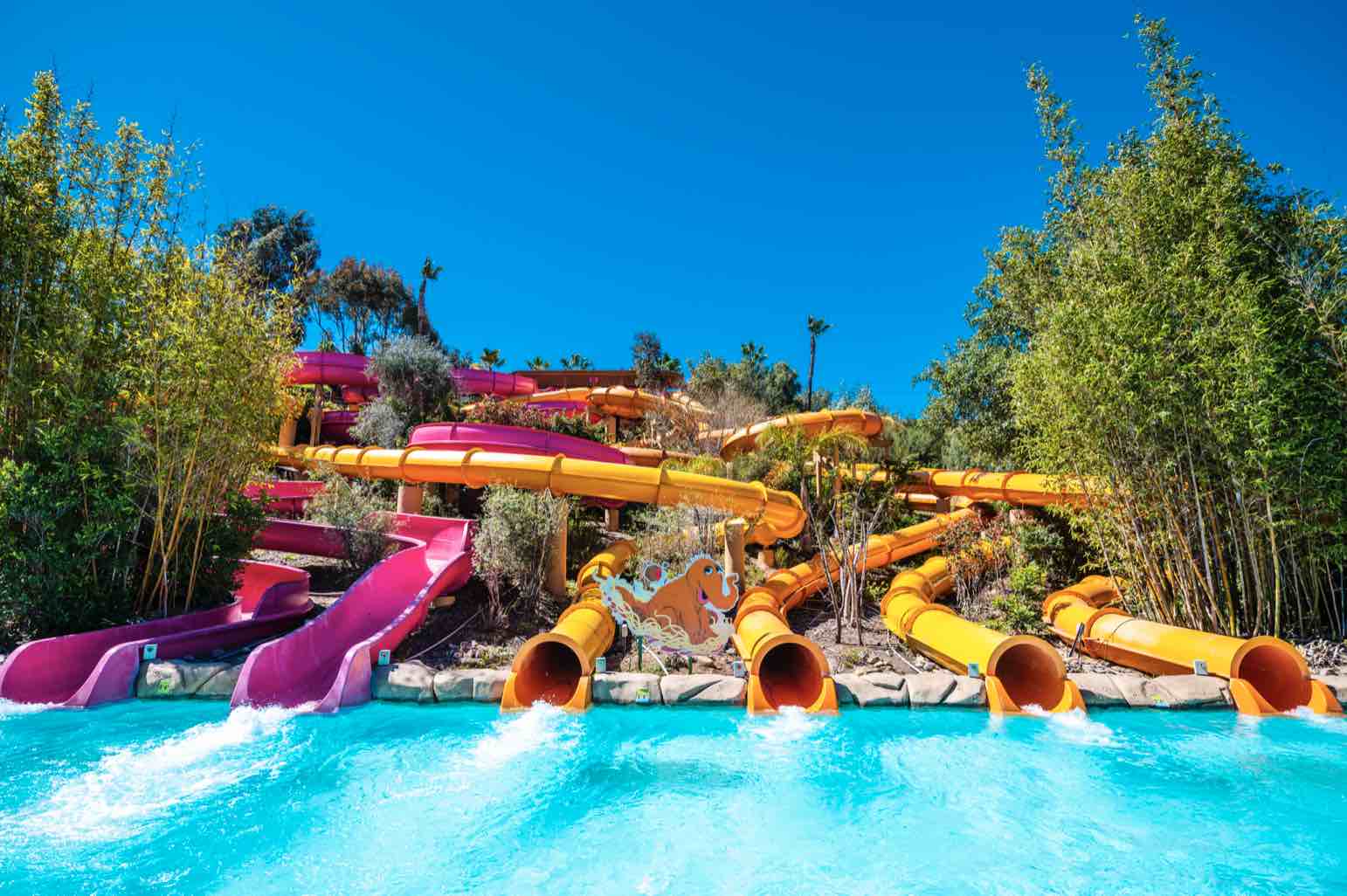 Water Park
– If you are looking for San Diego things to do during the summer, try a San Diego Water Park, such as Sea World
Sesame Place San Diego
in Chula Vista CA (former site of Knotts Soak City and Aquatica water parks), (shown in photo above),
The Wave Waterpark
in Vista (North San Diego), the
Legoland Water Park
or
Sea World in Mission Bay Park
. North of San Diego is
Knotts Soak City Water Park Buena Park
and
Six Flags Hurricane Harbor Water Park
.
Water Ski – Water ski Mission Bay California or the Carlsbad lagoon. Bring your own boat and water skis or rent.
Weekend Getaways - Is it time to plan a romantic weekend getaway, or a fun family weekend vacation? Check out these California destinations for a cheap getaway weekend.
Whale Watching – San Diego whale watching is popular from December to April on whale watching cruises. You can also see them from land, for example from Point Loma or the cliffs at Torrey Pines State Preserve.
Wind Tunnel - Try a simulated sky diving experience in the Perris Wind Tunnel.
Wine Tour - Tour wine country on your own, or with a tour group. California Overland offers a Julian back country wine tour in an open army style truck. Or try a tour through Temecula Valley wine region.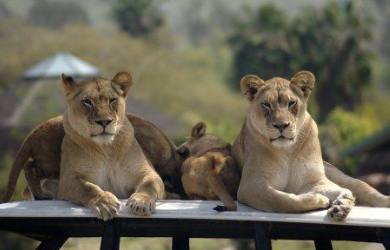 Wild Animal Park
- Visit the SanDiego
San Diego Wild Animal Park
, now called the San Diego Zoo Safari Park, one of my favorite things to do in San Diego. For some extra fun kids activities in San Diego, try the Roar and Snore campover.
Windsurf – San Diego windsurfing is most popular in Mission Bay Cal, with its calm waters and light wind.
Zoo - Visit the world famous San Diego Zoo in Balboa Park, one of the best zoos in the world. We can also tell you how where to get discount tickets and coupons for the San Diego Zoo and other SoCal attractions. This is one of the the most popular San Diego things to do.