Lake Tahoe Hiking Trails
Try these Lake Tahoe Hiking trails, including the Tahoe Rim trail and many other easy and advanced hiking trails.
Pack a picnic lunch, some water and your camera and set out on a day hike in the beautiful Lake Tahoe area. There are hundreds of trails for short and long hikes, and backpacking trips. Hiking boots are recommended for moderate to strenuous trails.
Updated September 21, 2023 by San Diego Beaches and Adventures
Best Lake Tahoe Hiking Trails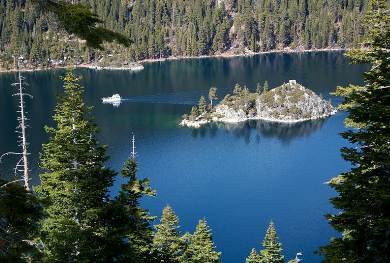 Emerald Bay, Lake Tahoe, California
Rubicon Trial from D.L. Bliss State Park to Emerald Bay - 9 miles round trip or hike just 1 way and get a ride back.  Start at the south end of Calawee Cove parking lot, pass the site of the old lighhouse, to Emerald Point, then along the beach to Vikingsholm, a reproduction of a Norse fortres built in 1929. Located on highway 89 10 miles north of South Lake Tahoe Y. Stop at the ranger station to confirm parking is available at the Calawee parking lot on the edge of the lake. There is also parking along the highway above the steep trail down to Vikingsholm.
Squaw Valley High Camp - Squaw Valley offers spectacular views and a variety of Lake Tahoe hiking trails from easy to difficult. You can take the tram up to high camp, and choose a trail to enjoy. Be sure to get back in time to enjoy a delicious lunch at the pool side cafe. For a challenging hike, you can hike up the mountain to high camp and enjoy a free tram ride down. Free guided hikes with a naturalist are also available.
Tahoe Donner - Easy 1.6 to 5 miles The Tahoe Donner trail system offers many trail routes and loops for hikers, mountain bikers and horseback riders.  Some of the best views of Donner Lake are from trailhead 24 as you hike along the Glacier Canyon loop trail (1.6 miles), then along the ridge over Negro Canyon to the Drifter hut (5 miles round trip). You can pick up a trail map in the Equestrian Center or Northwoods Clubhouse. These Donner Lake Tahoe hiking trails are conveniently located to those staying in the Tahoe Donner area, but are open to the public. Located off highway 80 in Truckee, California.
Emigrant Lake - Moderate 8 mile round trip with 800 foot elevation gain. This hike includes a portion of the Emigrant Trail. Start along the shores of Caples Lake for 2 miles, then climb along Emigrant Creek to Emigrant Meadow and the lake. Dogs allowed on trail. Location: 5 miles west of Carson Pass, at the Caples Lake spillway.
Heavenly Tahoe Vista Trail – 2 miles round trip with 1000 foot elevation gain. Tram ride fee required to get to the top of Heavenly's ski slopes. See spectacular views of Lake Tahoe on this hiking trail, a must see on your California vacation. After first half mile, trail is strenuous and hiking boots recommended.  Directions: In South Shore Lake Tahoe Calif., take Ski Run Blvd. South to Needle Peak, then to Heavenly Ski Resort parking lot. Take the tram to the trailhead.
---
 Tahoe Rim Trail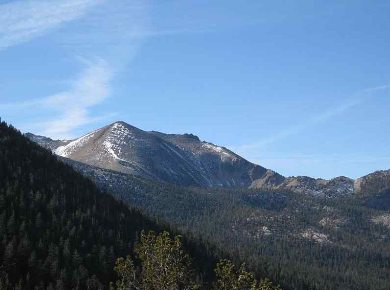 View of Freel Peak from Tahoe Rim Trail, Lake Tahoe, California
The Tahoe Rim trail extends 165 miles around Lake Tahoe, and is open to hikers, mountain bikers and equestrians. The trail offers spectacular views and is popular for day trips and backpacking trips. This is one of the best Lake Tahoe hiking trails, especially for long hikes.
Tahoe Rim Trail Day Hikes
Tahoe Rim Trail from Spooner Summit – 8 mile moderate hike to Spooner Lake with car shuttle back (800 feet elevation gain). See views of Lake Tahoe and Spooner Lake on this section of the Lake Tahoe Rim Trail. Directions: From highway 50 drive 12 miles north to Spooner Summit. Trailhead parking is on the north side of the road. Be sure to park another car at Spooner Summit for a car shuttle ride back.
Tahoe Rim Trail Whole Access Loop at Tahoe Meadows - Easy 1 mile loop is prt of the Tahoe Rim Trail system. Kids and dogs welcome. See the high meadow and streamside, with wildflowers and pine forest. Located 6.7 miles east on highway 431. Longer Lake Tahoe hiking trails are available from the same trailhead. For lunch, drive to Kings Beach and have a delicious burger and shake at The Char Pit located at 8732 North Lake Blvd, Kings Beach CA.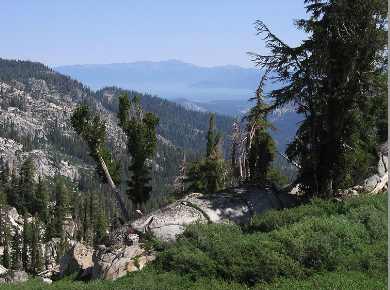 View from Tahoe Rim Trail of Showers Lake
Tahoe Rim Trail Longer Routes
There are multiple access point for the Tahoe Rim Trail, and all are open for hiking and horseback riding. Only portions of the trail is open to mountain biking.
Here are some of the sections for consideration:
Tahoe City to Brockway – 19 miles with trailheads in Tahoe City California and off highway 267.
Brockway to Mt. Rose Summit – This section of the Lake Tahoe Rim Trail is 18.9 miles with trailheads on Brockway Summit and the Mt. Rose Summit (elevation 8900 feet).
Tahoe Meadows to Spooner Summit – 21.8 miles with trailheads at Tahoe Meadows and Spooner Summit.
Spooner Summit to Kingsbury Grade – 12.2 miles with trailheads at Spooner Summit to Kingsbury Grade.
Kingsbury Grade to Big Meadow – 22.8 miles with trailheads off Kingsbury Grade and highway 89.
Big Meadow to Echo Lake – The section of the Tahoe Rim Trail is 17.8 miles with trailheads located at Big Meadow (highway 89) and Echo Lake.
Echo Lake to Barker Pass – 31.7 miles with trailheads at Echo Lake and Barker Pass.
Barker Pass to Tahoe City -  17 mile section of the Tahoe Rim Trail in California, with trailheads at Barker Pass and Tahoe City.
For more information about the Tahoe Rim Trail, see
www.tahoerimtrail.org
.
Home › Lake Tahoe Attractions > › Lake Tahoe Hiking Trails