in Carlsbad CA. The long beach stretches for over a mile and has a new concrete boardwalk/seawall.
Carlsbad California Beach - Tamarack Beach General Information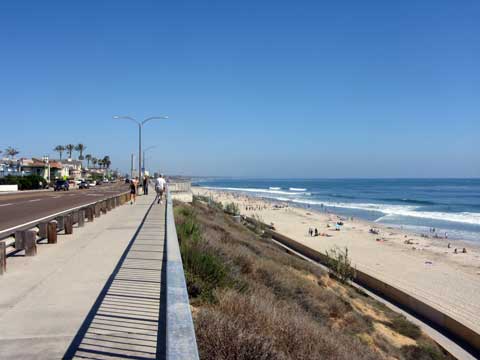 Location Tamarack Carlsbad Beach:
Along Carlsbad Blvd. (Highway 101) at Pacific Ocean at west end of Tamarack Ave., Carlsbad, California
Directions to Tamarack Beach Carlsbad Cal by Car or Train: see below | Google Map
Parking: Free parking lot at end of Tamarack Avenue, and free parking along Highway 101.
Getting There: Short walk to the beach from parking areas. Also the long Tamarack Beach boardwalk offers great access by bicycling, roller blading, and jogging.
Things to Do: Walking, jogging, roller blading, sunbathing, swimming, bodyboarding, surfing, beach volleyball, picnic in a grassy park.
Things to See: Young people at the beach, sunset over the Pacific Ocean, surfers, downtown Carlsbad Village on Carlsbad Village Drive
Facilities: Restrooms, showers, changing rooms, trash cans, concrete boardwalk and seawall stretches for about 1 mile along the beach.
Services: The south end of the beach does not have many services, but at the north end and near Carlsbad Village you can find many restaurants, bars, surf shops, rental shops and vacation rentals along the beach.
High Tide Access: Good beach at low to moderate tide; at high tide, the beach can disappear.
Lifeguard: Lifeguards during summer. Call for information (760) 438-2675
Dog Rules: No dogs allowed on Carlsbad State Beach, but dogs are permitted on the upper walkway.
Things NOT to Do: No alcohol, no glass containers, no smoking, no littering, no disturbing noise, no overnight sleeping, camping or parking.
Disability Access: Some disabled parking and access along Tamarack boardwalk
Hazards Carlsbad State Beach: Rip currents.
---
Carlsbad California Hotels
If you are looking for a Carlsbad beach front hotel, try the
Tamarack Beach Resort
Close to all the Carlsbad attractions including
Legoland
,
Sea Life Aquarium
,
Flower Fields
, and Carlsbad Premium Outlet mall, you can walk across the street to the nearby Tamarack beach.
---
Other Carlsbad California Beach
South Carlsbad State Beach
(better known as Ponto) is a favorite for local surfers.
South Carlsbad State Campground
is a popular San Diego beach camping spot for tent and RV camping.
---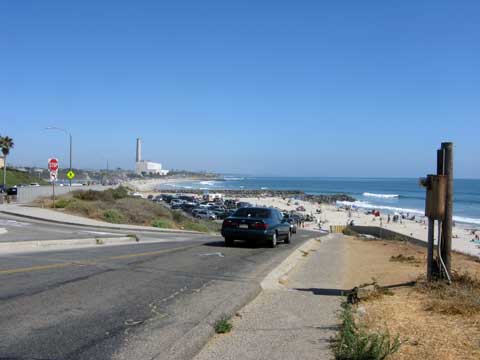 Carlsbad State Beach Tamarack Beach Driving Directions
- From Interstate 5 in Carlsbad, go west on Tamarack Ave. to the Pacific Ocean. There is a parking lot at the end of Tamarack Ave. It the lot is full, you will need to find parking along the street.
Directions to Carlsbad Beaches by Train - You can easily reach Carlsbad State Beach (Tamarack Beach) from the San Diego Coaster Train. The beach is 3 blocks from the Carlsbad Village train station. Note: The Coaster trains have limited service on Saturday, Sunday and holidays, so be sure to check the current train schedule.
Google Map Coaster Train Station