Oceanside Beach
Beautiful Oceanside City Beach
Visit Oceanside Beach, a popular Oceanside California beach just south of Camp Pendleton, with nice sandy beaches without the crowds of the San Diego beaches.

Updated September 21, 2023 by San Diego Beaches and Adventures
Oceanside Beach and Pier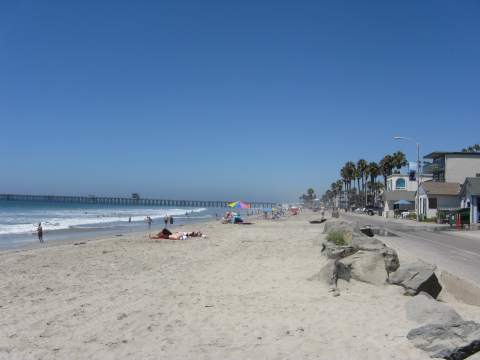 Oceanside City Beach
, along The Strand, has a boardwalk, Oceanside pier and wide open sand, and is great for swimming and boogie boarding.
Oceanside Harbor
, near The Jetties, is a popular surfing and fishing area at the north end. Further south is
Buccaneer Beach Park
, another surfing spot.
Nearby attractions in north San Diego county include:
Legoland California
California Surf Museum
---
Oceanside California Beach Information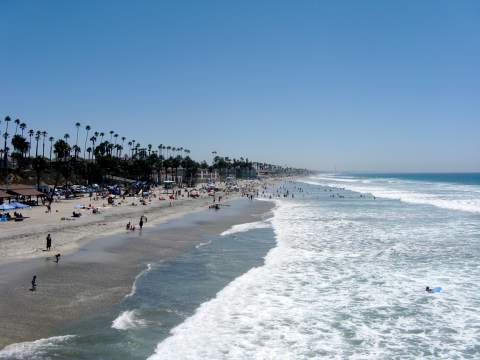 Location:
Pacific Ocean at end of Mission Ave.
Directions to Oceanside City Beach by Car or Train: see below | Google Map
Parking: Parking lots on Mission Ave. just a few blocks from the beach. Parking available on The Strand, which runs along the beach. Other small parking lots and street parking available. Bring quarters for meters or dollar bills for self-pay lots; some street parking is free.
Getting There: Short walk to the beach from parking areas. There is a ramp at the Oceanside Pier.
Things to Do: Walking, jogging, roller blading, sunbathing, fishing from pier, swimming, bodyboarding, beach volleyball, surfing, beach fires in firepits, picnic in nearby parks, visit California Surf Museum a few blocks away.
Things to See: Young people at the beach, sunset over the Pacific Ocean, whales and dolphins, nearby Oceanside Harbor
Facilities: Restrooms, showers, changing rooms, trash cans, amphitheatre, playground, small grassy parks along beach (like Tyson Street Park), picnic tables, Oceanside Pier, Oceanside Harbor nearby.
Services: The Oceanside Pier Tin Fish restaurant offers fresh fish, sandwiches and other food choices near the pier, with outdoor seating. Nearby there are. bicycle rentals, surf shops, restaurants (may we suggest 333 Pacific for a nice steak and seafood restaurant), and hotels along the beach.
High Tide Access: Good access to this wide beach.
Lifeguard: Lifeguards during summer. For info. call 760-722-8000.
Dog Rules: No dogs allowed on the beach or pier. Leashed dogs are allowed on The Strand.
Things NOT to Do: No alcohol, no glass containers, no smoking, no littering, no disturbing noise, no overnight sleeping, camping or parking (except camping allowed near Harbor Beach area, limited spaces available), no fires outside fire rings or between 11 PM and 6 AM (except at Harbor Beach).
Disability Access: Some disabled parking and access near Oceanside Pier and along The Strand.
Hazards: Rip currents. Stay well clear of rocks, pilings and jetties
---
Oceanside Harbor
Oceanside Harbor as viewed from boat inside the harbor
Just north of Oceanside Beach is Oceanside Harbor, a small protected harbor used by locals and tourists. Here you can rent kayaks, paddle boards and jet skis, and explore the harbor or venture out into the Pacific Ocean and enjoy the views of the coast.
Along the boardwalk are restaurants and small shops to explore.
Oceanside Whale Watching - Oceanside Adventures offers luxury cruises, whale watching and dolphin cruises, popular during the months of December - April. In February, we went on an Oceanside whale watching and dolphin cruise and saw hundreds of dolphins surrounding us on all 4 sides of the boat. It was an incredible experience. Oceanside Adventures can be reached at 888.507.1130 or oceansidewhalewatching.com.
Sunset Wine Cruise - Oceanside Adventures offers a monthly 90-minute sunset wine cruise on the first Saturday of each month in February - November. Relax and enjoy a beautiful sunset along the Oceanside Harbor aboard a catamaran. Appetizers and 3 wine tastings. Ages 21 and up only. Oceanside Adventures can be reached at 888.507.1130 or oceansidewhalewatching.com.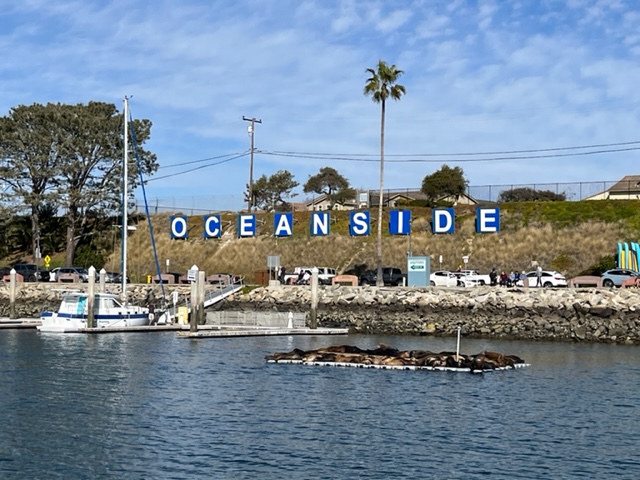 Oceanside Sea Lions
When you travel around the Oceanside harbor, be sure to check out the sea lions basking in the sun on their private dock.
---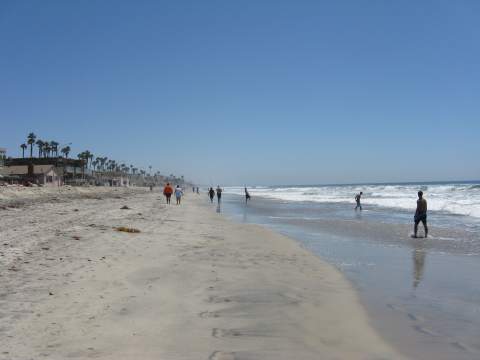 Oceanside Beach Driving Directions
- From Interstate 5, go west on Mission Ave. to the Pacific Ocean. I recommend that you park in a parking lot before you get to The Strand, as parking along The Strand is limited.
Directions to Oceanside Beach by Train - You can easily reach Oceanside Beach from the San Diego Coaster Train. It is 4 blocks from the Oceanside Transit Center train station. Note: The Coaster trains have limited service on weekends and holidays, so check the current train schedule.
Google Map Coaster Train Station
Home › San Diego Beaches › Oceanside Beach