Torrey Pines Beach
Visit Torrey Pines Beach and Blacks Beach, a La Jolla California beach next to
Torrey Pines State Reserve
.
Updated September 21, 2023 by San Diego Beaches and Adventures
Torrey Pines State Beach
This popular beach has easy access from historic 101, the Pacific Coast Highway, and plenty of parking to handle large summer crowds, like seen in this photo taken July 3. You can also hike or drive up the hill at nearby Torrey Pines State Reserve, and hike the beach trail loop, a popular trail at low tide.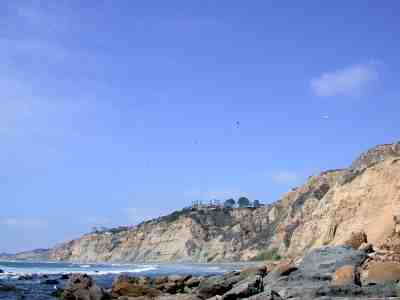 Torrey Pines State Beach
stretches for 4 1/2 miles and is really three different beaches with three different personalities:
Torrey Pines Beach - an easily accessible beach at the northern end, visible from North Torrey Pines Road (historic 101 highway). About 1 mile of this beach is visible from the road, and 1 1/2 miles along the Torey Pines cliffs.
Blacks Beach State Beach - a secluded clothing optional beach hidden beneath the Torrey Pines cliffs.
Blacks Beach City Beach - a popular surfing spot owned by the city of San Diego just south of Black's Beach State Beach, north of Scripps Pier and popular La Jolla Shores. This beach is officially called Torrey Pines City Beach.
This page talks about Torrey Pines Beach.
---
Torrey Pines Beach General Information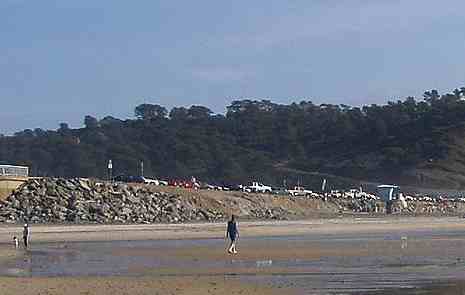 Photo credit Mann McKay
Location:
one mile south of Del Mar on North Torrey Pines Road
Directions to Torrey Pines Beach: see below | Google Map
Parking: Limited free parking along North Torrey Pines Road or two paid parking lots (North Torrey Pines Road and Carmel Valley Road).
Getting There: Driving is best. Beach is a short walk from parking areas.
Things to do: Sunbathing, picnicking on the beach, surfing, bodyboarding, walking, jogging
Things to see: If you walk south, spectacular Torrey Pines cliffs. If you walk up the road to Torrey Pines State Reserve, you can see beautiful views of La Jolla coastline, dolphins, and whales
Facilities: Restrooms, outdoor showers, changing rooms, trash cans.
Services: None. Bring your own food, sunscreen, beach equipment and surfboard.
High Tide Access: Accessible at most tide levels.
Lifeguard: Lifeguards in summer.
Dogs: Dogs are prohibited at all times, even within a vehicle.
Things NOT to do: No alcohol, no glass containers, no smoking, no littering, no disturbing noise, no beach fires, no dogs, no overnight sleeping, camping or parking.
Disability access: Disabled parking at lot on Torrey Pines Road.
Hazards: Strong surf, strong currents, rip currents, steep unstable cliffs at south end - stay back from cliffs as they can slide or large boulders can drop.
---
Torrey Pines State Beach - Walk South Toward Black's Beach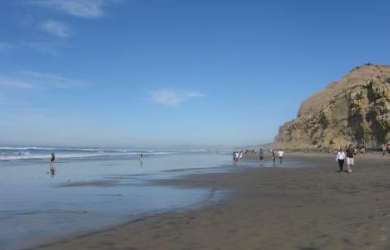 If you walk south along the beach, you will see the majestic cliffs of
Torrey Pines State Reserve
rise to your left. Enjoy the walk but don't get too close - the cliffs can be unstable.
Caution: Do not attempt to climb any trails on the cliffs or bluffs. Ask a park ranger if the official beach trail is open before you attempt to hike that trail.
If you walk about 1 1/2 miles down this beach along the cliffs, you will reach the section of Torrey Pines Beach called Black's Beach, a popular nude beach in San Diego, CA.
---
Driving Directions to Torrey Pines State Beach from Interstate 5:
From I 5 go ~1.5 miles west on Carmel Valley Road, turn left on North Torrey Pines Road (Coast Highway 101) and look for free parallel parking on the west side of the road. If no free parking is available, you have two paid parking lots to choose from. Currently parking is $10 or more as this is a California State Beach, or it is free if you have a California State parks pass.
On the west side of North Torrey Pines road just before you climb the steep hill of Torrey Pine grade, there is a small pay parking lot. Park at the bottom if you are going to the beach, especially if you want to walk south along the beach along the bluffs. You can also walk up the hill and enjoy the beautiful views from Torrey Pines State Park.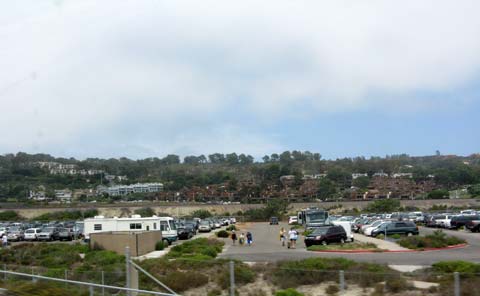 An additional large pay parking lot is available on Carmel Valley Road near the Penasquitos Lagoon. From here you can access the beach on either the north or south side of the lagoon.
Driving Directions to Torrey Pines State Beach from La Jolla CA:
From La Jolla, take Torrey Pines Road north past la Jolla Village Drive. Continue north along North Torrey Pines Rd. past Genesee. On your left you will pass the Torrey Pines Hilton and Torrey Pines Golf Course. Just after you descend down Torey Pines grade there is a parking lot on the left at ocean level. If the lot is full, continue north on North Torry Pines Rd., turn right on Carmel Valley Road and there is a large parking lot on the right.
Home › Beaches › Torrey Pines Beach