Quick Easy Halloween Costumes
Here are some ideas for quick easy Halloween costumes for this Halloween. Most of these can be put together at the last minute for an easy Halloween costume. You can make these scary, sexy, funny or cute Halloween costumes, depending on your style and accessories.

Updated December 5, 2023 by San Diego Beaches and Adventures
Quick Easy Halloween Costumes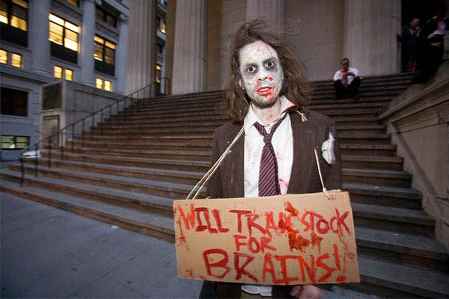 Zombie Wall Street Banker

Political Protestor
- Make a political statement and dress up like a Wall Street banker, stealing money from the American people (or choose a current political hot topic to mock). Make a sign using cardboard with your favorite slogan. Go for the zombie look with white face and shuffling gait.
Jellyfish Costume - Use you imagination to make a quick and easy Jellyfish costume. Start with an umbrella (white, pink or purple), and add long streamers running to the floor. Decorate with anything that sparkles, and add some glow lights for effect. Wear white clothing, and practice your jellyfish bob - up and down to mimic a jellyfish swimming. Makes a fun family or group costume too.
Merry Christmas - Wear a Santa hat and ring a bell to solicit money for the Salvation Army as you get in the spirit of Christmas on Halloween for this cute Halloween costume.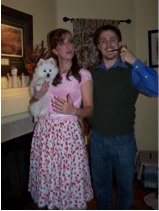 Stepford Wife
- You too can be a Stepford wife/Stepford couple. Just visit your closest Goodwill, Salvation Army or Local Consignment shop for some old clothes that fit the scene from this notorious 1975 movie. Have fun with this costume by adding a pipe and some attitude!
Good Morning
- Wear you pajamas, robe and slippers for an easy Halloween costume. Put a green mask on your face, a shower cap on your hair and slices of cucumbers over the eyes. Guys can have half shaved face with shaving cream. This is one of the quick easy Halloween costumes – no excuses for not having an easy Halloween costume right at home!
Crazy Doctor - Borrow a disposable cleanroom gown, or some scrubs or lab coat from a hospital or lab. Add some accessories such as fake blood (made from corn syrup and red food coloring), rubber gloves, and tools of the trade, and offer your medical services.
Baby - A diaper, baby blanket and pacifier are all that's needed to make you the cutest baby around.
Sexy Devil
- Wear a black or red sexy swimsuit, leotard or lingerie, wear some devil horns and tail, and carry a pitchfork, and you have an easy Halloween costume as a sexy devil. Be sure to act the part!
Fake Intestines - Use an old pair of pantyhose and remove the top. Use a sewing machine and make an uneven seam up the middle of each leg. Turn inside out and fill with cotton. Twist and stick to resemble fake intestines. Soak in fake blood and wear with your best zombie look.
Black Cat - Purchase or make a long black tail and cat ears. Wear long black fingernails, and some wiskers and a black nose. Wear black tights, dress or sexy lingerie with fishnet stockings. One of the timeless classic cute Halloween costumes.
French maid
- Little black dress and some fishnet stockings with high heals and a mask is all it takes to rock this French maid costume!
Sexy Boxer - Wear some sexy lingerie or boxer shorts, borrow some boxing gloves, and become a sexy boxer, making this one the of quick easy Halloween costumes.
Special Forces - Dress up in black or military gear and become part of the special forces. Or bring out your paintball gear. Borrow from a friend if you don't have your own gear.
Home › Halloween › Quick Easy Halloween Costumes