Grandview Beach
Join the surfers at Grandview Beach Encinitas. This local beach is a popular beach access to Leucadia State beach, in north San Diego county city of Encinitas. The views are nice, the surfing is good.
Updated September 21, 2023 by San Diego Beaches and Adventures
Grandview Beach Encinitas
I'm always surprised that Grandview Beach is left off of some of the list of beaches in north San Diego county. It has better parking and better access than
Beacons beach
to the south. Both are actually beach access points to the same long beach at the bottom of the cliff - Leucadia State Beach, which stretches from
Moonlight Beach
in Encinitas to South Ponto beach in Carlsbad. This is a nice section of San Diego beaches, and is popular for walking and jogging, as the beaches can stretch on for miles at low tide. Mostly, this beach access is used by surfers.
Location: 1700 Neptune Avenue, Encinitas, California
Directions to Grandview Beach Encinitas: see below Google Map
Parking: Nice sized parking lot at the end of Neptune Avenue. Additional street parking available.
Getting There: Short walk down a set of wooden stairs to the beach. Stop and enjoy the grand view!
Things to Do: Surfing, walking, jogging, sunbathing, swimming, body boarding.
Things to See:
Beautiful view of the Pacific Ocean, surfers, homes perched on the edge of steep cliffs with cliff erosion, sunset over the Pacific Ocean
Facilities: None. Restrooms are ½ mile walk north to South Ponto Beach, or 1 mile south at Moonlight beach.
Services: None.
High Tide Access: Long narrow beach disappears at high tide. If you want to walk along the beach, go when tide is less than 3 feet. Tide Tables
Lifeguard: Lifeguards during summer.
Dogs: No dogs allowed on the beach.
Things NOT to Do: No alcohol, no glass containers, no smoking, no littering, no disturbing noise, no overnight sleeping, camping or parking.
Disability Access: No disabled access. This is a steep wooden staircase to the beach.
Hazards: Sunburn; rip currents, high tide, dangerous cliffs
---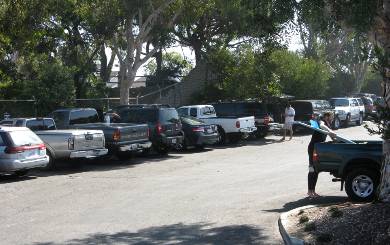 Directions
- From Interstate 5 in Encinitas, take Leucadia Blvd. west to 101, then continue on W. Leucadia Blvd to Neptune Avenue. Turn right on Neptune, which is a one way street. Go past Beacons beach to the dead end. On the right is a parking lot. If full, find parking along Neptune Ave. A steep set of wooden steps along the bluff leads down to the beach below.
Home › Beaches › Grandview Beach