Surfing USA Beaches
Top Surfing Beaches in Southern California
Yes, the beaches in the
Beach Boys Surfing USA
are real famous
surfing beaches
. San Diego is a great surfing area, and has five of the beaches from this hit song.
Updated September 21, 2023 by San Diego Beaches and Adventures
Surfing USA Beaches -Beach Boys Surfin' USA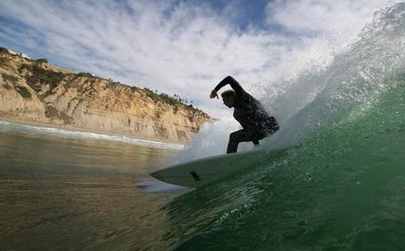 Photo Credit Christoper Mann McKay - Surfer at Black's Beach, La Jolla, San Diego, CA

Many websites that show the lyrics have them wrong, for example it is "Swami's" beach (see picture below), not "swammies" or whatever they might call it.
Beach Boys Surfin' USA Surfing Spots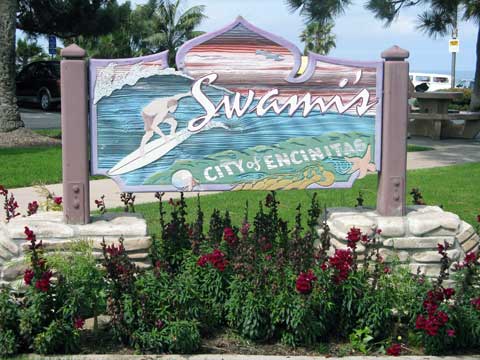 Go the Surfin USA Lyrics page to see the lyrics
Surfing Spots mentioned in the Surfin USA by the Beach Boys. song. Most are in California, two in Hawaii and one in Australia:
"Del Mar" - Del Mar, San Diego County, California
"Ventura County Line" - Ventura County, California
"Santa Cruz" - Santa Cruz, Santa Cruz County, California
"Trestles" - San Onofre State Park, San Diego County, California
"Australia's Narrabeen" - Narrabeen, New South Wales
"Manhattan" - Manhattan Beach, Los Angeles County, California
"Doheny" - Doheny Beach, Dana Point, Orange County, California
"Haggerty's" - Haggerty's, Torrance, Los Angeles County, California
"Swami's" - Swami's Beach, Encinitas, San Diego County, California
"Pacific Palisades" - Pacific Palisades, Los Angeles County, California
"San Onofre" - San Onofre State Park, San Diego County, California
"Sunset" - Sunset Beach, Oahu, Hawaii - or - Sunset Beach, Orange County, California
"Redondo Beach" - Redondo Beach, Los Angeles County, California
"LA" - Los Angeles, Los Angeles County, California
"La Jolla" - La Jolla, San Diego County, California
"Waimea Bay" - Waimea Bay, Hawaii
Surfin USA Lyrics
Home › Beaches › Surfing USA