Torrey Pines State Reserve
Hike the Scenic Trails in Torrey Pines State Reserve and see the Torrey Pines in La Jolla. The Torrey Pines Reserve sits on the bluffs over
Torrey Pines State Beach
and
Blacks Beach
in San Diego, CA.
Torrey Pines State Park is one of the most popular and scenic sites in San Diego. Nestled on the bluff above the Pacific Ocean, it offers great hiking trails and stunning views.
Updated December 5, 2023 by San Diego Beaches and Adventures
Scenic Torrey Pines Reserve in La Jolla, California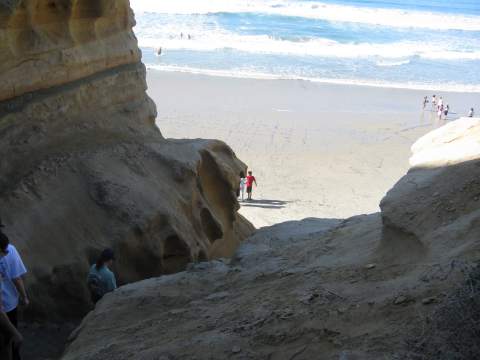 Our favorite hike at Torrey Pines State Reserve is to park at the bottom of the hill, walk up the road to get a nice workout (300 ft elevation gain), and hike the Beach Trail back. This can only be done at
low tide
. At high tide, there are many nice trails with view to hike.
---
Torrey Pines Reserve General Information
Location:
Located one mile south of Del Mar on North Torrey Pines Road GPS 32.92183, -117.2497
Address: - 12600 North Torrey Pines Road, San Diego, CA 92037
Phone Number: (858) 755-2063
Operating Days and Hours: Open 365 day a year, from 8 AM to sunset (sunset may be 8 pm in summer and 5 pm in winter). You can hike or bicycle in the park as early as 7 AM.
Directions to Torrey Pines State Reserve: see below | Google Map
Parking: Limited free parking along North Torrey Pines Road or pay parking lot on North Torrey Pines Road ($12 to $25 parking fee per car)
Getting There: Driving is best. Park at bottom and hike up the steep hill
Things to do: Hiking, nature walks, walk to the beach, photography, enjoying the scenic views
Things to see:
Pacific Ocean, spectacular Torrey Pines cliffs, beautiful views of La Jolla coastline, dolphins, and whales
Facilities: Restrooms at top and bottom, small visitor center, several parking lots at bottom and at top of hill
Services: Small visitor center. No picnicking allowed.
High Tide Access: If you want to hike to the beach trail, ask a park ranger if the trail is open and if the tide will allow it. At high tide you may not have access to walk safely along the beach. Usually is good with tide 3 feet or lower, see the San Diego Tide Table for the daily predicted tides for this year.
Lifeguard: Lifeguards sporadically patrol the areas beneath the bluffs of Torrey Pines in La Jolla.
Dogs:
Dogs are prohibited at all times, even within a vehicle.
Things NOT to do: No alcohol, no glass containers, no smoking, no littering, no disturbing noise, no beach fires, no dogs, no picnicking (except at the entrance near the parking lot), no overnight sleeping, camping or parking.
Disability access: Limited disabled parking at upper parking lot on top of road. Most trails are steep and not wheelchair accessible. Disabled parking at lower lot on Torrey Pines Road, but road is steep.
Hazards: Steep trails, unstable bluffs, rattlesnakes, and if you hike down to the beach beware that trails are sometimes eroded near the beach, but the beach hiking trail was great on my last trip in April 2010, with new steps and handrails. Once on the beach, stay back from cliffs as they can slide or large boulders can drop.
---
Torrey Pines Photos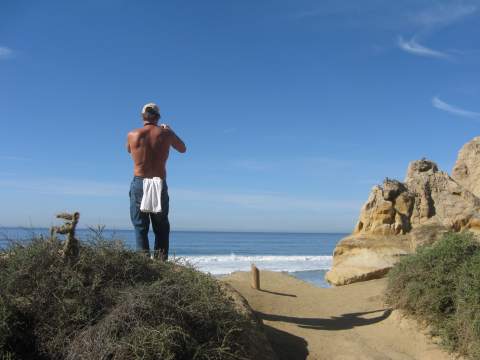 Torrey Pines State Reserve is a wilderness area along the coast just north of La Jolla and south of Del Mar is San Diego, California. It is home to a rare pine tree - Pinus torreyana. Hikers can follow trails through wind-sculptured pines, and deep ravines overlooking the Pacific Ocean. A 1923 pueblo-style building is now the visitor center.
The reserve is rich in native life and is popular with hikers and bicyclists. This is one of our favorite hiking trails in San Diego, with a 300 foot elevation gain as you hike up the road, and a variety of scenic loop dirt trails along the bluffs.
---
Directions to Torrey Pines State Reserve
Driving Directions to Torrey Pines State Reserve from Interstate 5:
From I 5 go ~1.5 miles west on Carmel Valley Road, turn left on North Torrey Pines Road (Coast Highway 101) and look for free parallel parking on the west side of the road. If no free parking is available, continue south on North Torrey Pines road until just before you climb the steep hill of Torrey Pine grade, and there is a small pay parking lot on the right. Currently parking is $10 as this is a California State Park, or it is free if you have a California State parks pass. It is recommended that you park at the bottom and walk up the steep road to get some great exercise, but there are also several parking lots on top.
Driving Directions to Torrey Pines State Park from La Jolla CA:
From La Jolla Cal., take Torrey Pines Road north past la Jolla Village Drive. Continue north along North Torrey Pines Rd. past Genesee. On your left you will pass the Torrey Pines Hilton and Torrey Pines Golf Course. Just after you descend down Torey Pines grade there is a pay parking lot on the left at ocean level. We like to park at the bottom and walk up the steep road to get some great exercise (which also works well if you hike the Beach Trail, as you end back at the bottom), but there are also several parking lots on top.
Home › Things to Do › Torrey Pines State Reserve