Disneyland Genie Plus Tips

Read these Disneyland Genie Plus Tips before your visit Disneyland or Disney California Adventure, to have the best vacation. While the Disney Genie service if free, the Disney Genie+, or Disney Genie Plus option costs an additional fee. Is it worth it? Absolutely!
Updated September 21, 2023 by San Diego Beaches and Adventures
Disney Genie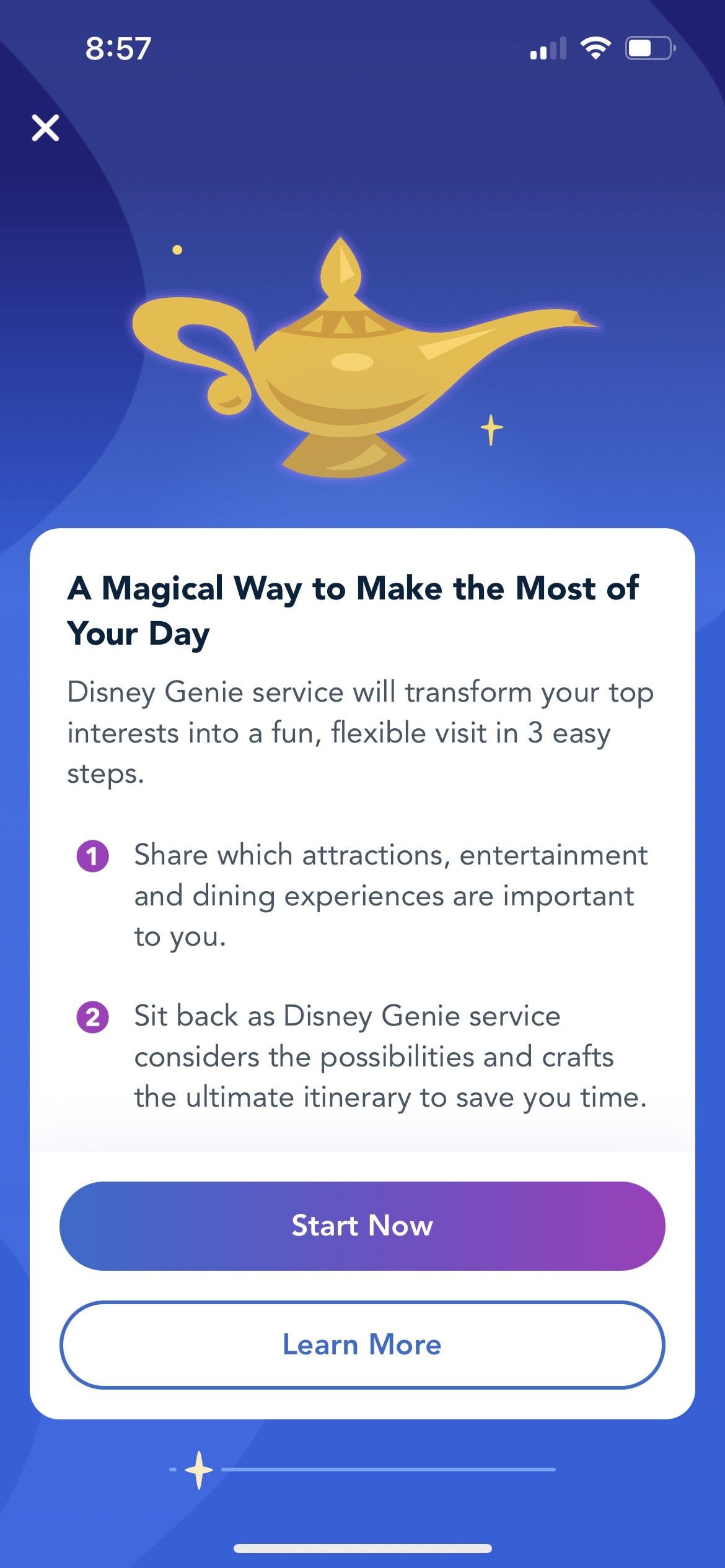 Disneyland App Genie service
The Disney Genie service is a free tool offered by Disney to plan your vacation at Disneyland and Disney California Adventure. Before you go the the park, you should follow these basic steps:
Disneyland App - Download the Disneyland App onto your cell phone.
Tickets - Link your tickets to your Disneyland App account. If you are traveling with a group, nominate the most tech savvy member(s) of your group to link everyone's tickets.
Reservation - Make sure you have a valid reservation to visit Disneyland California, Disney California Adventure, or both (park hopper).
Tip Board - There are multiple sections on the Disneyland App, but the Tip Board is my favorite. Once you tell it your top picks, the Tip Board will display those at the top, and let you know the wait times.
Map - Another useful feature is the park map, however beware - it uses up a lot of battery life, so I like to have a paper map instead, or bring a charger for my cell phone.
While you can enjoy many features using just the Disney Genie on the Disneyland App, we recommend you purchase Disney Genie+ service.
---
Disneyland Genie Plus Tips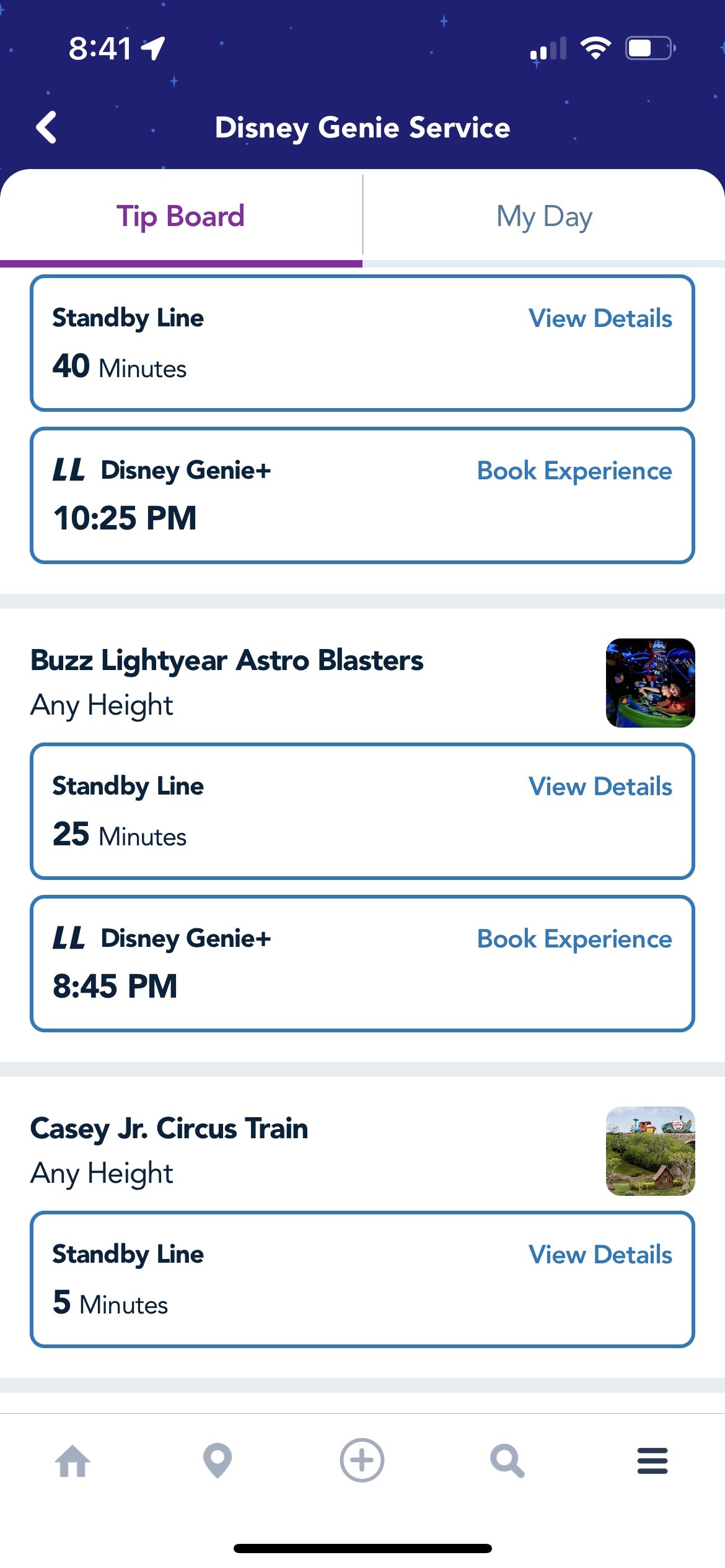 Tip Board on Disney Genie Service
What is Disney Genie+?: Disney Genie+ is a separate service from the regular park admission and is available for a daily fee. It allows you to make reservations for certain popular attractions using the Lightning Lane.
Purchasing Disney Genie+: You can buy Genie+ either through the official Disneyland app or at designated locations within the park.
Genie + - Unless you are visiting on a very light attendance day, I recommend that you buy the Genie +. You can reserve some of the best rides, then reserve another one after you use the last one, or every 2 hours. Before purchasing Genie+, consider your group's preferences and the expected wait times for the day. If you're visiting on a low-crowd day or not interested in popular attractions, you may not need Genie+.
Booking Attraction Reservations: Once you have Genie+, use the official Disneyland app to reserve access to Lightning Lane attractions. You can only have one reservation at a time, so plan accordingly.
---
Lightening Lane Tips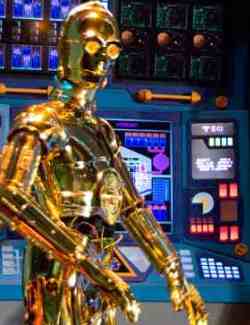 Disneyland Star Tours Ride
There are two types of Lightening Lane passes - Disney Genie+ Lightening Lane attractions, and Individual Lightening Lane attractions. Both costs money and depending on what you want to see and how busy the park is, both can be worth it.
Disney Genie+ Lightening Lane Tips:
High-Demand Attractions: As soon as you enter the park, make a Lightning Lane reservation for the most popular or high-demand attractions. These spots tend to fill up quickly. There will be some Lightening Lane attractions with little to no wait early in the day, so you can hop on those rides first, and save your Lightening Lane reservations for the most popular rides.
Arrive 5 Minutes Early – you can use the Genie + Lightening Lane reservation 5 minutes before your allotted window, and then that allows you to get in a little early and book your next reservation.
Get a free pass when a ride is temporarily closed - Another trick– if you have a Genie + reservation and arrive to find the ride temporarily closed, you can get an extra Lightening Lane pass or a ride for a different ride to avoid the long lines – just ask.
Check Wait Times Regularly: Use the Disneyland app to monitor wait times throughout the day, even if you have Genie+. Wait times can fluctuate, and you might find shorter queues for certain attractions without using the Lightning Lane. Also, when someone cancels their Lightening Lane reservations, every 5 minute or so the app refreshes and you may be able to snag an earlier reservation.
Share Lightening Lane reservations - If you have Genie+, and part of your group leaves the park early, you can let others use your Lightening Lane reservation if the tickets are linked. The park doesn't check the names, you just have to have a reservation. This is one of my favorite Disneyland Genie Plus tips.
---
Lightening Lane Attractions
These change from time to time, but here are the current Lightening Lane attractions.
Disneyland Lightening Lane Attractions:
Autopia
Big Thunder Mountain Railroad
Buzz Lightyear Astro Blasters
Haunted Mansion
Indiana Jones Adventure
It's a small world
Matterhorn Bobsleds
Millennium Falcon: Smugglers Run
Roger Rabbit's Car Toon Spin
Space Mountain
Star Tours – The Adventures Continue
California Adventure Lightening Lane Attractions:
Goofy's Sky School
Grizzly River Run
Guardians of the Galaxy – Mission: BREAKOUT!
Incredicoaster
Monsters, Inc. 
Soarin' Over California
Toy Story Midway Mania!
WEB SLINGERS: A Spider-Man Adventure
---
Individual Lightening Lane Tips
Radiator Springs Racers
Individual Lightening Lane passes are available for purchase to be used on one very popular ride. The rides vary depending, but recently these rides had Individual Lightening Lane passes available for purchase:
Disneyland
Rise of the Resistance
Mickey & Minnie's Runaway Railway 
Disney California Adventure
Check for current availability. Indivdual Lightening Lane rides are not available on the Genie+ Lightening Lane. You must purchase separately, and yes, you can have a reservation for an individual Lightening Lane attraction and Genie Plus Lightening Lane attraction at the same time.
Is it worth it? It depends. When I went with a friend to Disneyland, we purchased a Rise of the Resistance Individual Lightening Lane pass and Genie+ for our one day visit. It was great because we were able to go to all of the major attractions in one day. We didn't have the distraction of young children who might want to go on different rides. If we had visited Disney California Adventure park, and wanted to ride the Radiator Springs Racers, as 2 adults, we would have arrived early and just got in the single rider line instead.
For more Disneyland tips, see
Home › Disneyland California › Disneyland Genie Plus Tips