Disneyland Tips with Toddlers

Vacation at Disneyland tips with toddlers and their families.
Vacation at Disneyland with toddlers can be a challenge, but it is so much fun to share their excitement! Here are some Disneyland tips for toddlers.
For more best tips for Disneyland and California Advanture, see
Disneyland Tips and Tricks
and
Disneyland in the Rain Tips
.
Updated September 21, 2023 by San Diego Beaches and Adventures
Disneyland Tips for Toddlers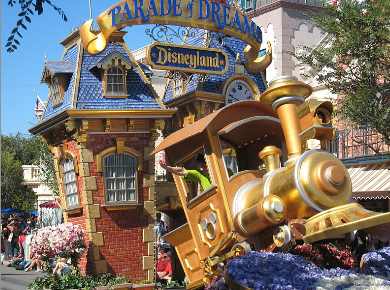 Visit Multiple Days - Don't try to visit in just one day. There is too much to see and you will enjoy spreading it out over multiple days.
Free Toddler Tickets - Take advantage of free admission to Disneyland for kids under 3 years of age.
Nearby Hotel – Stay in a nearby cheap Disneyland hotel where you can walk to Disneyland, or if you can afford to splurge, at one of the Disneyland hotels. You can take a break midday and avoid the crowds, and allow the toddlers to take a nap and the older kids to enjoy the swimming pool. Head back again in the late afternoon or evening. It works best if you can split up into groups based upon the kids interest and bedtime.
Plan Ahead - Before your trip, research the park layout, attractions suitable for toddlers, height requirements, and show schedules. Create a loose itinerary to have an idea of what you want to do while remaining flexible to accommodate the needs of your kids.
Snacks and Drinks – Toddlers are always hungry so you will want to bring their favorite foods. Pack some snacks and drinks to save money and give you more flexibility to eat off-hours. One of my favorite tricks is to pack frozen water bottles. They are  refreshing to drink on a hot day, and will keep the other food cold.
Arrive Early - Getting to the Disneyland or Disney California Adventure theme park early allows you to beat the crowds and experience popular rides with shorter wait times. Toddlers tend to have more energy in the morning, making it an ideal time for them to explore the park.
Single Rider Lines - While one parent stays with the kids, the other parent can jump in a single rider line. Matterhorn Bobsleds and Splash Mountain.
Rider Switch Option - Utilize the Rider Switch option if you have toddlers or kids who can't ride certain attractions. One parent can ride while the other one waits with the kids, then you switch off. This is one of the best Disneyland tips with toddlers.
Take Breaks - Disneyland can be overwhelming for toddlers with all the excitement and stimulation. Plan for regular breaks, allowing your little ones to rest, have a snack, or take a nap if needed. Fine a shady, quiet spot outdoors to relax.
Stay Hydrated and Sun-Protected - Southern California can get quite hot, so don't forget sunscreen, hats, and sunglasses to protect your toddlers from the sun. Keep them hydrated throughout the day.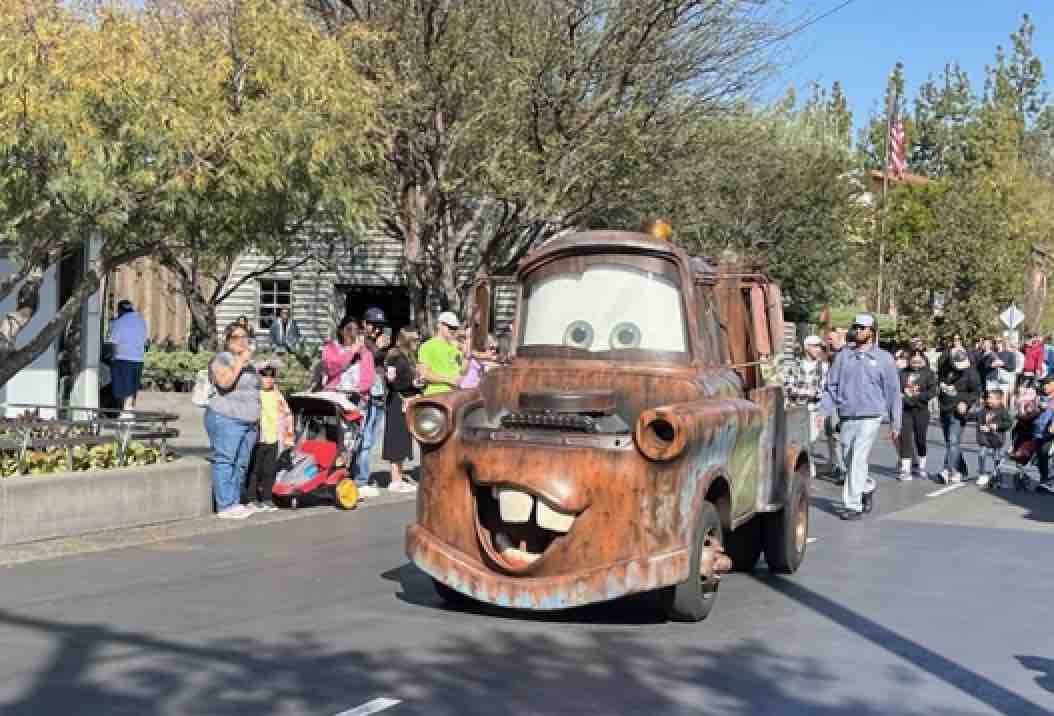 Mater tow truck at Cars Land, Disney California Adventure
Stroller - Yes, you will need a stroller. You can bring one or rent one. Bring an extra cloth to provide shade over your toddler in the stroller.
Split Up - Sometimes it is best to split up. Your toddler may have his heart set on riding Dumbo, but not everyone else wants to. Don't be afraid to split up for different rides, and get back together again for later. 
Share Lightening Lane reservations - If you have Genie +, and part of your group leaves the park early for naps or dinner, you can let others use your Lightening Lane reservation. The park doesn't check the names, you just have to have a reservation.
Choose Toddler-Friendly Rides - Disneyland offers plenty of attractions suitable for toddlers, including "it's a small world," Dumbo the Flying Elephant, Peter Pan's Flight, and more. These gentle rides are perfect for their age group.
Character Meet and Greets - Toddlers often enjoy meeting their favorite Disney characters. Check the park schedule for character meet and greet locations and times. You can also visit Mickey Mouse and Minnie Mouse in their homes, and snap a photo.
Watch Parades and Shows - Disneyland's parades and live shows are entertaining for toddlers. Find a spot early to ensure a good view and make it a magical experience for them.
Ride the Railroad - Take a ride around Disneyland park on the railroad. The kids love riding a train, and it give parents a chance to relax.
See more
Disneyland Tips and Tricks
and
Disneyland in the Rain Tips
.
Home › Disneyland California › Disneyland Tips with Toddlers