Map of Disneyland Park
Use this map of Disneyland park to plan your best Disneyland vacation. Wondering where is Disneyland? Disneyland resort, and its sister park California Adventure, is located in Anaheim, California, near Los Angeles in southern California. We can show you better where it is on a google map along with other California attractions, and also have an aerial view of the park.
Updated July 4, 2022 by San Diego Beaches and Adventures
Where is Disneyland California?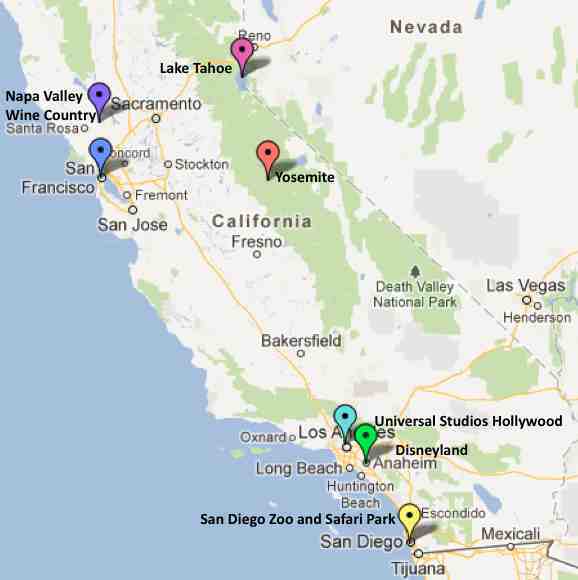 Where is Disneyland?
Disneyland California
is located in Southern California in the city of Anaheim, in the greater Los Angeles area (see street address listed below). It is one of the best California vacation destinations, visited by millions of people from all around the world.
Disney California Adventure theme park
is also located right next to Disneyland California. You may open the California Vacation map showing Disneyland in google maps by clicking
Google Map of California Vacation
If you are flying to your Disneyland California vacation, the closest airport is the Orange County Santa Ana (SNA) (John Wayne Airport) . This airport is popular for local flights and some USA flights. If you are flying across the country or from another country, you will find more flights to and from Los Angeles International Airport (LAX). From either airport you can arrange for a shuttle or rental car to take you to Disneyland Calif.
Disneyland also has other theme parks around the world including Disney World in Florida USA, Hong Kong Disneyland, Tokyo Disneyland, and Disneyland Paris.
Disneyland California Address and Directions
Map of Disneyland Park and Hotels Near Disneyland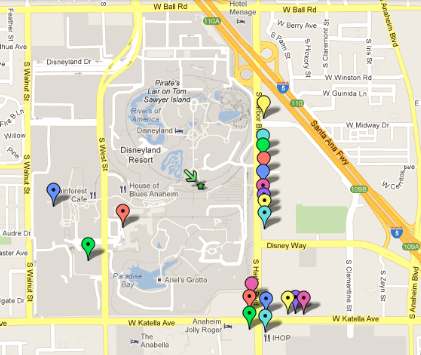 As this map of Disneyland shows, Disneyland is located right off freeway interstate 5 in Anaheim, California, between the Katella Avenue exit and Ball Road. It is surrounded by many hotels and restaurants, providing many options for your California vacation.
To open this map using google maps to find our more information about each of these hotels near Disneyland, see Google Map of Disneyland Park and Hotels.
---
Aerial Map of Disneyland Park
This Disneyland California map is an aerial view of Disneyland park in Anaheim, Calif. Disneyland is divided into different "lands", including Fantasyland, Tomorrowland, Main Street USA, Adventureland, New Orleans Square, Frontierland, Critter Country, and Mickey's Toontown. Disney is currently working on Star Wars Land, which is scheduled to open in 2019. Each land offers a unique experience, which is one reason a trip to Disneyland should be one of your California vacation destinations.
---
Nearby Theme Parks in So Cal

Other nearby popular theme parks in southern California include:
---
Home › Disneyland California › Map of Disneyland Park