Disneyland in the Rain Tips

Yes, you can visit Disneyland in the Rain - Tips for the best rainy vacation at Disneyland and Disney California Adventure theme parks.
It never rains in California - or does it? Yes, you may encounter some rain, from November - April, but most likely in December - February. Sometimes the rain is light and no big deal, but other times it can be heavy.
Here are some Disneyland in the rain tips for a fun time. We also have best tips for Disneyland and Disneyland Tips with Toddlers.
Updated September 21, 2023 by San Diego Beaches and Adventures
Disneyland in the Rain Tips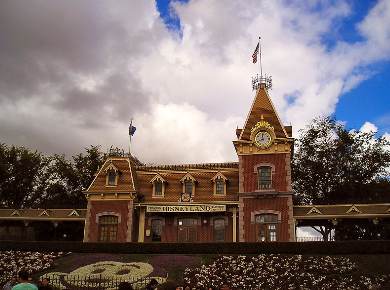 Rain clouds over Disneyland California. Will it rain or shine?
Choose - cancel reservation or just go with it - You probably made your reservation months in advance for your Disneyland vacation, so just go with it. It probably won't rain, but if it does, you will have a great time if you follow these Disneyland in the rain tips. Of course you might consider cancelling your reservation and rescheduling if you live nearby, have flexibility in your vacation plans, and can reschedule. Check on the Disneyland website to see the terms for cancelling or rescheduling your specific reservation, as the terms will depend on the type of ticket or pass.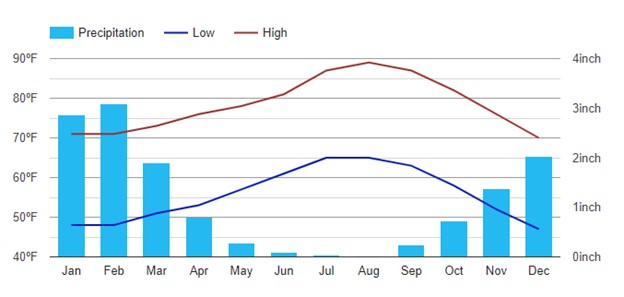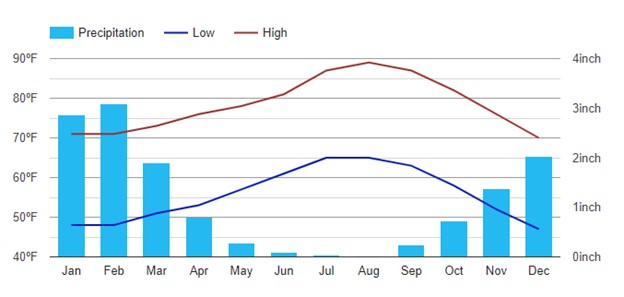 Disneyland Anaheim California - average low and high temperature (F) and rain (inches) by month
Check the forecast - If rain is expected later in the day, go on rides earlier that might close. If you are at Disneyland, these outdoor rides/activities will likely close during rain: Alice in Wonderland, The Mad Tea Party, Dumbo, Autopia, Storybook Canal Boats, Gadget's Go Coaster and Tom Sawyer Island . If you are at Disney California Adventure, these outdoor rides/activities will likely close during rain: Luigi's Rollickin' Roadsters, Goofy's Sky School, The Redwood Creek Challenge Trail and The Golden Zephyr.
Rain Coat or Poncho - Bring a rain coat or poncho before you arrive. Rain coats can be warmer but bulkier. Amazon has some great deals on ponchos. You should also bring a cover for the stroller, plastic bags for cell phones, and line your backpack with a plastic bag to keep everything dry. Small foldable umbrellas are helpful when you are standing in line outside a covered area, but you can't use them when you are on a ride. If you are going to enjoy your visit, this is the one of the best Disneyland in the rain tips!
Quick Dry Clothing - Wear quick dry, water resistant clothing and shoes. I prefer clothing such as quick dry long pants (like Columbia hiking pants) and fleece. Avoid cotton sweat shirts and jeans that will take a long time to dry once they get wet.
Towel - Bring a small towel to wipe things off. Those backpacking towels that are small work great.
Storage Locker - Rent a storage locker to offload some items during the day if they aren't needed.
Check Closing Time - You will want to know the Disneyland hours that day to find out when the parks open and close. Disneyland may close at 8 PM some winter nights, and other winter nights it is open until midnight. You might want to take a break on a rainy afternoon, and come back in the evening after the rain has stopped.
Dine Indoors - It goes without saying, on a rainy day, you want to dine out of the rain. At Disneyland California park, try:
·  Bengal Barbecue
·  Docking Bay 7 (my favorite)
·  Golden Horseshoe
·  Pizza Port
·  Plaza Inn
·  Red Rose Taverne
At Disney California Adventure park try:
·  Fiddler, Fifer and Practical Café
·  Flo's V8
·  Smokejumpers Grill
There are also places to dine indoors at Downtown Disney, across the main entrance at Tony Roma's,  and at the nearby Anaheim Gardenwalk, especially if you are headed for a break at your nearby hotel.
Best Indoor Rides
Disneyland Haunted Mansion
If the rain is a bother, try to choose rides and attractions that are mostly indoors. Here are some good bets:
Best rainy day rides at Disneyland park:
Buzz Lightyear Astro Blasters
Disneyland Railroad
Enchanted Tiki Room
Fantasyland Theater
Great Moments with Mr. Lincoln
Haunted Mansion
Indiana Jones Adventure
It's a small world
Main Street Cinema
Mickey and Minnie's Runaway Railway
Mickey's House and Minnie's House
Millennium Falcon: Smugglers Run
Mr. Toad's Wild Ride
Peter Pan
Pinocchio's Daring Journey
Pirates of the Caribbean
Roger Rabbit's Car Toon Spin
Sleeping Beauty Castle Walkthrough
Snow White's Enchanted Wish
Space Mountain
Star Tours - The Adventures Continue
Star Wars: Rise of the Resistance
Storytelling at the Royal Theatre
Visit Princesses at the Royal Hall
Best rainy day rides at Disney California Adventure park:
Animation Academy
Disney Junior — Live on Stage
Guardians of the Galaxy
Meet Anna, Elsa and Olaf
Monsters, Inc.
Soarin' Around the World
Sorcerer's Workshop
The Little Mermaid (I love this ride!)
Turtle Talk with Crush
Toy Story Midway Mania
WEB SLINGERS: A Spider-Man Adventure
And of course if you are already wet, you won't mind getting even more wet on the Grizzly River Run ride!
For more of the best Disneyland tips, see Disneyland Tips and Tricks and Disneyland Tips with Toddlers.
Home › Disneyland California › Disneyland in the Rain Tips