Christmas at Disneyland

Celebrate Christmas at Disneyland, a special Disneyland holiday from November 10 2023 to January 7 2024. Enjoy the holiday parade, watch the
Believe in Holiday Magic
fireworks, see the
Nightmare before Christmas
, and enjoy the beautifully lit Cinderella's castle and much more as part of this special holiday season. This year continues the new Disney Festival of Holidays at Disney California Adventure theme park. Yes, Disneyland California is open! Reservations are required. Expect tickets to be limited and sell out early. For your best Disneyland vacation, read about
Disneyland Tips and Tricks
.
Updated September 21, 2023 by San Diego Beaches and Adventures
Disneyland Christmas Holidays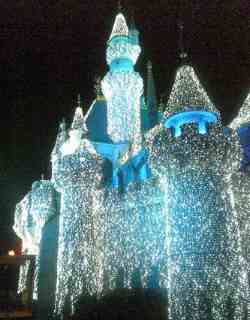 Sleeping Beauty Castle, Disneyland Anaheim, California
Spending Christmas at Disneyland is a special experience for children of all ages. Surprise your loved ones with Christmas at Disneyland vacation, or just a day at the magical kingdom. Some popular Disneyland Christmas holiday attractions include:
It's a Small World Holiday - The timeless attraction of the children of the world dressed in holiday costumes.
Crystallized Sleeping Beauty's Winter Castle - See the beautiful castle light up during the evening, with icicles and even snow in Southern California.
Disneyland Fireworks Show - View the evening fireworks show and snow falls during your stay. Best viewing spots include near Sleeping Beauty's Castle, It's a Small World, and New Orleans Square.
Haunted Mansion Holiday - Experience the The Nightmare Before Christmas, Disneyland style. Jack Skellington and his scary crew give Disney's Haunted Mansion a Christmas makeover.
World of Color Winter Dreams - See the new Season of Light nighttime show at Disney California Adventure theme park.
A Frozen Sing-Along Celebration and Olaf's Snow Fest - Disney California Adventure offers a winter wonderland and musical celebration.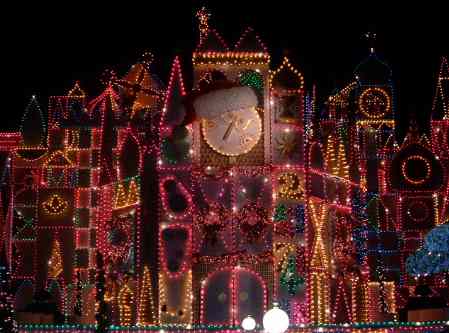 It's a Small World, Christmas at Disneyland
Disneyland Christmas Parade Watch one of the famous Disneyland parades, A Christmas Fantasy Parade, with your favorite characters and of course, Santa Claus himself in his sleigh.
Main Street USA Decorations - See the Christmas tree and decorations in Main Street USA, and more holiday decorations throughout the park.
New Disney Festival of Holidays- Celebrate the new Disney Festival of Holidays with special food and cultural traditions from around the world. Held at the California Adventure park.
---
Disneyland Christmas Hours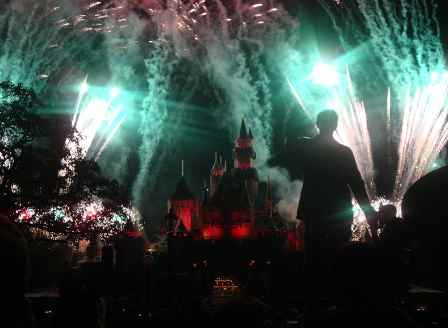 Firework show at Disneyland California
Yes, Disneyland is open on Christmas, and every day during the year. During the winter holidays from mid December - early January, Disneyland usually opens at 8:00 AM and closes at midnight (except on New Years Eve Disneyland stays open until 2:00 AM New Years day).
Disney California Adventure is usually open at 8:00 AM and closing times during the Disneyland holiday season vary from 10:00 PM to 11:00 PM. These are just general hours and may vary. For more information on Disneyland California hours, and a link to the daily schedule, see Disneyland Anaheim Hours.
Please note that spending Christmas at Disneyland is quite popular, and tickets may be sold out in advance, especially during the week before and after Christmas. Disneyland holiday season lasts from mid November to early January (November 10 2023 through January 7 2024).
Best Southern California Major Attractions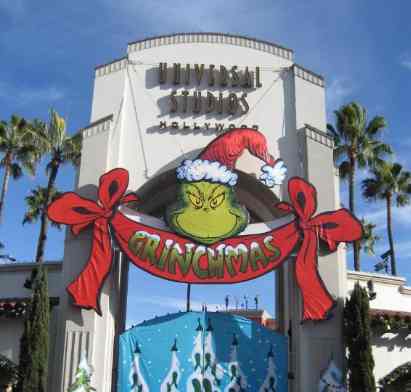 Celebrate Xmas at Disneyland and see the Grinch at the Universal Studios Grinchmas celebration. Get your
Southern California CityPass
to get the best deals on tickets. Check out these out things to do near Disneyland at Christmastime:
Universal Studios Hollywood LA | Legoland California | San Diego Zoo | San Diego Zoo Safari Park | Sea World San Diego | San Diego Events December | Christmas Activities
Best Southern California Major Attractions

Celebrate Xmas at Disneyland and see the Grinch at the Universal Studios Grinchmas celebration. Get your
Southern California CityPass
to get the best deals on tickets. Check out these out things to do near Disneyland at Christmastime:
Universal Studios Hollywood LA