Disneyland Tips and Tricks
We have the best Disneyland tips and tricks for your 2023 vacation to Disneyland and California Adventure theme parks. Don't visit Disneyland without reading these best Disneyland tips for your vacation at Disneyland.
Updated September 21, 2023 by San Diego Beaches and Adventures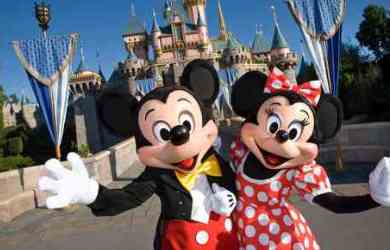 Disneyland Tips and Tricks 2023
Our family loves going to Disneyland. In fact, we just had a family reunion there, with kids of all ages. If you are looking for the best tips for Disneyland, first time Disneyland tips, or even Disneyland tips for toddlers, we have lots of ideas for you.
Buy Cheap Tickets - I prefer to buy cheap Disneyland tickets, where I can save money. You can save money in a variety of ways. See our tips for buying cheap Disneyland tickets.
Make Reservations - Disneyland and Disney California Adventure theme parks also require reservations. Be sure to reserve your dates in advance.
Nearby Hotel – Stay in a nearby cheap Disneyland hotel where you can walk to Disneyland, or if you can afford to splurge, at one of the Disneyland hotels. You can take a break midday and avoid the crowds. Head back again in the late afternoon or evening. 
Disneyland App - Download the Disneyland App and get familiar with the Tip Board and map. Appoint one person in your party to manage the Genie + App, but you might need more people, as it is common for groups to split up during the day. The Tip Board will let you know wait times at the different rides, and if you purchase Genie+, you can reserve popular rides during the day, and short cut the lines with Lightening Lane. This is one of the best Disneyland tips and tricks. For more information about the Disneyland App, Disney Genie, Disney Genie+ and Lightening Lane fastpass, see our page on Disneyland Genie Plus Tips.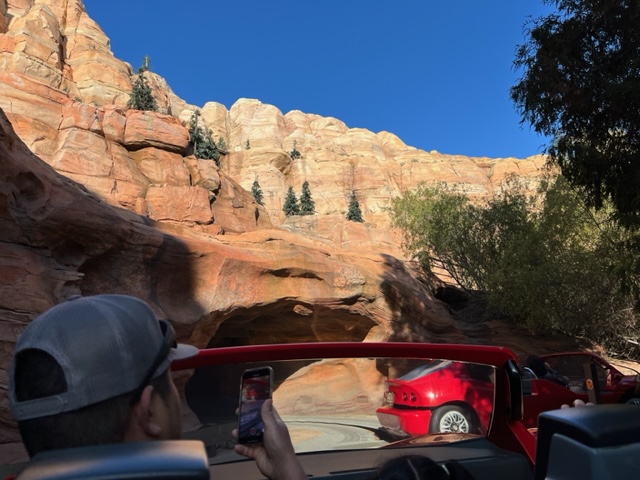 Radiator Springs Car Races ride at California Adventure park
Kids Height – Some of the rides have minimum height requirements. Know how tall your child is before you go, and then confirm again at the park. If you child is near the height cutoff, sometimes shoes with taller soles will make the difference.
Single Rider Lines – Some rides offer single rider lines, which are much shorter than the regular line. For example, when we went to California Adventure park and arrived early, we headed to the Radiator Springs Racers ride, which ended up being an hour wait. Instead, I went into the single rider line to the left, and got on in less than 5 minutes.  You will most likely be sitting next to strangers instead of your friends for the ride itself, but it is totally worth it. Some age restrictions may apply (must be 7 years or older for the single rider line).
John Wayne (Santa Ana) Airport - Don't fly into Los Angeles (LAX) airport, which is 45 + minutes away from Disneyland and can involve traffic delays. Fly to the closer John Wayne Santa Ana (SNA) airport for a better experience. From there, you can take a 20 minute shuttle or Uber to your hotel near Disneyland, or straight to Disneyland park.
Snacks and Drinks – Bring your own snacks and drinks to save money and give you more flexibility to eat off-hours. On hot days, pack frozen water bottles. You can also bring a picnic lunch or dinner and keep in your hotel room or car.
One Park Ticket – I prefer buying tickets to see just one park per day, either Disneyland or Disney California Adventure. There is too much to see if one day anyway, so why pay more for a park hopper ticket? This can save you $65 on a one-day ticket.
Off-Season - Visit during off-peak seasons for cheaper ticket prices, smaller crowds and shorter wait times
Arrive Early – Have your ticket and reservation with you as you arrive 45 minutes early. You can get through security, into the park and wait for the park to open at the "rope line". If you are staying at one of the Disneyland hotels, you can go on select rides 30 minutes early.
Mobile Order Food – Avoid the wait by ordering your food in the park on your mobile phone, and have someone pick it up. For example, enjoy some Dole Whip from the Dole Enchanted Tiki Room while you are waiting in line for Indiana Jones. Everyone will be jealous!
Rider Switch Option - Utilize the Rider Switch option if you have young children who can't ride certain attractions. One parent can ride while the other one waits with the young children, then you switch off. 
Radiator Springs Racers - Use the single rider option (entrance on the left) on the Radiator Springs Racers ride in Disney California Adventure to reduce wait times. Must be 7 years of age or older. This is one of the best Disneyland tips and tricks, as this is the most popular ride at Disney California Adventure.
Toddlers - If you are visiting Disneyland or Disney California Adventure theme parks with toddlers, see our Disneyland Tips with Toddlers.
Comfortable Clothes and Shoes - Disneyland involves a lot of walking and standing, so you will need to wear comfortable shoes. The temperature may change throughout the day, so layers of clothing are nice.
Rainy Days - Most of the time the weather in very nice, but occasionally there are rainy days. See our best tips for Disneyland in the rain.
Special Experiences - If you love parades and fireworks, plan you visit to include those by checking out the daily Disneyland calendar. If you don't like parades, those are good times to visit rides as the lines will be shorter.
Southern California Theme Parks - Consider spending some time at other theme parks besides just Disneyland (although it is totally awesome by itself). Try Disney California Adventure, Universal Studios Hollywood, Knotts Berry Farm, Legoland, or San Diego Zoo.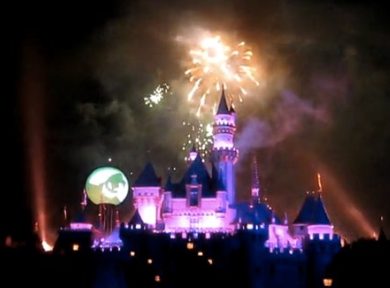 Disneyland at Halloween
Seasonal Events - Disneyland can be fun to visit during holiday seasonal events, such as Disneyland Halloween and Christmas at Disneyland.
Main Street Shops - Explore the shops on Main Street, U.S.A., for unique Disney merchandise. They are open late, so go on the way out.
Hidden Mickeys - Look for Hidden Mickeys throughout the park—hidden representations of Mickey Mouse in various forms.
Photos - Use Disney PhotoPass photographers to capture professional-quality photos of your visit.
Enchanged Tiki Room - Take a break and enjoy the show in the Enchanted Tiki Room.
Dole Whip - Enjoy a Dole Whip—a popular pineapple soft-serve treat available near the Enchanted Tiki Room. Order online to avoid the wait.
Extra Magic Hours - If you are staying at one of the Disneyland resort hotels, take advantage of the early admission and arrive early in the park.
Portable Phone Charger - Bring a portable phone charger so you don't lose contact with your friends. Also, if you use the Disneyland App, it can drain the battery, especially the map.
Parking Spot - If you are parking in one of the nearby Disneyland parking lots, take a picture of your spot so you can easily find it (and a picture of your car if it is a rental car). If you are staying in a hotel that is too far to walk, you can drive and park in a parking lot. There is also an option on the Disneyland App to capture your parking location.
Disneyland Railroad - Use the Disneyland Railroad for a scenic tour of the park and as a transportation option. It gives you a chance to sit down and relax a bit.
Downtown Disney - We like to visit this one the travel day when we arrive, then go to Disneyland park early the next morning after a good night sleep. This is one of our favorite Disneyland tips and tricks.
Sun Protection - Bring sunscreen, hats, and sunglasses to protect yourself from the California sun.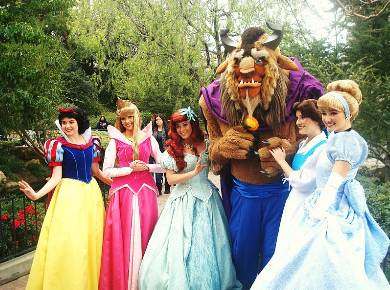 Disney Characters - Meet your favorite Disney characters or princesses early in the day. Mickey and Minnie have their own houses and you can take photos with your child. Or, attend a character dining experience for an opportunity to interact with Disney characters. Bring autograph books and pens for character meet and greets.
Off the Beaten Path - Take a break from the crowds by exploring the less popular areas of the parks, such as Tom Sawyer's Island or Mickey's Toontown.
Single Rider Lines - Use the shorter single rider lines for popular rides like Matterhorn Bobsleds at Disneyland or Guardians of the Galaxy - Mission: BREAKOUT! at Disney California Adventure.
Star Wars Fans - In addition to the new Star Wars Land, don't forget to take Star Tours - the Adventure Continues, which offers different adventures a long time ago, in galaxies far, far away. Participate in the "Jedi Training: Trials of the Temple" experience for young Star Wars fans. Learn more about the Star Wars rides at Disneyland.
Disneyland and California Adventure
Disneyland Address and Directions
Home › Disneyland California › Disneyland Tips and Tricks