Disneyland Package Deals
Enjoy these Disneyland package deals and save money on your next vacation to Disneyland. Save money on Disneyland tickets, hotels and more with these Disney vacation deals.
If you are local to southern California, you may just want to buy some cheap Disneyland tickets and stay at home. But if you are a tourist, or a local who wants to stay at a nearby hotel, you may want a package deal to save money on tickets, hotel, airfare, rental car and more. So keep reading for tips on saving money for your best California vacation - at the Disneyland resort.
arestravel.com - Save up to $15 per ticket or 29% on Disneyland discount tickets and vacation packages.
Updated September 21, 2023 by San Diego Beaches and Adventures
aRes Travel Disney Vacation Deals
aRes Travel offers some of the best Disney vacation deals. You can save money on most park tickets, and book Disney vacation deals at a discount.
If you are on a budget and want cheap Disneyland tickets, you can save money by buying tickets directly from aRes. Save up to $18 per ticket, so check them out if you are looking for cheap tickets. aRes Travel
You can also save 20% with hotel packages which include the park tickets. Check out package deals at aRes Travel.
aRes Travel also offers a variety of package deals for multiple theme parks, there are many options to choose from. For example, you can choose 2 - 5 days at Disneyland California, 1 day at Legoland California, and 1 day at San Diego SeaWorld, 1 day San Diego Zoo or Safari Park.
See package deals that include Disneyland here
See package deals that include Sea World San Diego here
See package deals that include Legoland here
See package deals that include San Diego Zoo here
---
Military Disney Vacation Deals
Disney offers some of the best Disneyland package deals if you are active or retired military. You can visit Disneyland California for 3 days at both parks (Disneyland and California Adventure) for a discounted price. This Disney offer is open to both active and retired U.S. military families. Only 6 tickets per military member may be purchased by either the member or spouse. The military member must accompany the group as they visit Disneyland. A few blackout dates apply for major holidays. Purchase tickets in advance at your authorized military ticket outlet, as these are usually sold at great discounts.
---
Costco Disney Vacation Deals
Costco travel offers online Disney vacation deals, including California Disneyland package deals. The offers vary, but recently Costco offered these Disney deals:
Free hotel night – receive a 3rd or 4th night free at participating hotels near Disneyland California, a $20 Disney gift card, and a Disney premium character dining experience - breakfast, lunch or dinner – your choice!
Disneyland Resort Hotel Deals - receive extra deals when you stay at one of the Disneyland resort hotels. Receive an extra $20 Disney gift card, preferred seating at Disney California Adventure World of Color shows, and extra character dining – one hour before the park opens for everyone else! These are great Disney vacation deals!
Costco Disneyland Tickets Costco no longer offers discounted Disneyland tickets.
For more information see Costco Vacation.
---
Disney Magic Key Annual Passes

Disney offers annual passes, now called Magic Key passes to fit your budget and lifestyle. Unfortunately, they limit the number of annual passes that are available. Check out
Disneyland Annual Passes
.
---
AAA Disneyland Vacation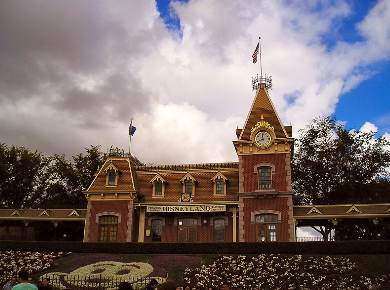 Disneyland park train station.

AAA members can get 15% discounts off hotel rooms and free parking at Disneyland, a great benefit for members of AAA. Discount Disneyland tickets are available from AAA. You can buy tickets from some AAA offices, and save about $ 5 - $10 per park hopper pass or 2 day ticket or longer visit to 1 park. You may also get free parking, which saves even more money!
For more savings on a 3 day ticket, why not combine your City Pass tickets with AAA discount at a Disneyland hotel or "good neighbor" hotel near Disneyland? To see which hotels offer AAA Disneyland vacation discounts, see your local AAA club's website and search for AAA Disneyland vacation, or check out the links to our hotels near Disneyland for some great AAA Disneyland package deals.
---
Southern California Resident Deals
Disney sometimes offers special Disneyland package deals for California or So Cal residents. They offer special season passes, and sometimes the offer special discounts, typically early in the year. See the special ticket offers for So Cal residents on their website.
---
Home › Disneyland California › Disneyland Package Deals