Free Disneyland Tickets

Get your free Disneyland tickets for your vacation at Disneyland and California Adventure theme parks. Yes, it is possible for some to go to Disneyland for free, but it can be challenging too.
Updated September 21, 2023 by San Diego Beaches and Adventures
Free Disneyland Tickets 2023

Sleeping Beauty Castle at Disneyland
Does Disney really offer free tickets? They did in the past, for your birthday, and for volunteers. Read more about that below.
Here are the best ways to get Free Disneyland tickets in 2023.
Free Tickets if Under Age 3 - Children under the age of 3 can attend Disneyland for free. No proof of age is required. In fact, you don't even need a ticket or reservation for the young child. Check out our Disneyland tips for toddlers if you are visiting with young children.
Free Tickets for Disney Cast Members - If you personally know someone who works at Disneyland, they can get free tickets, for up to 3 people.
Contests and Giveaways - Keep an eye out for contests, sweepstakes, or giveaways organized by Disney. These promotions occasionally offer free tickets as prizes. Be cautious and ensure you're participating in legitimate contests.
Media Opportunities - Members of the media, bloggers, influencers, and journalists might occasionally receive complimentary tickets for coverage purposes. This is more common for professional media personnel vs. bloggers or influencers.
Use Credit Card Points - Do you have a credit card with points for purchases? Put as many purchases as you can on the card, and then use the points to pay for your free Disneyland tickets.
Media Promotions - Pay attention to promotions run by media outlets, radio stations, or online platforms. They might occasionally have promotions or contests where you could win free tickets.
Mickey and Minnie's Runaway Railway at Disneyland
Make-a-Wish Foundation - If your kid is fighting a critical illness, they might qualify for a free Disneyland vacation for your family to visit Disneyland or Disney California Adventure.
Charitable Events - Sometimes, charities or nonprofit organizations hold events in collaboration with Disney, where a portion of the proceeds might go toward a good cause, and in return, participants could receive free or discounted tickets. Or ask your HR department to give away free Disneyland tickets, and maybe you will win!
Overtime Pay - If you have the chance to earn some extra money at work, do some overtime. Or pick up a side gig, and save the money for a trip to Disneyland.
Visit Another Theme Park - Try visiting a less expensive theme park to get free tickets. For example, San Diego Seaworld, San Diego Zoo and Safari Park offer free tickets for children during the month of October.
Can't qualify for free tickets to Disneyland or California Adventure park? Check out how you can get cheap Disneyland tickets.
---
Free Disneyland Tickets from Disney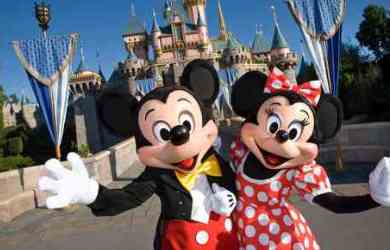 These offers are no longer available.
Free Disneyland Tickets for your Birthday - In 2009, Disneyland offered free tickets for your birthday. This offer is no longer valid, but you can always ask your loved one for a trip to Disneyland as a birthday gift!
Free Disneyland Tickets for Volunteers - Disney had a program in 2010 to reward volunteers in their community. 1 million volunteers got free passes to Disneyland, for a one-day visit. This program is no longer offered, but it was such a great way to earn free Disneyland tickets for your family!
Both of these Disney free ticket offers have expired. I am not aware of any current free Disneyland tickets from Disney.
---
Disneyland and California Adventure
Disneyland Address and Directions
Home › Disneyland California › Cheap Disneyland Tickets › Free Disneyland Tickets