The Gaslamp Quarter San Diego is a great place to start your visit to San Diego California, whether you are looking to dine out, be entertained or just get out and explore. With its history dating back to 1850, this particular area of SD is listed as the Gaslamp Quarter Historic District in the National Register of Historic Places. While the 16½ blocks of what is known as the Gaslamp District has undergone more than one urban renewal, it is now a thriving and entertaining place for both locals and visitors to the area.

Updated December 5, 2023 by San Diego Beaches and Adventures
---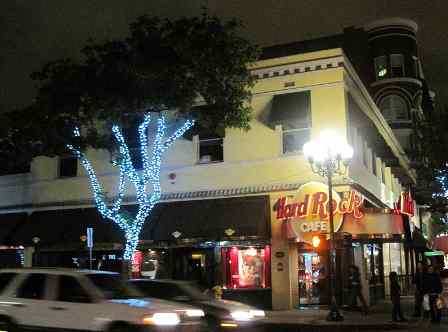 San Diego Gaslamp Quarter Hard Rock Cafe

There are many great San Diego Gaslamp restaurants for breakfast, brunch, lunch, happy hour and dinner. Pull out your iPhone and read the reviews, or follow our advice and choose one of these best Gaslamp Restaurants in San Diego CA.

Best Gaslamp Restaurants San Diego - Breakfast or Brunch
Start your morning at one of the more than 28 places for Breakfast or Brunch. You are sure to find more than one place to please the palate. A few of the known favorites:
1. Café 21, 750 Fifth Ave., phone number 619.795.0721
2. Richard Walker's Pancake House, 520 Front Street, phone number 619.231.7777
3. The Field Authentic Irish Pub and Restaurant, 544 Fifth Ave., phone number 691.232.9840
4. Hash House A Go Go, 3628 5th Ave phone number 619.298.4646
Best San Diego Gaslamp Restaurants for Lunch

Moving on to lunch? Again, with more than 82 places to eat and way too many to list, you might consider some of the following:
1. Monsoon, 729 4th Ave., call 866-368-3773 for reservations
2. Jimmy Love's, 672 Fifth Ave., phone number 619.595.0123
3. Yard House, 1023 4th Ave., phone number 619.233.9273
4. Chocolat Cremerie, 509 5th Ave., phone number 619.238.9400
Best Gaslamp Restaurants San Diego for Dinner
Considered one of the Fab Fours for Dinner and all are conveniently located right there on 5th Avenue in the heart of the Gaslamp District:
1. Ocean Room, 630 5th Ave., telephone number 619.501.6550
2. Chianti, 644 5th Ave., telephone number 619.235.8144
3. La Fiesta, 628 5th Ave., telephone number 619.232.4242
4. Urban Bar and Grill, 827 5th Ave., telephone number 619.235.8700
---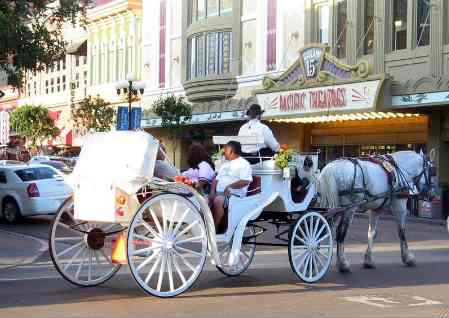 Just a few of the absolute "Bucket List" items of the Gaslamp District:
The Shout House – Kick back with a group of your friends or family for a night of classic rock dueling pianos. Don't just sit there…..get involved! Go ahead and make your favorite song request and then jump right in and join the party. Nothing but fun can come from such a diverse crowd of people of all ages. The Shout House is located at 655 4th Ave., 877.603.6071.
Petco Park – The park opened in 2004 as the home to the San Diego Padres. You can't go wrong with the amazing views of the bay and skyline along with a venue of fun events to attend. Petco Park will be hosting the Season 11 Auditions for American Idol. So, go ahead and find your way down to Petco Park for some unforgettable memories. Petco Park is located at 100 Park Blvd. Phone ahead for Padres ticket information at 619.795.5005 or email tickets@padres.com. If you are interested in private event information call 619.795.5025 or email events@padres.com.
Double Deuce – Pull on your boots and grab your hat and honey and head on down to Double Deuce where there is a little something for everyone. With 4 levels and 2 rooms you are sure to have some fun. If you are a little bit country and a little bit rock'n roll, no problem, they have it all. We're all here to party seems to be the motto. Double Duece is located at 528 F Street, 619.450.6522.
Altitude Sky Lounge – Check out what is happening atop the Marriott at Altitude Sky Lounge! It's a whole new way to look at San Diego from 22 stories up. The views of Petco Park, Coronado Bridge and Island as well as Point Loma are amazing. Happy hour is Monday through Friday 5p.m. to 7p.m. and all day Sunday with great drinks and a menu of appetizers that are sure to please. Begin your night with dinner at Soleil @k. Check out the DJ Schedule while enjoying the ambiance of the warm glow from the fire pit.
For more fun things to do in the Gaslamp Quarter see
San Diego Gaslamp District
---
Put on your shopping shoes and plan for a full day. From the surfer type to the boutique shopper, you will not be disappointed. Add a touch of practicality with stores catering to those "forgot to pack" items for your stay away from home. You will find just about anything and all within an inviting walking range. The Gaslamp District holds bragging rights to more than 70 retail stores and many unique and fun places to shop. Treat yourself to this unique shopping experience.
Just a small sample of shopping pleasures:
The Gaslamp Garage – With a little bit of everything for everyone. This is a great place for gifts and little necessities. 301 5th Avenue, 619.241.4240
San Diego Trading Company – Specializing in all of your San Diego souvenir specialties. You can also visit them online at www.sandiegotradingcompany.com. 376 5th Avenue, 619.696.9581
Bubbles Boutique – You will have fun at this unique boutique that owns the bragging rights to eclectic fashion for your every mood. 225 5th Avenue, 619.236.9003
Quicksilver Boardriders Club - We are talking surf, skate and board shopping right at your fingertips. Specializing in both men's and women's clothing. 402 5th Avenue, 619.234.3125
Eden Boutique – An extraordinary boutique specializing in up-and-coming designers. This one is for the ladies! 520 5th Avenue, 619.696.3336
The Wine Bank Inc. – Specializing in "hard to find" spirits with an extensive selection of wine and beer as well. Stop to taste and shop! 363 Fifth Avenue, Suite #100, 619.234.7487
While this list could go on and on we suggest you get out there and start shopping.
See you at the Gaslamp Quarter in San Diego!
---