Mountain Biking in San Diego
Bike San Diego Historic 101 and the Pacific Coast Highway
Biking in San Diego
is great any time of the year. The weather is perfect, and the terrain is surprisingly varied. You can go bike riding on the
Pacific Coast Highway
in San Diego, along Historic 101, and experience fantastic views of the Pacific Ocean in San Diego.
Mountain biking
is popular too in some of the canyons, preserves and around nearby lakes. You can even bike ride to work.
Updated December 5, 2023 by San Diego Beaches and Adventures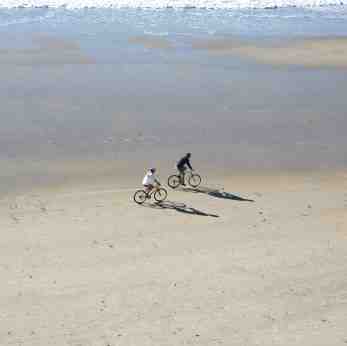 At low tide, enjoy a ride on a wide sandy beach. Or enjoy a short bike ride along some of the beach boardwalks and parks, anytime. So leave your car behind, and enjoy the fun of bicycling in San Diego.
---
San Diego Coast Highway Biking - Historic 101 and the Pacific Coast Highway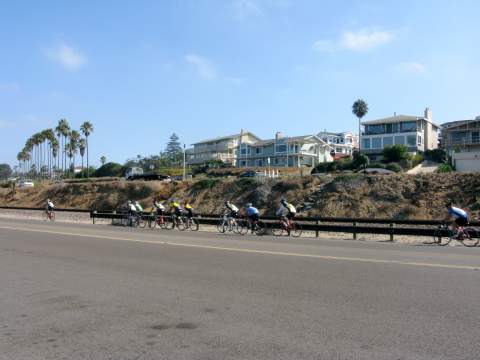 A great route for biking in San Diego is to take the
Pacific Coast Highway
. If you are coming from Orange County for a day ride, you can park a car at a train station, ride your bike south and hop the Coaster train back for the trip home. You will need to bring your drivers license, as Camp Pendleton, a large Marine base is located at the northern end of San Diego right along the coast. They will let you ride on the military base if you show your drivers license.
South of Camp Pendleton, the Pacific Coast Highway is known as Historic 101 most of the way from Oceanside to San Diego. The trip will take you through busy Oceanside, where you can see the 101 Café and the Oceanside Pier. Further south is a quiet ride through Carlsbad, and into Encinitas, where it is worth a stop at the Self-Realization Fellowship Temple Mediation Gardens. The temple grounds are open all days except Monday, and offer spectacular gardens and views of the Pacific Ocean. Just south of the temple is Swami's surfing spot, made famous in the Beach Boys Surfin' USA hit song. There are a number of cafes to eat at, including Swami's Café.
The coastal biking in San Diego ride continues through the beach communities of Cardiff, Solana Beach, Del Mar and Torrey Pines. A brief side trip up Soledad Mountain in La Jolla will reward you with spectacular views, before descending into the beach communities of Pacific Beach and Mission Beach, in the heart of San Diego. You might want to save your energy for biking Point Loma and Coronado for another day.
---
Scenic Historic 101 from Encinitas to La Jolla
If you want a
shorter but scenic San Diego coast highway biking route
, start at Encinitas Blvd in Encinitas and head south through Cardiff, Solana Beach, Del Mar, and then enjoy the hills of Torrey Pines and La Jolla. The Torrey Pines grade is a challenge. You might want to stop at
Torrey Pines State Park
and enjoy the spectacular views of the Pacific Ocean.
If you are a tourist, bicycles rentals are available in La Jolla Shores and Pacific Beach.
---
Biking in San Diego - Coastal Rail Trail from San Diego to Oceanside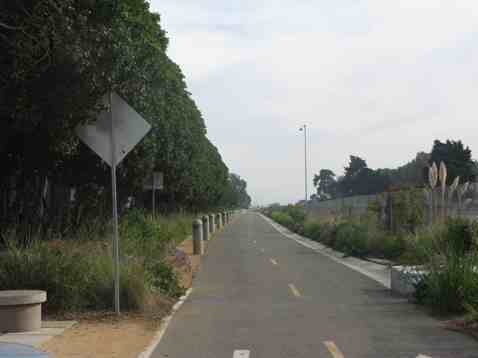 The Coastal Rail Trail will stretch all the way from San Diego to Oceanside, as it parallels the railroad tracks along historic 101. Parts of the trail are completed, such as this section shown above in Carlsbad, and a nice section in Solana Beach.
---
Highway 56 Bike Path
If you are looking for a fun, free way to get some great exercise, look no more. Did you know that is 2015 the Highway 56 Bike Path was voted No. 1? Yep, 7 amazing miles of easy to moderate trails that take you from the the intersection of Carmel Country and Clew Ranch roads where you will hop on the trail going west. Once at El Camino Real, cross over Highway 56 and head on down to Torrey Pines State Beach. That is where you can relax and enjoy ocean views before heading back. Take a little money with you and enjoy some refreshments at Del Mar Highlands Town Center. No into that view, then hop on at Carmel Country and head east…. You will get in a great workout following the 56 till you are ready to turn around and head back. Happy trails to you! See the bike path at
www.icommutesd.com
---
Bike to Work

I just learned about a great website called I commute. With the wonderful weather we have in San Diego you can go on their site and map a bike ride to work. What a great way to reduce stress, get in shape, save money and also wear and tear on your car. It doesn't have to be a ride to work though…just map a ride to somewhere fun with your family or honey! WOW…Another Marvelous San Diego Perk. Check it out at and learn all about it at
www.icommutesd.com
---
Mountain Biking in San Diego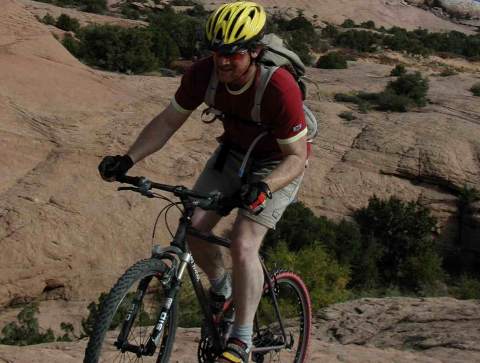 Photo credit Adam Lambert-Gorwyn

The San Diego Mountain Biking Association recommends a number of mountain biking trails in San Diego county. Check out the San Diego Mountain Biking Association website
sdmba.com
website for recommendations.
Home › Things to Do › Mountain Biking in San Diego