San Diego County Fair 2023
Come visit the 2023 San Diego County Fair at the Del Mar Fairgrounds, from June 7 to Tuesday July 4 2023. The fair is closed on Mondays and Tuesdays except July 3rd and 4th. There will be plenty of fun, concerts, shows and rides. Limited tickets and parking will be available, and yes, there will be fireworks on the 4th of July. This year the theme is Get Out There!
Make your reservations before they sell out! 
Updated September 21, 2023 by San Diego Beaches and Adventures
San Diego County Fair  - Del Mar Fairgrounds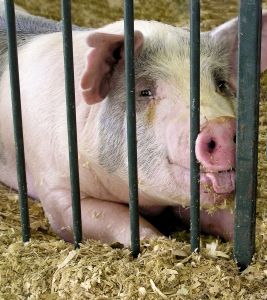 Photo credit Jill Smith

2023 Events
In 2023 the theme is Get Out There! There are are special events on certain days. Here is a list of some of the popular events. Tickets include admission to the San Diego County Fair.
Out at the Fair - Saturday June 10 from 11 AM to 6 PM. Celebrate diversity and inclusiveness through music, food, games, and entertainment.
Toast of the Coast Wine Festival - Saturday June 17 VIP tasting $175 from 12 - 4 PM and General Admission $55 from 1 - 4 PM.
Asian and Pacific Islander Festival - Saturday June 17 from 11 AM to 5 PM. Experience China, Japan, India, Vietnam, the South Seas, the Philippines and other Asian and Pacific nations with traditional and modern performances.
Gospel Festival - Saturday June 24 from 11 AM to 9 PM. A full day of gospel music on the Chevrolet Paddock Stage.
San Diego International Beer Festival and Distilled - Saturday July 1. Special craft brews and favorites from local breweries. 3 sessions available. with prices ranging from $70 to $135. Unlimited beer sampling and 5 cocktail tastes.
Summer Concert Series - Enjoy your favorite band in reserved or unreserved seating at the Grandstand Stage, or choose music at the Paddock stadium and dance floor. Music selection and prices vary, make online reservations for your favorite band.
San Diego County Fair Fireworks - Tuesday July 4 at 9 PM. Enjoy the Fireworks Spectacular, the grand finale for the San Diego County Fair. For $20 - $25, you can reserve your seat at the grandstands. Price includes admission to the fair.
Exhibits - It wouldn't be a county fair without exhibits! Check out everything from flower show, fine art, kids artwork, garden show, livestock, photography and more! Exhibits vary based upon the date, so check out the fair's calendar to decide the best day to attend.
Rides and Games - The San Diego County Fair has some of the best rides. The Fun Zone features 39 exciting rides, and Kids Zone has more than 40 rides for the younger kids. Many games of skill too. See if you can win some prizes at the county fair!
Food - Where else can you get such a variety of food. Can you handle those deep fried fair food?
2023 San Diego County Fair Information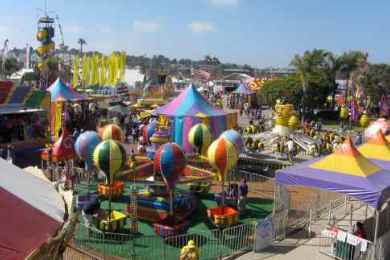 San Diego County Fair
is one of the main San Diego attractions in the summer in San Diego county. Centrally located in Del Mar at the Del Mar fairgrounds, it offers food, rides, shows, animals, concerts and lots of fun.
Del Mar Fairgrounds Address: 2260 Jimmy Durante Blvd. Del Mar, California | Google Map
Phone Number: 24-hour recorded information: 858-793-5555
Del Mar Fairgrounds phone number 858-755-1161
Dates: SD Fair open from Wednesday June 7 to Tuesday July 4 2023 except it is closed on Mondays and Tuesdays in June (note the SD fair is open on Monday July 3rd and Tuesday July 4th for Independence Day celebration). Tickets will be limited and must be purchased online in advance for all dates.
San Diego County Fair Hours: 11 AM to 10 PM on weeknights, 11 AM to 11 PM on Friday and Saturday nights.
Directions to San Diego County Fair: See below | Google Map
Parking: $20 per vehicle for general parking and $50 for preferred parking. You can save $5 and get general parking for only $15 if you buy online in advance. Horsepark parking is $10 (located 2 miles away, free shuttle). Credit or debit card only, no cash for parking. Free off-site parking with shuttle bus is available at Torrey Pines High School. All parking lots close 1 hour after fair closes.
Regular Admission Ticket Prices: Tickets are recommended to be purchased in advance but they are available to purchase at the gate (credit or debit card only, no cash). The tickets are good for specific date only, and are limited. The price is based upon the day of the week.
| Age | Wed and Thu and Mon July 3 | Friday | Sat Sun and Jul 4 |
| --- | --- | --- | --- |
| Adult (age 13-61) | $15 | $20 | $20 |
| Senior (age 62+) | $12 | $17 | $17 |
| Youth (age 6-12) | $12 | Free | $17 |
| Children 5 and under | Free | Free | Free |
Season Pass - Not offered for 2023.
Military Discount SD Fair Tickets - Military discounts are available for active military duty and veterans through GOVX website.
Fair Coupons and Discount Tickets
Unlimited Rides - Wednesdays and Thursdays are Pepsi Pay-One-Price for unlimited rides, a favorite deal for unlimited Fun Zone or Kids Zone rides from 11 AM to 8. PM. $45 if buy pass by June 6, $49 once the San Diego County Fair opens on June 7. Good for unlimited rides. Redeem by 6 PM and ride until 8 PM. Save an additional $5 if you pick up discount coupon when you buy 2 20 oz Pepsi bottles at and San Diego 7-11 store.
$3 off Adult Admission Tickets - Save $3 off adult admission tickets at Albertsons and Vons stores.
Costco San Diego County Fair Discount Tickets - Not offered this year. In prior years, the deal was $76.99 for 4 general admissions to San Diego County Fair. Includes four 2-for-1 drink coupons, one passport to savings coupon book, 1 parking pass, and 50 ride tickets.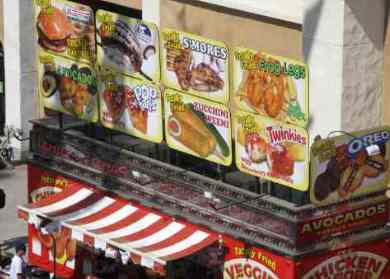 Food:
You may bring a cooler and picnic inside the fairgrounds, but drinks must be in factory sealed container and no alcohol. There are 6 picnic areas inside the fairgrounds. Also, there are several nice restaurants nearby, such as the Fish Market, Tony's and Fidel's Mexican restaurants. And don't forget those outrageous foods that you can only get at the fair, like the deep fried ice cream bars.
Dog Rules: - No dogs allowed except service dogs.
---
San Diego County Fair Directions: - From Interstate 5 in Del Mar CA, take the Via de la Valle exit and head west (a left turn from the freeway exit if you are northbound; a right turn if you are southbound). Take Via De La Valle to Jimmy Durante Boulevard and turn left. Follow signs and the instructions of parking personnel to Fair parking.
Also parking and shuttle service is available every day at Horse park, 2.5 miles east of the Fairgrounds at Via de la Valle and El Camino Real. On weekends, and July 4, try the free parking and shuttle service at Torrey Pines High School in San Diego, Calif.
Google Map

View San Diego Attractions Map in a larger map
Click on the link above to open the Google Map for the San Diego County Fair at the Del Mar Fairgrounds and other attractions in San Diego and southern California.
Home › Things to Do › San Diego County Fair