Whale Watching in San Diego
Whale Watching Season December - April

Enjoy Whale Watching in San Diego. See Gray Whales as they Migrate along the San Diego coast to and from Baja California.
From December through mid April, over 25,000 California Gray Whales undergo their annual migration from Alaska through San Diego and onto Baja California. As the gray whales migrate south, they travel in large pods that are relatively close to the San Diego shore. If you choose a San Diego whale watching cruise or sailing adventure, you can see the whales and get close enough to watch them as they travel south.
Updated December 5, 2023 by San Diego Beaches and Adventures
Whale Watching San Diego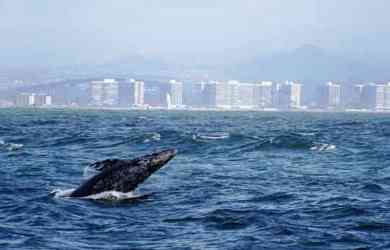 The whales will pause and play occasionally, breaching and sending huge sprays of water (in fact, that might be how you spot them).
The season runs from December to April, but occasionally you can see them at other times. Last October we saw 6 whales from shore near Swamis.
Most sightings occur within five miles of the San Diego beaches during the early part of the season, so if you want to see them from a kayaking tour, or from land, go from December to February. In the latter part of the whale watching season, the grey whales are migrating north from Baja Mexico on their way back to the Bering Sea. During this time, they often travel further out to sea and in less concentrated pods. The Whale Watching excursion boats will travel further out to see them.
When you are whale watching in San Diego, you may be joined by playful dolphins. You may also see seals swimming or lounging on the buoys near the San Diego Harbor, or on rocks in La Jolla Bay.
---
San Diego Whale Watching From a Boat at Sea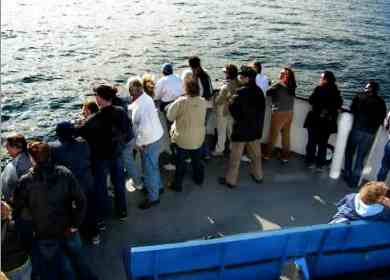 Photo from Birch Aquarium at Scripps
City Experiences Whale Watching and Dolphin Adventure City Experiences, formerly Hornblower Cruises, at 1066 N. Harbor Dr. in San Diego, also offers San Diego whale and dolphin watching cruises daily in December through mid April. No outside food may be brought aboard, but food and beverages may be purchased while on the cruise. Ticket prices vary depend on age and package, with cheaper prices on weekdays. For more information see www.cityexperiences.com.
Oceanside Whale Watching and Dolphin Cruise Another option is at Oceanside Harbor in north San Diego county. Enjoy a 2-hour Oceanside whale watching and dolphin cruise from Oceanside Adventures. Oceanside Whale Watching
---
Whale Watching in San Diego From Kayak at La Jolla Shores
Another interesting way to see whales up close is from a
kayak in La Jolla Bay
. The whales frequently travel along the canyons off La Jolla, and the clear waters offer some excellent views of life below the surface. These small group tours run from December to March and cost approximately $70 per person for single kayak, or $55 per person for double kayaks. Wet suits are recommended and can be rented for an additional $10. Ages 8 and up, swimmers only for this San Diego whale watching adventure.
Whale sightings are not guaranteed, but kayaking in La Jolla bay is a wonderful experience even if you miss the whales. There is so much else to see! For more information on La Jolla Kayak Whale Watching Tours see www.hikebikekayak.com.
---
Whale Watching in San Diego From Land
Another great way to see the whales is from land, particularly early in the season as they travel south toward Baja. Choose a spot high up to view, and look out several hundred yards or more. Dress in layers as it might be cold and windy, and bring your binoculars. Viewing is usually best in the morning from 9 AM - 12 noon. Some places to watch include:
Point Loma at the Cabrillo National Monument whale watching overlook
Sunset Cliffs
Torrey Pines State Preserve in La Jolla, Cal. I've seen whales and dolphins here many times as I hike along the trails near the cliffs.
Birch Aquarium at Scripps where the whales migrate along one of the deep underwater canyons close to shore. Birch Aquarium offers some programs such as Whales on the Horizon where you can watch for gray whales during their migration from the aquarium's tide pool plaza, get up close to real whale baleen and learn more about whales from Scripps Aquarium scientists.
Viewpoints and Overlooks - There are many viewpoints along the coast that you can try, such as ocean overlooks in:
above Del Mar Rivermouth Dog Beach
Fletcher Cove Park in Solana Beach
Encinitas and Leucadia beaches (Swamis, D Street Overlook, Stonesteps