San Diego Botanic Garden
Quail Botanical Garden in Encinitas CA
Don't miss the chance to visit the San Diego Botanical Garden, 37 acres of beautiful botanical gardens in San Diego North County. It's official name is San Diego Botanic Garden, and until 2009 was called Quail Botanical Gardens. I love this garden. It offers a variety of specialized and unique gardens to explore. For small children, there is a special children's garden which is sure to delight.
The San Diego Botanic Garden is open and reservations are recommended, as tickets may sell out for popular events/days. Closed on Tuesdays and some holidays.
Updated December 5, 2023 by San Diego Beaches and Adventures
---
San Diego Botanic Garden
The
San Diego Botanic Garden
offers a variety of microclimates, ranging from a desert environment to a tropical rain forest, all within beautiful 37 acres. The gardens include restful vistas, flowering trees, majestic palms, and the nation's largest bamboo collection.
Rare Bamboo Groves - The bamboo garden is the largest bamboo collection in the United States, featuring both clumping and spreading bamboos. This is the first area we visit when we go see Quail Botanical Garden, since the bamboos are such fascinating plants.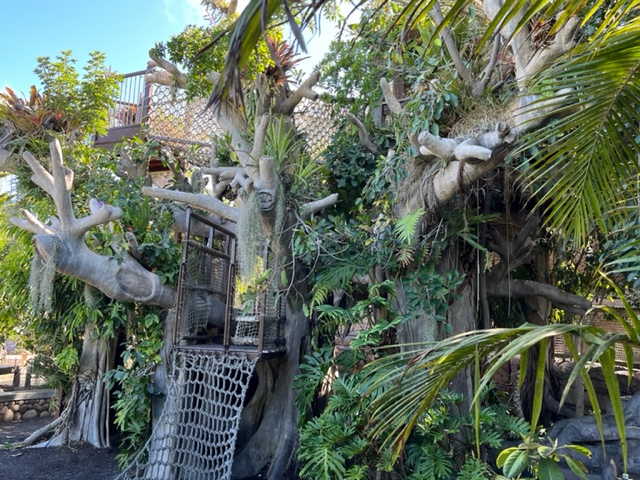 3 story tree house in children's garden
Hamilton Children's Garden
-The new Hamilton Children's Garden is the largest interactive children's garden on the West Coast. Many events for children are held here. There are many fun kids things to do and explore, including the tree house, sun dial, A-Z garden, creek, and edible plants.
Desert Gardens - Enjoy the plants that survive in the desert region near San Diego. Get your botanic garden ideas here to recreate a desert garden at home with succulents and cacti.
Mediterranean Climate Landscapes - Since San Diego Calif. is one of the few places in the world with a Mediterranean climate, we can enjoy plants from different places in the world.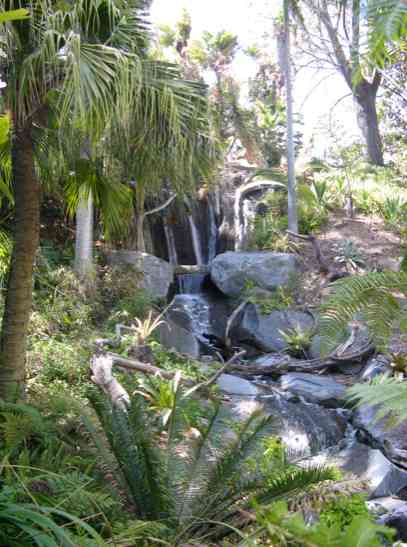 Waterfall in the tropical rainforest garden
Tropical Rainforest
- The rainforest is awesome. Where else can you see a rain forest and waterfalls in San Diego? Botanical garden is the perfect place to visit on a hot day.
California Native Plants - Locals can get ideas for planting California native plants for your garden, then visit the gift shop (located near the entrance/exit) to purchase some species.
Herb Garden - Enjoy the lovely smell of the herbs as you stroll through the herb garden at Quail Botanical Gardens.
Firesafe Landscaping - Anyone who is interested in keeping their home safe from fires should check out the tips and examples for how to minimize your fire hazard with fire safe landscaping.
Subtropical fruit garden
Subtropical Fruit Garden
- My kids didn't know bananas grew on trees until they saw the sub tropical fruit garden at Quail Botanical Garden.
Native Coastal Sage Natural Areas - There are many coastal sage bushes that populate these natural areas.
Numerous Exhibits and Events - Many special exhibits and events are held at the San Diego Botanical Garden. The annual World of Orchid Festival is held every summer and the Garden of Lights in December. There are also wedding venues and private events.
Succulent Gardens - A great way to be waterwise is to plant succulents. I never knew they could be so spectacular until I explored the succulent San Diego botanic garden. (See photo below)
---
San Diego Botanic Garden Information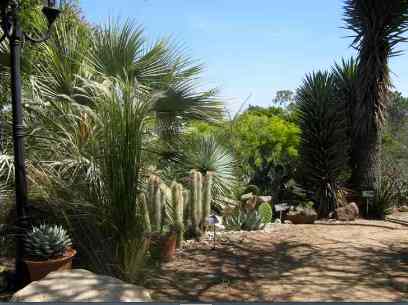 Succulents and cacti at SDBG
San Diego Botanic Garden
in a premier botanical gardens in Encinitas, California, just 30 minutes north of San Diego. The botanic garden has 37 acres of varied micro climates, from desert to rain forest.
Address: 230 Quail Gardens Drive, Encinitas, CA 92024
Phone Number: (760) 436-9466
Operating Hours: Open Wednesday through Monday from 9 - 5. Closed Christmas day. Currently closed on Tuesdays.
Directions to San Diego Botanical Garden: See below | Google Map
Parking: Free
Ticket Prices: $18 for adults; Seniors, students, active military $12; Children ages 3-12 $10; Members; children ages 2 & under free.
Discount Tickets and Coupons: -
You may find discount coupons in some of the local free papers.
Food: You may bring your own picnic lunch, and a few drinks and snacks are sold at the front desk. A new on-site cafe, called the Cork Oak Cafe, is scheduled to open in 2023. Until then, they do sell drinks and pastries from 9 AM - 3 PM across from the lawn area. You can leave for lunch and return - may I suggest Urban Plates, about a mile away, or head to downtown old Encinitas afterwards and enjoy lunch or dinner one of the many restaurants near Moonlight Beach.
2022 Lightscape at San Diego Botanic Garden
Public Events:
They offer a number of special events each year including annual World of Orchid Festival, a new World of Houseplants, summer evening concerts, and the new evening Lightscape exhibition in mid November - December (replaces the Garden of Lights show).
Private Events: Portions of the garden may be reserved for private events such as weddings and memorial services. The SDBG has been voted the top location in San Diego area for outdoor weddings for the past few years!
Nearby Attractions: Nearby at 441 Saxony Rd. Encinitas is the Butterfly Farms, where you can visit their vivarium and plant nursery.
Official website: www.sdbgarden.org
World of Orchid Festival 2022
---
Driving Directions to San Diego Botanic Garden
Directions to San Diego Botanic Garden from San Diego CA - Go north on Interstate 5, exit Encinitas Boulevard (about 30 minutes north of San Diego), turn right (east) about 0.5 miles, then left on Quail Gardens Drive (0.3 miles). The entrance to the San Diego Botanic Garden will be on your left.
Directions to Quail Botanical Gardens from Orange County, Carlsbad and Ocenside - Go south on Interstate 5, exit Leucadia Boulevard in Encinitas, turn left (east) about 0.5 miles, then right on Quail Gardens Drive (about 1 mile). The entrance to the San Diego Botanic Garden will be on your right.
Public Transportation to San Diego Botanic Garden - From the Encinitas train Station take the NCTD Breeze (bus) route 309 Towne Center. Get off at the Encinitas Blvd stop at Westlake St./Quail Gardens Drive. Walk north on Westlake St to the San Diego Botanic Garden Entrance, approximately 0.3 miles.
Home › Things to Do › San Diego Botanical Garden