Old Town Trolley San Diego

Take the Old Town Trolley San Diego and visit historic Old Town. There are several ways to get to Old Town. You can drive there of course, and parking is free. You can take the San Diego Trolley or the Coaster train for just a few dollars, or enjoy a guided sightseeing tour on the Old Town San Diego Trolley.

Updated July 4, 2022 by San Diego Beaches and Adventures
Old Town San Diego Trolley Tours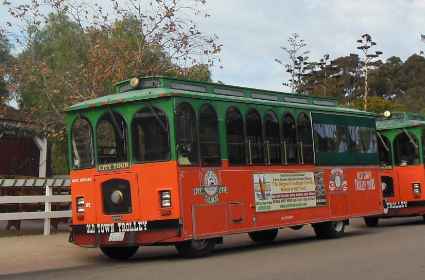 Might we suggest a ride on the Old Town Trolley San Diego to venture out and explore this quaint yet "robust with history town"? This is a fully narrated 2-hour tour of the major attractions in San Diego and promises to delight all.
You may hop on or off the tour bus at any of the following locations and explore the area before you hop back on the next bus.
San Diego Harbor, including the USS Midway aircraft carrier museum
Seaport Village shopping center along San Diego Bay
Marriott Hotel Marquis and Marina near the San Diego Convention Center
Horton Plaza shopping
Gaslamp Quarter San Diego restaurants
Hilton Plaza, Petco Park and the Embarcadero
Coronado Ferry Landing
Hotel del Coronado
and San Diego Zoo
Little Italy
In Old Town, the Old Town Trolley San Diego stop is located at 4010 Twiggs Street (at San Diego Ave.), San Diego, CA 92110 with a phone number of (619) 298-8687. Hours of operation are Monday – Sunday 9:00 to 6:00.
For current prices, schedule and information on the Old Town Trolley Tours see www.trolleytours.com
San Diego Trolley to Old Town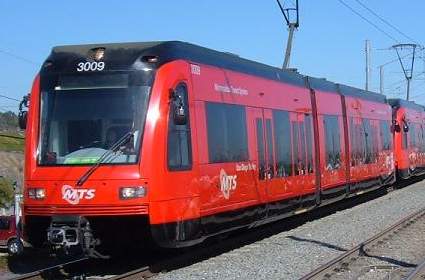 San Diego Trolley (Public Transportation)

There are several good public transportation choices to San Diego CA Old Town. Be sure to check the train schedules to plan plenty of time for your visit and to get back home or to your hotel.
San Diego Trolley - You can also reach Old Town by the San Diego trolley on the green line, which runs from the Gas Lamp Quarter, Convention Center, Seaport Village, Little Italy to Old Town. For information, schedule and fares for the public San Diego Trolley Public Transportation system see www.sdmts.com
Coaster Train You can also take the Coaster Train from North County, or from the Gas Lamp Quarter to Old Town. See the Google Map Coaster Train Station at " target="_blank">maps.google.com
---
Old Town San Diego Map and Address

Old Town San Diego Address:
Old Town State Historic Park is located at 4002 Wallace St., San Diego, CA, 92110. Old Town SHP is located on San Diego Avenue and Twiggs Street in San Diego, and is conveniently adjacent to the Old Town Transit Center, with Coaster, Trolley, and MTS Bus service.
Old Town San Diego, CA Latitude/Longitude: 32.7542 / -117.1961
Phone Number: (619) 220-5422
Google Map To see the Old Town San Diego map, click on the link below to open up google maps. This San Diego map includes other top San Diego attractions too.
View San Diego Attractions Map in a larger map