Thanksgiving Activities
Enjoy Thanksgiving activities with family and friends, with four days of family activities to celebrate this holiday season. Thanksgiving is all about family and friends. Why not spend it in San Diego? You can ice skate at the beach, enjoy a turkey trot in Balboa Park, visit a theme park and much more. Check out some ideas below.
Updated September 21, 2023 by San Diego Beaches and Adventures
San Diego Thanksgiving Dinner Ideas
2023 Thanksgiving Activities in San Diego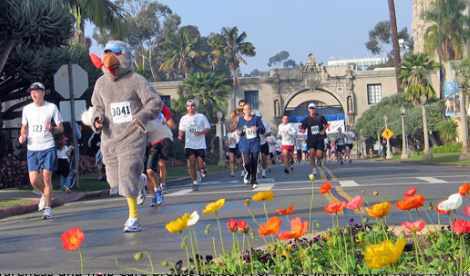 When is Thanksgiving this year? Thanksgiving Day is Thursday November 23 2023.
Father Joe's Thanksgiving Day 5K Run/Walk - Run for Hope on November 23 2023 Thanksgiving Day 6:30 to 10 AM at Balboa Park. This annual event benefits St. Vincent de Paul Village, the largest homeless charity in San Diego. A 5K race starts and finishes in Balboa Park. Wheelchairs, pets and baby strollers welcome for some true San Diego family fun. Sign up now and start getting your pledges! Corporate groups and teams welcome. Join in the fun and take home a fresh baked pie on Thanksgiving while benefiting the city's homeless. Pies must be ordered in advance. thanksgiving-day-5k
Oceanside Turkey Trot - November 23 2023 Thanksgiving Day various times AM at the Oceanside Pier. Wear your thanksgiving costume for this turkey run or run/walk events. Options include 5 Mile Run or 5K run/walk or kids 1 mile fun run. Event route includes Oceanside Civic Center, Oceanside Harbor and Oceanside Pier in Oceanside Cal. Free. The 5K and 5 Mile run/walks start at the Oceanside Civic Center, 330 North Coast Hwy. (Corner of Mission and Coast Hwy.) All races finish on The Strand at adjacent the Oceanside Pier. Register now. www.osideturkeytrot.com
Laguna Beach Sawdust Winter Fantasy - November 18 - 19, 24 - 26, December 2 - 3, 9 - 10, 15 - 17 2023 from 10 AM to 7 PM. Laguna Beach is known for its local art, and you can enjoy the fun and shop for handcrafted gifts at this holiday festival. sawdustartfestival.org.
Home Hospitality
- Host two marines for Thanksgiving dinner, for Camp Pendleton marines who can't travel home for Thanksgiving. Call early to extend an invitation. Phone number: 760-385-4921.
Black Friday - This Friday after Thanksgiving traditionally kicks off the Christmas holiday shopping season. Now the shopping starts on Thanksgiving day in many stores. Take advantage of all the deals online and in the stores as you buy gifts for your loved ones. Don't forget to pick up something to donate to your favorite charity too!
The Great Room Escape - A group of friends and I recently checked out The Great Room Escape! Ok…so I have to admit. We did not make it "out" per se but I am writing to tell you about it. This is a great team building task. Gather up a few folks and make arrangements to test your skills as you gather clues to "get out" of the room. Don't worry too much. They eventually come and get you if your group fails! Check them out at www.greatroomescapesandiego.com.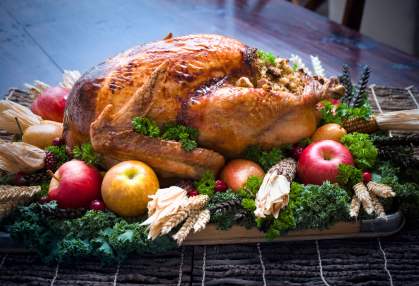 Thanksgiving Dinner Ideas
- If you are looking for some great ideas for Thanksgiving dinner, check out our page on
Thanksgiving Dinner Ideas
.
San Diego Thanksgiving Dixieland Jazz Festival - tentative November 22 to 26, 2023. Join in the fun at San Diego's annual Jazz festival. For details see www.dixielandjazzfestival.org.
Del Mar Holiday of Lights - This event is now cancelled.
Ice Skating by the Sea - November 17 2023 through January 7 2024 at The Del, Hotel del Coronado. Enjoy outdoor ice skating at Coronado beach, overlooking the Pacific Ocean. Daily sessions with times that vary. Hot chocolate and holiday drinks make this a festive San Diego holiday activity. For more information and schedule see www.hoteldel.com.
Santa Arrives at Seaport Village - Sat. date TBD Nov. 2023 from 1:00 - 5:00 pm at Seaport Village shopping area, San Diego. Kicking off the holiday season, So Cal Surfin Santa will arrive in San Diego by ship, sporting board shorts and flip flops for photos with kids on his giant surfboard and wave on Thanksgiving weekend. Families will gather on the boardwalk to welcome Santa to San Diego as he arrives on the Corinthian ship. Kids can pose with the sun-kissed Santa on his surfboard as he surfs a six-foot wave.For more information see seaportvillage.com/calendar/surfin-santa-2/.
Botanic Garden Lightscape
- November 17 - 19, 22, 24 - 26, and 29 - 30; December 1 - 3, 6 - 10, 13 - 23, and 26 - 31, and January 1 from 5 to 10 PM at San Diego Botanic Garden (formerly Quail Botanic Gardens) in Encinitas. Back for the second year following many sold out nights in 2022. Spectacular garden light show featuring the international Lightscape exhibition. Enjoy a one mile evening stroll through the lighted garden filled with one million twinkling lights, as well as "cathedral" of lights, a laser garden, lantern trees and more. This is a special ticketed event with entry times every 15 minutes. Reservations required as this popular event may sell out. For more information see
www.sdbg.org
.
Julian Christmas Tree Lighting - Saturday after Thanksgiving (November 25 2023) at Julian's Pioneer Park. A great family tradition. Take your family to the historic town of Julian for the festivities to open the Christmas holiday season. Celebration begins at 4 PM, and the tree lighting at 6 PM. Christmas carols, Santa. Free admission for this Christmas event. www.julianca.com
Christmas Arts & Crafts Fair - Nov. 24 to 26 2023 at Bates Nut Farm. Open 9 AM - 4:00 pm (3:30 on Sun.) Over 100 artisans, handmade crafts and fine art. Face painting, farm zoo for the kids. Lion's Club Pancake breakfast Great San Diego Thanksgiving activities for the family. Santa will be there - check for dates and times. www.batesnutfarm.biz
Balboa Park - Voted the most popular San Diego attraction by locals, Thanksgiving is a great time to spend the day in Balboa Park. Walk around and enjoy the historic buildings, botanical gardens, or visit one of the many Balboa Park museums or the San Diego Zoo. San Diego Balboa Park
San Diego Theme Parks and Attractions - Thanksgiving week is a great time to visit the many San Diego theme parks, with our nice fall Southern California climate. Unless noted otherwise, all of these attractions are typically open on Thanksgiving:

Birch Aquarium (closed Thanksgiving Day)
San Diego Botanic Garden (Quail Botanical Gardens) (closed Thanksgiving Day)
San Diego Zoo Safari Park (Wild Animal Park)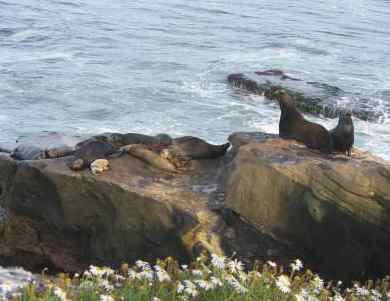 La Jolla Attractions
- One of the best San Diego tourism activities is to walk the beautiful La Jolla coast. Bring your camera and take photos of the Children's Pool, La Jolla Seals, La Jolla Cove, Scripps Park, and the La Jolla Sea Caves. One of the best free San Diego outdoor activities.
La Jolla Coast Walk
Embarcadero and Historic Ships on San Diego Bay – For a great Thanksgiving family activity, enjoy a stroll in downtown San Diego near the harbor to see the historic ships in the port of San Diego, such as USS Midway and the Maritime Museum. Walk to Seaport Village and visit the unique stores in SD. San Diego Harbor and Embarcadero
Things to Do in San Diego - For more San Diego events for Thanksgiving weekend, check out these Things to do in San Diego and San Diego Events November.
Home › Events › Thanksgiving Activities