San Diego Events December  2021
Have fun with these San Diego Events in December. Enjoy these family activities, holiday and Christmas activities in San Diego, California. This is one of my favorite times of year - a great time to spend with family and December in San Diego offers a variety of indoor and outdoor fun.


January Events
Updated October 10, 2021 by San Diego Beaches and Adventures
San Diego Events December  - San Diego Activities and Holiday Activities
San Diego skyline
La Jolla Christmas Parade Christmas and Holiday Festival - Sunday Dec. 5 2021 with parade starting at 1:30 pm. Join in the outdoor fun in downtown la Jolla at Kline & Gerard. After the parade is a festival with crafts, games, fun and food, and of course photos with Santa at the Rec Center. The tree lighting begins at 5:30. One of the traditional San Diego events December. For details see www.ljparade.com
Santa by the Sea in Del Mar - Sunday, December TBD 2021 from 3 pm - 5 pm at the L'Auberge Amphitheater in Del Mar. Santa, caroling and some fun, followed by 5 pm tree lighting and more in downtown Del Mar. Camino Del Mar/15th Street. www.delmarmainstreet.com
Massage - Treat yourself this holiday season to a relaxing spa treatment, such as a massage, facial or couple's massage. Or give a gift certificate to a loved one.
Gaslamp Quarter Holiday Pet Parade - December date TBD 2021 at 3 PM at corner of 4th Ave. and K street. Dress up your pet (and you!) in a holiday costume and join the parade. Prizes for Best Costumed Duo, Cutest Critter, Best Pet Costume & Best of show. Enjoy the pet expo from 1-5 , parties, and more. $15 to $20 to register online and free to watch. See Gaslamp Holiday Pet Parade details at gaslamp.org
Christmas in the Valley - Saturday and Sunday dates TBD 2021 from 10 - 4 at Bates Nut Farm. Ride the Polar Bear express hay ride, see Santa and the Christmas tree. Great San Diego kids activity. www.batesnutfarm.biz
Things to do at Home - Sometimes it is fun to just stay at home. See our ideas for Things to do at Home.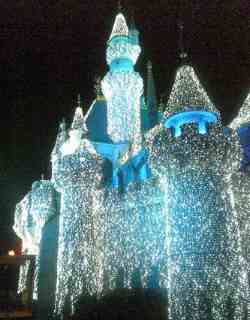 Disneyland castle
Christmas at Disneyland - Dates Nov 12 2021 to Jan 9 2021 2. Spend the winter holidays at California Disneyland Resort. Disneyland celebrates Christmas and New Years with special fireworks, decorations, holiday parade with Santa and more for your Christmas at Disneyland.
Balboa Park December Nights - Friday December TBD 2021 from 3 to 11 PM and Saturday Dec. TBD 2021 from noon to 11 PM at Balboa Park. The largest free community festival in SD to kick-off the holiday season. Don't miss out on one of the best San Diego events. Some museums open free both evenings from 5- 9 PM.
Mission Bay Christmas Parade of Lights - Dates TBD 2021 at San Diego Mission Bay Park from 6 - 9 PM. Free parade at followed by fantastic firework display at 9:00 PM. More than 60,000 people are expected. The best viewing is from Riviera Shores, Crown Point, Santa Clara Point, the east side of Vacation Island the west side of Fiesta Island.
Encinitas Holiday Parade - December 4 2021 on Coast Highway 101 between D street to J street in downtown Encinitas. Holiday parade and tree lighting ceremony. Tree Lighting Ceremony at 5:00pm in the Lumberyard shopping center courtyard on Coast Highway 101. The Parade begins at 5:30, heading south along Coast Highway 101 from D Street to J Street. encinitasparksandrec.com
La Jolla Half Marathon - Saturday December 11 2021. Begins 7:30 am, Del Mar Fairgrounds; ends La Jolla Cove Park. Scenic and challenging run from Del Mar, through Torrey Pines State Preserve, through La Jolla Shores community to the picturesque La Jolla Cove. Limited to 6500 runners, must register early. Also, a 5K run at La Jolla Shores. If you love La Jolla in the spring, don't miss this athletic San Diego event in April. www.ljhalf.com
Knott's Berry Farm - Why not visit Knott's Berry Farm amusement park for the day? You can get some great deals on discount tickets (as low as $44 per adult), and free tickets on some days for military, fire and law enforcement. Check out the fun at a great price. Knott's Berry Farm Discount Tickets
Balboa Park Free Museum Tuesday for Residents and Military - Some museums are open by reservation only. Some Balboa Park museums are free on 1st - 4th Tuesdays of each month to locals (San Diego Cal. City & county residents), and active military and their families. The free admission is on a rotating basis. Check out the Free Tuesday Balboa Park museum schedule.
San Diego Harbor Waterfront – For a fun day in San Diego activity, enjoy a stroll along the San Diego waterfront and admire all the historic ships. Walk down to Seaport Village and visit the unique shops. For the young kids, reward them with an ice cream cone and a ride on the merry-go-round.
Weekend Beach Walks - Saturday and Sunday Dec. 4 and 5 and 18 and 19 2021 from 2:00 PM to 4:42 (sunset) will be a nice time to walk some of the local beaches at low tide. Best San Diego Beaches for Walking
Seals in La Jolla
La Jolla Coast Walk - Enjoy this pretty walk along the beautiful La Jolla coast, especially nice during the holiday season. Bring your camera for some spectacular shots. See the famous La Jolla Children's Pool, which is usually occupied by a colony of harbor seals. Snap some photos of La Jolla Cove, Scripps Park, and the La Jolla Sea Caves. One of the best free San Diego outdoor activities. La Jolla Coast Walk
Explore Tidepools - December 2 to 6 and 17 to 21, 2021, at various times at low minus tides. Fall and winter is the best time to explore the San Diego tide pools. It's free and a great weekend kids activity. Here is a list of best times to visit and more information about the San Diego Tide Pools.
5K Jingle Bell Run/Walk - Live this year on Saturday December 11, 2021. Fun annual event in Balboa Park (Park Blvd. and Presidents Way). Put on your holiday themed costume and running shoes in the fun San Diego event to support the Arthritis Foundation.
San Diego Dog Beaches - Take your dog to the beach! Choose your favorite San Diego Dog Beach from all the ones we have listed. One of the best San Diego activities for dogs and dog lovers. San Diego Dog Beaches.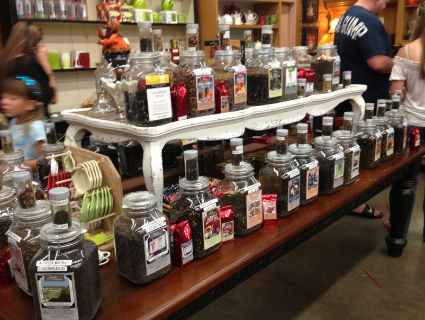 Bates Nut Farm
Holidays at Bates Nut Farm - Dates TBD 2021. Christmas and holiday festivities at Bates Nut Farm in Valley Center. Candy, Christmas crafts, rides and more. Open daily 9 AM - 5 PM. Group reservations are suggested. One of the great family San Diego Christmas activities. See the Bates Nut Farm website for details. www.batesnutfarm.biz
Ice Skating by the Sea - Nov 22 2021 to Jan 2 2022 at The Del, Hotel del Coronado. Enjoy outdoor ice skating at Coronado beach, overlooking the Pacific Ocean. This is ice skating San Diego style. Daily sessions hours vary. www.hoteldel.com.
Dr. Seuss' How the Grinch Stole Christmas! - various dates and times 2021 at the Old Globe Theater in San Diego Balboa Park. A favorite holiday event tradition with the Grinch. What better way to spend a Christmas in San Diego than with the Grinch. Show time varies. Buy Grinch Tickets at www.theoldglobe.org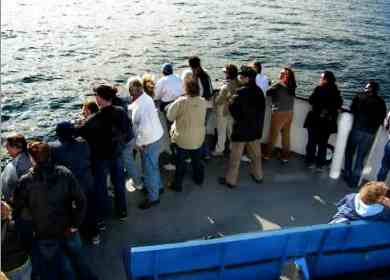 Whale Watching in San Diego
Whale Watching in San Diego - California Gray Whales undergo their annual migration from Alaska through San Diego and onto Baja California. During December - April, whale watching is at its best, as the whales migrate close to shore and can be seen from land or see. For more information see San Diego Whale Watching.
Hollywood - Drive up to Hollywood for the day or weekend. Take a movie studio tour (reservations recommended), find your favorite movie stars on the Hollywood walk of fame, go shopping on Rodeo drive, hike to the Hollywood sign, explore Griffith Park, and much more. Check out the best the Hollywood Attractions.
Botanic Wonderland Garden of Lights - Dates TBD 2021. San Diego Botanic Gardens (formerly Quail Botanic Gardens) in Encinitas. Dazzling light display, holiday crafts, horse drawn wagon rides and more. Tickets $12 to $25 per person. For more information see www.sdbgarden.org
The Nutcracker - 2021 dates TBD. No Christmas season would be complete without the Nutcracker ballet.
Port of San Diego Holiday Bowl Parade - Date TBD 2021 in downtown San Diego CA. The Port of San Diego brings this exciting family event full of marching bands, magnificent floats, drill teams and enormous balloons. Family Festival activities afterwards at the Broadway Pier. For more information about the San Diego Big Bay Balloon Parade, or to pre-order your Grandstand tickets for preferred seating, see www.holidaybowl.com
San Diego Bay Parade of Lights - Sunday December 12 and 19, 2021 from 5:30 PM. The parade of decorated boats starts at southwest end of Shelter Island, and travels past Harbor Island, the Embarcadero, Seaport Village, Coronado Ferry Landing Marketplace before ending at the navy carrier turning basin. Don't miss this San Diego events December. This years theme for the 50th anniversary is "The 12 Days of Christmas". For details on the San Diego Bay Parade of Lights see www.sdparadeoflights.org.
Parade of Lights Holiday Party - Dates TBD 2021. Get one of the best views of Parade on San Diego Bay, from the steam ferry Berkeley. This annual San Diego event will sell out fast. Museum admission, dinner and holiday entertainment. Reservations required. Buy your ticket now to this awesome Southern California event. For details see www.sdmaritime.org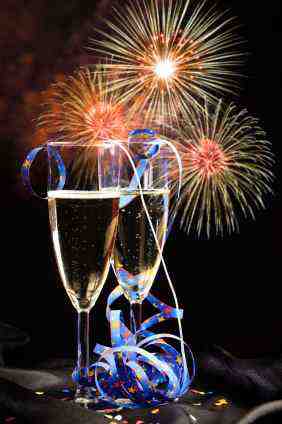 New Year's Eve
The Del New Year's Eve Gala - New Years Eve San Diego party at The Del, Hotel del Coronado. Ring in the new year at a San Diego New Years party, The Del's New Year's Eve Gala. The evening will begin with a champagne reception in the magnificent Crown Room, followed by a lavish dinner in the oceanfront Ballroom, dancing to the contemporary sounds of local favorites. Ages 21 and up. Tickets are expensive. Additional parties for children and teenagers including dinner, beach games and bonfire. For more information and schedule see www.hoteldel.com.
Big Night San Diego 9 PM - 2:30 AM - Get your tickets for the Big Night San Diego, the hottest New Year's Eve party in Southern California to bring in the new year, located at the new Hilton San Diego Bayfront hotel. Twelve themed party areas, six dance floors, hot bands and DJ's, fireworks and more. Buy tickets early for best price. Main event or VIP tickets. Save more for 10 or more tickets. These prices will go up soon. This San Diego New Years Eve party is for ages 21+ only. One of the best San Diego Events December. For details on the Big Night San Diego event see www.bignightsandiego.com.
Other Holiday Events and Christmas Activities in San Diego - For other fun family Christmas activities and winter holiday events, see Christmas Activities in San Diego.
Looking for more events? See our Christmas Activities in San Diego and January Event Calendar featuring events in San Diego and the beach towns of Oceanside, Carlsbad, Leucadia, Encinitas, Cardiff, Solana Beach, Del Mar, La Jolla, Coronado, Pacific Beach, Ocean Beach, Mission Beach and Imperial Beach California.
Things to Do in San Diego - For more San Diego events , check out these Things to do in San Diego.
Home › Events › San Diego Events December