Valentines Day Ideas 2024
Valentines Day Ideas to celebrate your love. Enjoy a romantic and fun Valentine's Day in San Diego, CA. This year Valentines Day is on Wednesday, February 14 2024.
Happy Valentine's Day
Updated September 21, 2023 by San Diego Beaches and Adventures
Valentine Ideas Romantic San Diego
Picnic
- Pack all your favorite foods in a picnic lunch, grab a bottle of winer or your favorite drink, and head out for a picnic at a local park,
hiking trail
or
beach
. If you don't want to cook, buy take out from your love's favorite restaurant. I like Urban Plates - healthy choices anyone ranging from vegan to meat-and-potatoes guy.
Disneyland After Dark: Sweethearts' Nite - If you love Disneyland, why not spend this special day at Disneyland California. There are special nights reserved for sweethearts, or just plan a fun day or or more.
See's Candies - Treat your Sweetheart to a box of sweet candies from See's. My favorite is a Custom Mix, a box of hand-selected chocolate. If you know what chocolates your valentine loves, such as dark chocolate with all nuts except peanuts, or milk chocolates with fruit filling, then you can choose just those special chocolates for your box. Discount gift certificates available at Costco. Multiple locations for See's Chocolate stores, or order online at www.sees.com. One of the time-honored Valentines Day Ideas.
Flower Ideas for Valentines Day - When ordering flowers, have them delivered 1-2 days in advance, so they can be enjoyed and admired before that special day. Or select a potted plant or flowering bulbs such as Dutch Iris, that can be planted and enjoyed for future years. Living plants make great Valentine Ideas!
Romantic Movie - Choose a romantic movie at a Cinepolis Luxury theatre on Valentine's Day, or pick out a romantic movie to watch online from home. Make reservations early to get the best reserved seats. Movie Theaters in San Diego
Romantic Bed and Breakfast - Extend your romantic weekend with Bed and Breakfast Getaway Gift Cards. These are a perfect last minute gift for your valentine. Sometimes you can find them at Costco at a discounted price.
Romantic Weekend Trips - Valentine's Day is a great time to plan some romantic weekend trips. Each partner should plan a surprise trip, that is scheduled in different months. See these ideas for some romantic weekend trips.
Valentine's Wine & Food Tour If you are looking for more fun Valentines day ideas, try a wine and food tour in La Jolla. Romantic fine wine and gourmet tastings at five romantic tour stops in beautiful La Jolla. Call for reservations (858) 551-5115
Valentine's Day Cruise
- Treat the one you love to a romantic cruise on Valentines Day (or before).
Cruise San Diego Bay
with Flagship Cruises & Events (formerly San Diego Harbor Excursion). Call for reservations at (619) 234-4111.
Couple's Massage - Enjoy a romantic San Diego spa treatment, such as a couple's massage at the W Hotel or Massage Heights. Or get some candles and set up your own romantic massage room at home.
Wine Tasting - Spend the weekend in Temecula wine country, and try a wine tasting tour. Relax and enjoy!
14 Romantic Things - Surprise your valentine with 14 romantic things on Valentine's Day, or one romantic thing each day starting February 1. These can be small things that show you care - breakfast in bed, a foot massage. Use your imagination to come up with your own unique Valentines Day ideas and keep the romance alive.
Romantic Valentine's Day Dinner - Make reservations at one of San Diego's best restaurants for a romantic valentine dinner. Go early to dinner on Friday or Saturday as an option, or reserve your February 14 dinner. San Diego Best Restaurants
Desert weekend - February is a great time to go to the desert, either camping, glamping or staying at a hotel. Try a weekend in Anza-Borrego or Palm Springs.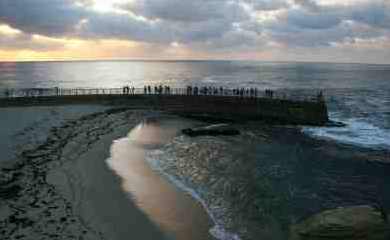 Romantic Sunsets at the San Diego Beaches
- Take advantage of our spectacular
San Diego sunset
at the beach, which occur around 5:30 pm in February. Make reservations for an early Valentines Day dinner at a fine San Diego restaurant with a view, such as Marine Room in La Jolla, Poseidon, or Jakes Del Mar.
San Diego Best Restaurants
Romantic Valentines Day Ideas - Walk at the Beach - Enjoy a romantic walk at the beach at low tide in So Cal. Windansea Beach beach is a romantic beach, perfect for some romantic beach photos especially at low tide. Children's Pool and La Jolla Cove are quite romantic. In north county, try Swamis and the views from the Self Realization Fellowship temple meditation grounds (closed Mondays).
The Dinner Detective Interactive Murder Mystery Dinner Show on Valentine's Day - Dates and times varies. This is one of the unique Valentines day ideas. Join in the fun at this San Diego murder mystery dinner show, where murder and mayhem occur in a comedic atmosphere with a touch of romance on or around Valentine's Day. The show takes place in the entire room, to keep you guessing who is part of the crime and not. The top sleuth wins a prize. These shows sell out fast, so make your reservations now. 888-619-0858.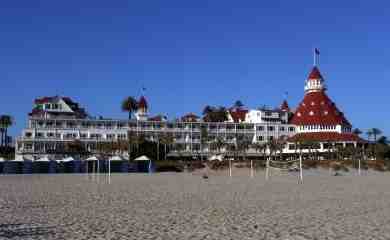 Sunday Brunch at the Del - Sunday from 9:30 AM – 1:00 PM Continuously voted San Diego's best brunch by San Diego Magazine and The San Diego Union-Tribune readers, The Del's brunch has long been a local favorite. Please call 619.522.8490 for reservations. For more Coronado valentine ideas, continue your day with a tour of Coronado, a sailing adventure, or a romantic walk on the beach.
Kayak at La Jolla Shores - Looking for some unique Valentines Day ideas in San Diego? Enjoy a romantic SD kayaking tour at La Jolla Shores to see the Sea Caves, marine life, and leopard sharks. Several different companies offer kayaking tours, or you can launch your own kayak at the free boat ramp. For more information see La Jolla Kayaking
Hang gliding or Paragliding Adventures
- Enjoy a romantic thrill from the air. Try hang gliding or paragliding at the
Torrey Pines Gliderport
. A great bucket list Valentine's Day activity.
Hot Air Balloon Rides - Try a hot air balloon ride over Del Mar California, or beautiful Temecula wine country for one of the thrilling Valentines Day Ideas. Make reservations now for Valentine's day or weekend. Several companies offer these romantic San Diego adventures, including California Dreamin, phone number 800-373-3359, Panorama Balloon Tours (800) 455-3592, or Ballooning California 800-877-7553.
For more ideas for things to do for Valentine's day, see San Diego Events February