Enjoy these fun San Diego events in April 2023, with the spring flowers and festivals. Are you looking for some fun San Diego events this spring? Enjoy these events in San Diego, Oceanside, Carlsbad, Encinitas, Solana Beach, Del Mar, La Jolla, and Coronado CA. If you are looking for something to do at home instead, see Things to do at Home.
Updated September 21, 2023 by San Diego Beaches and Adventures
San Diego Events April 2024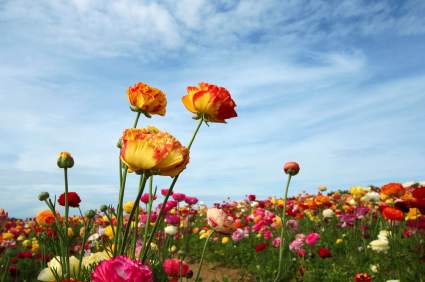 Carlsbad Flower Fields
- early March – Mother's day May 12 2024. Visit the colorful Flower Fields in Carlsbad, about 25 miles north of San Diego. The Carlsbad Flower Fields offer a beautiful display of Ranunculus flowering bulbs that bloom from early March to early May. One of the popular San Diego events. Mid to late April is a great time to visit.
Carlsbad Flower Fields
National Parks Week - April 20 - 28 2024 is National Parks week, in celebration of Earth Day. Entrance is free on Earth Day, April 22. Why not visit a National Park like Joshua Tree, Yosemite or Sequoia and Kings Canyon, or a National Monument like Cabrillo National Monument?
Craft Breweries Tour San Diego is known for their many craft breweries. Try a few different breweries and you might find a new favorite beer.
Sunset - Enjoy a spectacular sunset view at Point Loma's Sunset Cliffs. Go at sunset of course, which is around 7:10 to 7:30 PM in April. In La Jolla, check out the view from Children's Pool, or Torrey Pines. In North County, watch the sunset view at Swami's.
Ocean Beach - Enjoy a day at Ocean Beach, a laid back beach with it's own dog beach. Walk to the end of the Ocean Beach Pier, which is the longest concrete pier on the Pacific coast. Ocean Beach
Orchid Show and Flower Blooms at San Diego Botanic Garden - dates TBD 2024 for special orchid show, or all month for flowers in bloom throughout the garden. Visit the SD Botanic Garden and enjoy the beautiful flowers in bloom throughout the garden. San Diego Botanic Garden is located at 230 Quail Gardens Drive in Encinitas. San Diego Botanic Garden
Star Wars Miniland at Legoland - Exhibit now open. Legoland California becomes the first Legoland park to open a Star Wars Miniland area. Enjoy scenes from the Star Wars movies and animated series, all made out of 1.5 million lego bricks. Pose with life-size models of Chewbacca, R2D2 and Darth Vader. For more information see Legoland California.
Free Organ Concerts in Balboa Park - Sunday from 2 - 3 PM. Enjoy beautiful Balboa Park and enjoy a free organ concert at Spreckel's Pavillion, a beautiful outdoor pipe organ. Located at 1549 El Prado #110, San Diego Balboa Park .
The Dinner Detective Interactive Murder Mystery Dinner Show - Saturday dates (call for availability). Enjoy murder and mayhem as you figure out who dunnit. The murder mystery dinner show takes place in the entire room, to keep you guessing who is part of the crime and not. The top sleuth wins a prize. These dinner shows sell out fast, so make your reservations now. 888-619-0858.
Photography Fun - Plan a day at a park, zoo or beach - anywhere with good subject material and bring your camera or cell phone. Explore your photography skills, then edit your best photos and share them. We enjoy places like Balboa Park, San Diego Zoo or Safari Park, San Diego Botanic Garden, or Wind-n-Sea beach.
San Diego Earth Fair at Balboa Park - Likely cancelled for 2024, as their website said EarthFair 2022 was their last one. More than 300 exhibitors, food, special Kinds' Activity Area, entertainment & The Children's Earth Parade. This is one of the great San Diego events to celebrate Earth Day. www.earthdayweb.org
Disneyland – Visit magical Disneyland, just a short drive north of San Diego. Check out our tips on buying Cheap Disneyland Tickets.
Sunset Wine Tasting and Music Friday evenings dates TBD 2024. Enjoy a beautiful sunset view with Wine Tasting and Music at the Carlsbad Flower Fields. Advanced tickets required. Carlsbad Flower Fields
Hike Anza Borrego Palm Canyon Trail
- Springtime is the best time for an early morning drive to Anza Borrego desert and a morning hike on the popular Palm Canyon Trail in
Anza-Borrego Desert State Park
. You can also enjoy the spring wildflowers in bloom. One of the best free San Diego events every spring.
Belmont Park The Plunge - Check out the newly remodeled swimming pool and enjoy all the rides and games at Belmont Park. The Plunge indoor swimming pool in Mission Beach San Diego is one of the largest indoor swimming pools. Belmont Park The Plunge.
San Diego Spring Home Garden Show - April dates TBD 2024 at the Del Mar Fairgrounds. Free admission. Learn from the "Garden Masters" with hands-on demonstrations. Make this your one-stop shopping place for both inside and outside fun! Expert gardening tips from the home and garden specialists will help your gardening skills. For more information see www.springhomegardenshow.com.
SeaWorld Theme Park
- Enjoy the shows and rides at SeaWorld theme park in Mission Beach, San Diego.
SeaWorld Theme Park
Carlsbad 5000 - April 7, 2024. Plenty of fun, run, food and festivities on this scenic seaside course. Runners should register early. carlsbad5000.com/.
Balboa Park Free Museum Tuesday for Residents and Military - Some Balboa Park museums are free on 1st - 4th Tuesdays of each month to locals (San Diego Cal. City & county residents), and active military and their families. The free museums rotate, so check the schedule at Free Tuesday Balboa Park museum.
Whale Watching San Diego - December - mid April at San Diego Maritime Museum. No seasickness guarantee! Watch for whales aboard the replica of the 139-foot yacht America. Whale Watching in San Diego.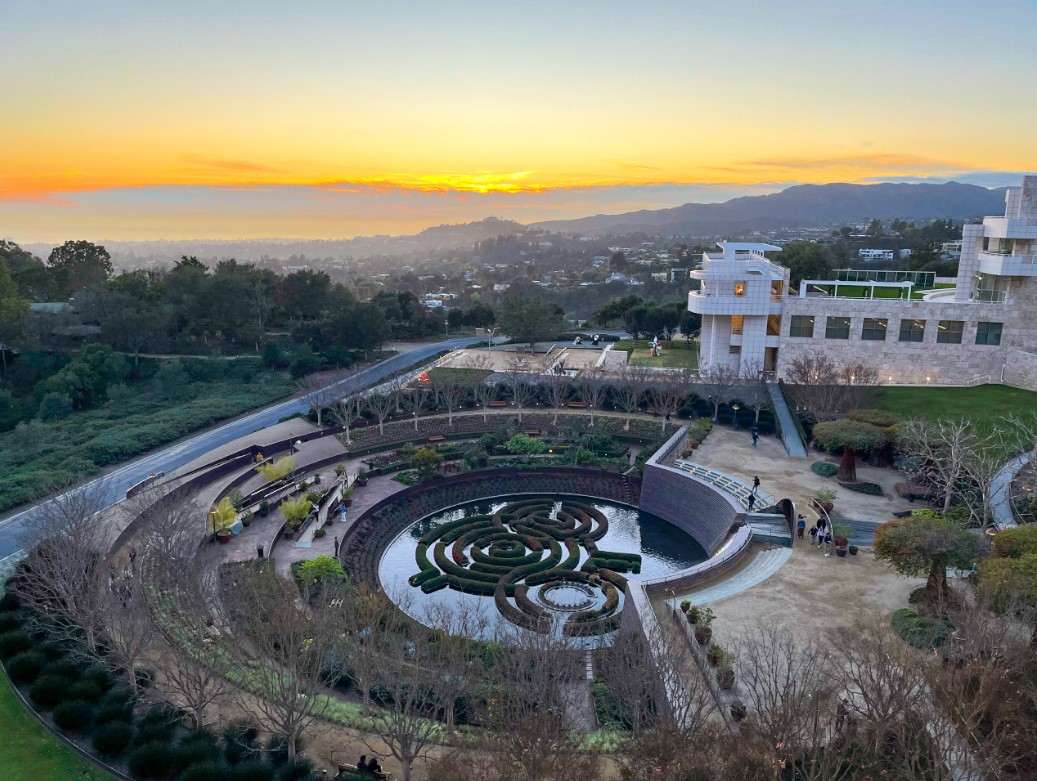 The Getty Museum at sunset
Getty Museum and Villa - Visit the Getty Museum in Los Angeles, and the nearby Getty Villa in Pacific Palisades. These world-class museums offer free admission and fantastic guided tours of the art collections, architecture and grounds. The Getty Museum has famous impressionist works like Irises by Van Gogh, and the Getty Villa is a recreation of an antique Roman villa. Don't forget to bring your camera and take some great outdoor photos. For more information see Getty Museum Los Angeles and Getty Villa Los Angeles.
Kayak at La Jolla Shores - This spring is a great time to kayak at La Jolla Shores to see the Sea Caves, marine life, and leopard sharks. Several different companies offer kayaking tours, or you can launch your own kayak at the free boat ramp. For more information see La Jolla Kayaking
Encinitas Street Faire - Saturday and Sunday April 27 to 28 2024, in Encinitas, Cali. South Coast Highway 101, from D to J street, from 9 AM - 5 PM. 400+ arts and crafts vendors, jewelry, fun women's clothing, food, music, kids fun zone, family amusement & entertainment.
San Diego Dog Beaches - Take your dog to the beach! Some are leash free while others require leashes. Hours may be limited. We have a map to all of the San Diego Dog Beaches.
Naturalist-Guided Whale Watching - San Diego Harbor Excursion. Go whale watching in San Diego with an ocean expert from Birch Aquarium at Scripps. Amazing views, listen to whale and dolphin sounds, and guaranteed whale sightings. Reservations required. (619) 234-4111. Times 9:45 am - 1:15 pm and 1:30 pm - 5:00 pm. $30 weekdays and $35 weekends, kids 4-12 $15 with paid adult, kids 3 and under free. Whale Watching in San Diego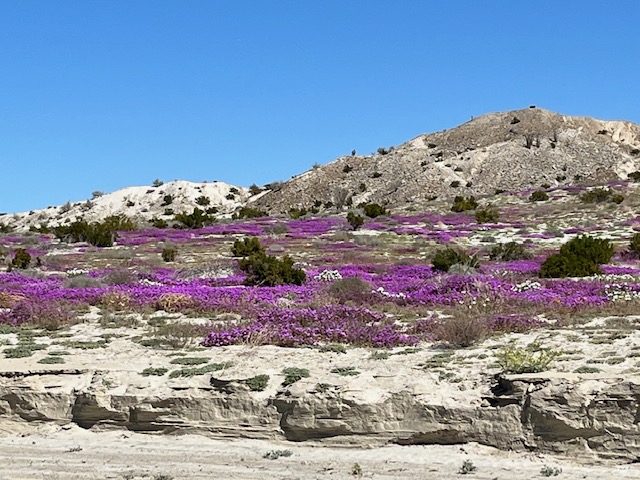 Wildflower Bloom in March 2023, Anza Borrego, California
Anza Borrego Wildflowers - Take a day trip to Anza Borrego Desert State Park to see the spring wildflowers, the bloom is lovely in late March and early April. One of our favorite San Diego events in April. Stop by the historic town of Julian on your way back. For more information see Anza Borrego State Park.
Birch Aquarium Party for the Planet - April dates TBD 2024. Enjoy this family friendly event that celebrates our ocean planet's biodiversity at Birch Aquarium aquarium in La Jolla. Beautiful indoors and outdoor exhibits. Birch Aquarium.
Butterfly Gardens - On a warm sunny day, check out the Butterfly Gardens in Encinitas and explore the butterfly vivarium. You can also buy butterfly friendly plants at the plant shop. www.butterflyfarms.org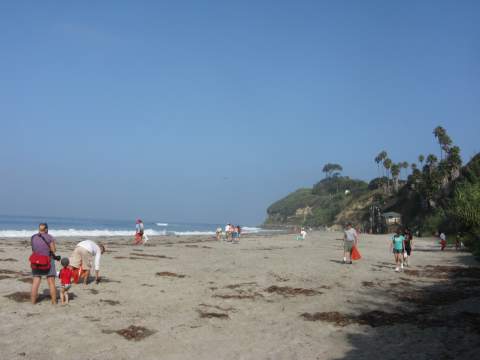 Creek to Bay Cleanup
- Saturday April 20, 2024 from 9 AM - 12 noon as a cleanup in your neighborhood. Sign up online and join the thousands to protest and conserve our San Diego beaches, bays, canyons, parks and neighborhoods. Volunteer for this event in celebration of Earth Day. Friends, families and groups can signup now for a site of your choice. Come help out at one of the best community San Diego events April.
www.creektobay.org
Things to Do in San Diego - For more fun San Diego events and things to do, check out these San Diego Activities, Beach Activities and San Diego Events May.