Disneyland Hours April

Disneyland hours April 2024 - open and close park hours for Disneyland California and Disney California Adventure parks.
Southern California is lovely in the spring, as the days are getting longer and the weather is almost always perfect. Take this opportunity to see the happiest place on earth.
Discount Disneyland Tickets - Save up to $15 per ticket or 29% on vacation packages.
Updated September 21, 2023 by San Diego Beaches and Adventures
Park Hours Disneyland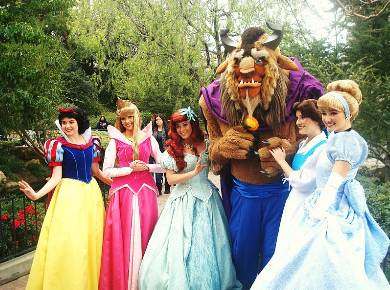 Meet the Disney princesses at Disneyland park

I must say that I was always a bit confused about the park hours at Disneyland and California Adventure. Certain times of year, including April, the park hours (open and close times) seem to vary a lot. Sometimes they open at 8 AM, sometimes 10 AM. Sometimes they close at 8 PM, or 10 PM, or midnight. It varies depending on the day of the week, the season, holidays such as Easter Sunday, school breaks, and special parties, but after COVID-19 and the requirement for park reservations, the park hours are more consistent.
So - the only way to know for sure is to look at the daily park hours for Disneyland and Disney California Adventure theme parks.
Disneyland Hours April 2024

Most days are beautiful sunny California weather, with an occasional rainy day. For your best Disney vacation, check out our
Disneyland Tips and Tricks
. It's spring. What's not to like?
When are the Park Hours Disneyland for April 2024? See the Disneyland open and close hours April 2024 in the following table.
The times may be listed as tentative until Disney publishes their park hours Disneyland schedule about 4 to 6 weeks before the date. If tentative, the hours are based upon prior years.
| Disney land Hours April 2024 | Day | Disney land Hours April (Open and Close Times) | Park Hours Disney California Adventure Hours |
| --- | --- | --- | --- |
| 1 | Monday | tent 8-12 | tent 8-10 |
| 2 | Tuesday | tent 8-12 | tent 8-10 |
| 3 | Wednesday | tent 8-12 | tent 8-10 |
| 4 | Thursday | tent 8-12 | tent 8-10 |
| 5 | Friday | tent 8-12 | tent 8-10 |
| 6 | Saturday | tent 8-12 | tent 8-10 |
| 7 | Sunday | tent 8-12 | tent 8-10 |
| 8 | Monday | tent 8-12 | tent 8-10 |
| 9 | Tuesday | tent 8-12 | tent 8-10 |
| 10 | Wednesday | tent 8-12 | tent 8-10 |
| 11 | Thursday | tent 8-12 | tent 8-10 |
| 12 | Friday | tent 8-12 | tent 8-10 |
| 13 | Saturday | tent 8-12 | tent 8-10 |
| 14 | Sunday | tent 8-12 | tent 8-10 |
| 15 | Monday | tent 8-11 | tent 8-10 |
| 16 | Tuesday | tent 8-8 | tent 8-10 |
| 17 | Wednesday | tent 8-11 | tent 8-10 |
| 18 | Thursday | tent 8-8 | tent 8-10 |
| 19 | Friday | tent 8-12 | tent 8-10 |
| 20 | Saturday | tent 8-12 | tent 8-10 |
| 22 | Sunday | tent 8-11 | tent 8-10 |
| 23 | Monday | tent 8-11 | tent 8-9 |
| 24 | Tuesday | tent 8-11 | tent 8-10 |
| 25 | Wednesday | tent 8-11 | tent 8-10 |
| 26 | Thursday | tent 8-11 | tent 8-10 |
| 27 | Friday | tent 8-12 | tent 8-10 |
| 28 | Saturday | tent 8-12 | tent 8-10 |
| 29 | Sunday | tent 8-11 | tent 8-10 |
| 30 | Monday | tent 8-11 | tent 8-10 |
| 31 | Tuesday | tent 8-11 | tent 8-10 |
Disneyland Hours May
Disneyland Hours by Month

---
Disneyland and California Adventure
Disneyland Address and Directions
Home › Disneyland Hours › Disneyland Hours April