Disneyland Hours May

See the Disneyland hours May 2023, including the Disneyland opening hours and closing hours.
May is a popular month to visit Disneyland, with grad parties, nice spring weather, and Memorial Day weekend (this year Memorial Day is on Monday May 29 2023). They may also offer special Disneyland Star Wars Nites on select evenings in May.
Discount Disneyland Tickets - Save up to $15 per ticket or 29% on vacation packages.
Updated December 1, 2022 by San Diego Beaches and Adventures
Disneyland Opening and Closing Hours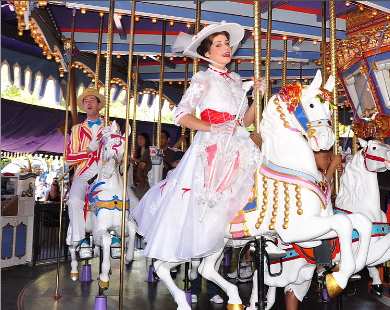 Mary Poppins at Disneyland California

Disneyland opening hours for May are typically 8 AM.

Disneyland closing hours for May vary. If you ask yourself how late is Disneyland open, it depends. Disneyland is open until midnight on most days in May, or it may close earlier. Disney California Adventure closes earlier, typically at 10 PM. 
Check out how late Disneyland is open, and the opening hours, in the table below. 
---
Disneyland Hours May 2023

When are the Disneyland opening hours and closing hours for May? Disney published these only 4-6 weeks in advance, so we will post when available."Tent" means the hours are tentative, based upon last year.
Note that Disneyland hours in May can vary a lot. Check out the opening and closing hours each day in the table below.
| Disney land Hours May 2023 | Day | Disneyland Opening Hours and Closing Hours | California Adventure Hours |
| --- | --- | --- | --- |
| 1 | Monday | tent 8-12 | tent 8-10 |
| 2 | Tuesday | tent 8-12 | tent 8-10 |
| 3 | Wednesday | tent 8-12 | tent 8-10 |
| 4 | Thursday | tent 8-12 | tent 8-10 |
| 5 | Friday | tent 8-12 | tent 8-10 |
| 6 | Saturday | tent 8-12 | tent 8-10 |
| 7 | Sunday | tent 8-12 | tent 8-10 |
| 8 | Mon | tent 8-12 | tent 8-10 |
| 9 | Tue | tent 8-12 | tent 8-9 |
| 10 | Wed | tent 8-12 | tent 8-9 |
| 11 | Thu | tent 8-12 | tent 8-9 |
| 12 | Fri | tent 8-12 | tent 8-10 |
| 13 | Sat | tent 8-12 | tent 8-10 |
| 14 | Sun | tent 8-12 | tent 8-10 |
| 15 | Mon | tent 8-12 | tent 8-10 |
| 16 | Tue | tent 8-12 | tent 8-9 |
| 17 | Wed | tent 8-12 | tent 8-9 |
| 18 | Thu | tent 8-12 | tent 8-9 |
| 19 | Fri | tent 8-12 | tent 8-10 |
| 20 | Sat | tent 8-12 | tent 8-10 |
| 21 | Sun | tent 8-12 | tent 8-10 |
| 22 | Mon | tent 8-12 | tent 8-10 |
| 23 | Tue | tent 8-12 | tent 8-10 |
| 24 | Wed | tent 8-12 | tent 8-10 |
| 25 | Thu | tent 8-12 | tent 8-10 |
| 26 | Fri | tent 8-12 | tent 8-10 |
| 27 | Sat | tent 8-12 | tent 8-10 |
| 28 | Sun | tent 8-12 | tent 8-10 |
| 29 | Mon Memorial Day | tent 8-12 | tent 8-10 |
| 30 | Tue | tent 8-12 | tent 8-10 |
| 31 | Tue | tent 8-12 | tent 8-10 |
---
Disneyland Hours by Month

---
Home › Disneyland Hours › Disneyland Hours May