Disneyland Hours February

Disneyland Hours February 2024 - Come visit Disneyland Park in Southern California for your best vacation ever! We have Disneyland Park hours for opening and closing hours.
Discount Disneyland Tickets - Save up to $15 per ticket or 29% on vacation packages.
Updated December 5, 2023 by San Diego Beaches and Adventures
We love to visit Disneyland in February. As locals, we find the lines are shorter and the crowds thinner. Are you looking for a romantic date idea? Take your sweet valentine to Disneyland for the Disneyland After Dark: Sweethearts' Nite celebration on select nights through Valentine's day! (dates TBD 2024) - separate ticket and reservation are required).
Disneyland Open Rainy Days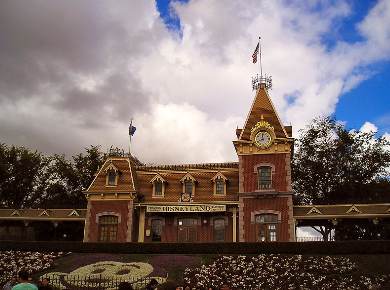 Yes, to answer your question, Disneyland is open on rainy days. It is a good idea to have a poncho or umbrella. I prefer a poncho because it is easier to wear and put away if not needed. See more tips for rainy days at Disneyland.
Although Disneyland is open on rainy days, most days at Disneyland California in the winter are sunny with warm to cool days, and cool to cold nights. So don't hesitate to visit Disneyland California in February!
---
Disneyland Hours February 2024

Wednesday February 14 2024 is Valentine's Day, and Monday February 19 2024 is President's Day. You should expect more visitors than usual over Presidents weekend, but otherwise Disneyland is not very crowded in February. During the week, they tend to close early around 8 PM, except for the week of Presidents day, when some schools are out for winter break.
When are the Disneyland Park Hours for February 2024? See the Disneyland hours February 2024 in the following table. Since Disney does not publish their actual open and close times very far in advance, this table lists the "tent" or tentative hours, based upon last year Disneyland open and close times.
| Feb 2024 | Day | Disneyland Hours | CA Adventure Hours |
| --- | --- | --- | --- |
| 1 | Thursday | tent 8-8 | tent 8-9 |
| 2 | Friday | tent 8-12 | tent 8-10 |
| 3 | Saturday | tent 8-12 | tent 8-10 |
| 4 | Sunday | tent 8-8 | tent 8-10 |
| 5 | Monday | tent 8-11 | tent 8-9 |
| 6 | Tuesday | tent 8-8 | tent 8-9 |
| 7 | Wednesday | tent 8-11 | tent 8-9 |
| 8 | Thu | tent 8-8 | tent 8-9 |
| 9 | Fri | tent 8-12 | tent 8-10 |
| 10 | Sat | tent 8-12 | tent 8-10 |
| 11 | Sun | tent 8-12 | tent 8-10 |
| 12 | Mon | tent 8-10 | tent 8-9 |
| 13 | Tue | tent 8-8 | tent 8-10 |
| 14 | Wed Valentine's Day | tent 8-10 | tent 8-9 |
| 15 | Thu | tent 8-8 | tent 8-10 |
| 16 | Fri | tent 8-12 | tent 8-10 |
| 17 | Sat | tent 8-12 | tent 8-10 |
| 18 | Sun | tent 8-12 | tent 8-10 |
| 19 | Mon President's Day | tent 8-11 | tent 8-10 |
| 20 | Tue | tent 8-12 | tent 8-10 |
| 21 | Wed | tent 8-11 | tent 8-10 |
| 22 | Thu | tent 8-12 | tent 8-10 |
| 23 | Fri | tent 8-12 | tent 8-10 |
| 24 | Sat | tent 8-12 | tent 8-10 |
| 25 | Sun | tent 8-11 | tent 8-10 |
| 26 | Mon | tent 8-11 | tent 8-10 |
| 27 | Tue | tent 8-11 | tent 8-10 |
| 28 | Wed | tent 8-11 | tent 8-10 |
| 29 | Thu | tent 8-11 | tent 8-10 |
Disneyland Hours March
Disneyland Hours by Month

---
Home › Disneyland Hours › Disneyland Hours February