Disneyland Hours July
Check out the Disneyland Hours July 2023. Summer is beautiful in southern California, so it is a great time to visit Disneyland California. In most years, Disneyland summer hours are long to accommodate the summer crowds. 
Discount Disneyland Tickets - Save up to $15 per ticket or 29% on vacation packages.
Updated September 21, 2023 by San Diego Beaches and Adventures
---
Disneyland Summer Hours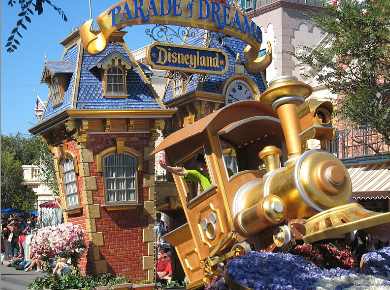 Disneyland summer hours means both Disneyland Park and its next door park California Adventure stay open long hours on most days. Arrive early to avoid the crowds, especially on weekends. We suggest you arrive at least 1 hour early to park and take the bus or tram to the main entrance, where you can get through security and enter the park a bit early. Disneyland hotel guests may enjoy some rides 30 minutes early.
Reservations are required and capacity is limited.
Sunset is around 8:00 PM in July so the long Disneyland summer hours mean the outdoor attractions can stay open longer from May through August.
This year Independence Day is Tuesday July 4 2023.

---
Disneyland Hours July 2023

Here are the July 2023 Disneyland Hours for open and close. If it says "tent", that means the times are tentative based upon last yea's schedule.
| July 2023 | Day | Disneyland Hours July Open and Close | California Adventures Hours of Operation |
| --- | --- | --- | --- |
| 1 | Saturday | 8-12 | 8-10 |
| 2 | Sunday | 8-12 | 8-10 |
| 3 | Monday | 8-12 | 8-10 |
| 4 | Tuesday Holiday | 8-12 | 8-10 |
| 5 | Wednesday | 8-12 | 8-10 |
| 6 | Thursday | 8-12 | 8-10 |
| 7 | Friday | 8-12 | 8-10 |
| 8 | Sat | 8-12 | 8-10 |
| 9 | Sun | 8-12 | 8-10 |
| 10 | Mon | 8-12 | 8-10 |
| 11 | Tue | 8-12 | 8-10 |
| 12 | Wed | 8-12 | 8-10 |
| 13 | Thu | 8-12 | 8-10 |
| 14 | Fri | 8-12 | 8-10 |
| 15 | Sat | 8-12 | 8-10 |
| 16 | Sun | 8-12 | 8-10 |
| 17 | Mon | 8-12 | 8-10 |
| 18 | Tue | 8-12 | 8-10 |
| 19 | Wed | 8-12 | 8-10 |
| 20 | Thu | 8-12 | 8-10 |
| 21 | Fri | 8-12 | 8-10 |
| 22 | Sat | 8-12 | 8-10 |
| 23 | Sun | 8-12 | 8-10 |
| 24 | Mon | 8-12 | 8-10 |
| 25 | Tue | 8-12 | 8-10 |
| 26 | Wed | 8-12 | 8-10 |
| 27 | Thu | 8-12 | 8-10 |
| 28 | Fri | 8-12 | 8-10 |
| 29 | Sat | 8-12 | 8-10 |
| 30 | Sun | 8-12 | 8-10 |
| 31 | Sun | 8-12 | 8-10 |
Disneyland Hours August
---
Disneyland Hours by Month

---
Home › Disneyland Hours › Disneyland Hours July