Disneyland Hours November

See the Disneyland Hours for November 2023, including the Disneyland park hours to open and close. November is a nice time to visit Disneyland, with the pleasant So Cal weather and the holiday decorations for the Holidays at Disneyland season going from mid November 2023 to early January 2024. 
Discount Disneyland Tickets - Save up to $15 per ticket or 29% on vacation packages.
Updated September 21, 2023 by San Diego Beaches and Adventures
November Disneyland Park Hours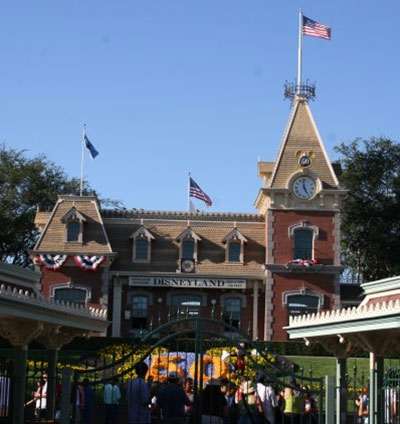 Based upon last year, Mickey Mouse and friends host all-new holiday after-hours event called Disney Merriest Nites at Disneyland Park on select nights in November and December 2023. Disney Merriest Nites is a separate ticketed event.
California has a Mediterranean climate, which means the weather is mild. It is frequently sunny during the day and cool at night. It gets dark earlier since daylight savings time ends on Sunday November 5 2023, so I prefer to arrive at Disneyland park early.
Veterans Day holiday is Saturday November 11 2023, and Thanksgiving holiday is Thursday November 23 2023, so expect some crowds during both Veterans Day weekend and the popular 4-day Thanksgiving weekend.
Disneyland Hours November 2023

When are the Disneyland Park Hours for November? Check out the daily opening and closing hours below. Disney published these only 4-6 weeks in advance. So if the time says "tent" that means tentative, based upon other published hours.
| Nov 2023 | Day | Disneyland Park Hours Nov | California Adventure Hours |
| --- | --- | --- | --- |
| 1 | Wednesday | tent 8-12 | tent 8-10 |
| 2 | Thursday | tent 8-12 | tent 8-10 |
| 3 | Friday | tent 8-12 | tent 8-10 |
| 4 | Saturday | tent 8-12 | tent 8-10 |
| 5 | Sunday | tent 8-12 | tent 8-10 |
| 6 | Monday | tent 8-12 | tent 8-10 |
| 7 | Tuesday | tent 8-12 | tent 8-10 |
| 8 | Wed | tent 8-12 | tent 8-10 |
| 9 | Thu | tent 8-12 | tent 8-10 |
| 10 | Fri | tent 8-12 | tent 8-10 |
| 11 | Sat Veterans Day | tent 8-12 | tent 8-10 |
| 12 | Sun | tent 8-12 | tent 8-10 |
| 13 | Mon | tent 8-12 | tent 8-10 |
| 14 | Tue | tent 8-12 | tent 8-10 |
| 15 | Wed | tent 8-12 | tent 8-5 close early |
| 16 | Thu | tent 8-12 | tent 8-10 |
| 17 | Fri | tent 8-12 | tent 8-10 |
| 18 | Sat | tent 8-12 | tent 8-11 |
| 19 | Sun | tent 8-12 | tent 8-11 |
| 20 | Mon | tent 8-12 | tent 8-11 |
| 21 | Tue | tent 8-12 | tent 8-11 |
| 22 | Wed | tent 8-12 | tent 8-11 |
| 23 | Thu Thanksgiving | tent 8-12 | tent 8-11 |
| 24 | Fri | tent 8-12 | tent 8-11 |
| 25 | Sat | tent 8-12 | tent 8-11 |
| 26 | Sun | tent 8-12 | tent 8-10 |
| 27 | Mon | tent 8-12 | tent 8-10 |
| 28 | Tue | tent 8-12 | tent 8-10 |
| 29 | Wed | tent 8-12 | tent 8-10 |
| 30 | Thu | tent 8-12 | tent 8-10 |
Disneyland Hours by Month

---
Home › Disneyland Hours › Disneyland Hours November